Hubert Joly (H.81): business, the quest for meaning and humanity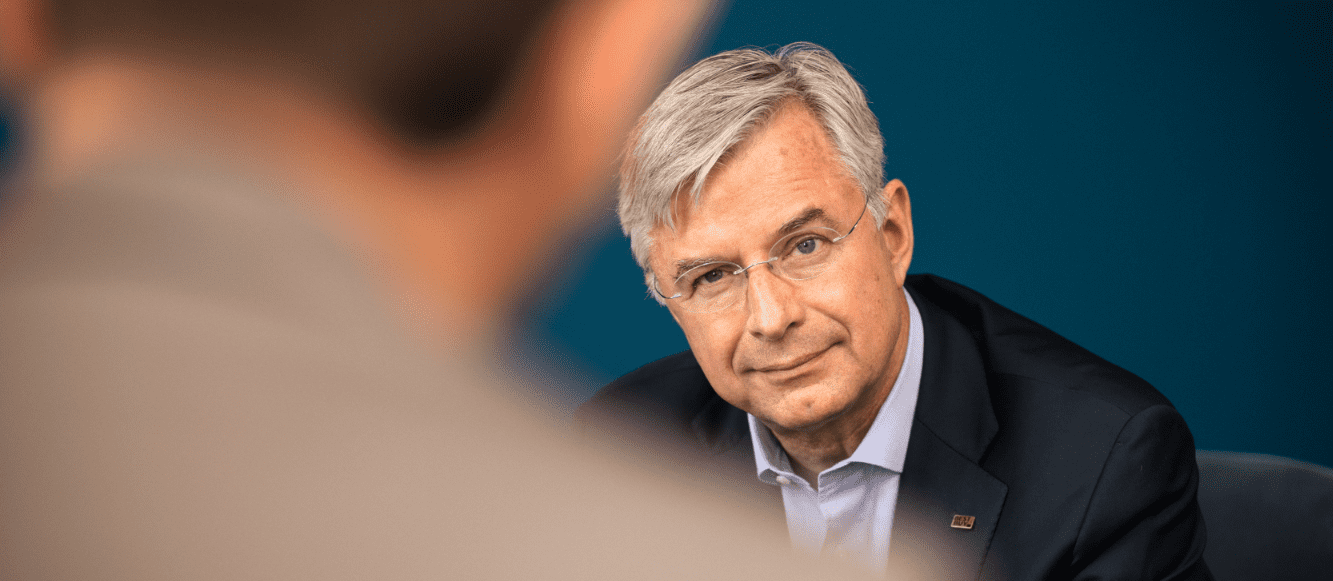 After 15 years at the head of large companies, including Best Buy, which he brought back to eminence from 2012 to 2020, Hubert Joly now teaches at Harvard and launched the Purposeful Leadership Chair at HEC. The New York-based Frenchman is in Paris for HEC Talks, giving us an opportunity to meet him and talk about the main chapters of his life and his book: « The Heart of Business: Leadership Principles For The Next Era of Capitalism ».
« My book is a call to rebuild the corporation around the values of meaning and humanity and to make a declaration of interdependence between all the company stakeholders. It is also a handbook for all of us who are moving in this direction and know from experience that this is easier said than done.
HEC Stories: You are known as the legendary boss who saved Best Buy from a foregone conclusion. Why did you leave your job while at the peak of your career?
Hubert Joly: I felt that time had come to hand the business over and my team was ready to assume control. The question then arose as to what to do next. I decided that I no longer wanted to be CEO. I had done that for 15 to 20 years. I also considered that 60 is the new 40! In my mind the forthcoming years had to be meaningful and why shouldn't they be the most fertile of my entire life?. Which brought about the question of meaningness. What to do with these years? I decided to bring my energy and experience to what I felt is the urgent rebuilding of the corporation around meaning and the human, and thus help the next generation of leaders achieve the best and most beautiful version of themselves.
HEC Stories: You teach at Harvard, you created the Purposeful Leadership chair at HEC, and today you are publishing « L'Entreprise, une affaire de cœur », the French version of your book that is both philosophical and didactic. Does the concept of work need to be rethought?
Hubert Joly: The desire to understand the intent of one's life is universal and we all wonder about the meaning we want to give it. My book is based upon this search, and draws from a journey of some thirty years. In the early 1990s, I was asked by two of my monk friends to join them on an article on theology and philosophy which dealt with the vast question: « Why do we work? Is it a punishment because some fool had done wrong in paradise? Is it what gives us access to leisure? Or is work part of a desire for fulfillment? Viktor Frankl said that work is a means by which we can fulfill ourselves. I happen to share that opinion.
HEC Stories: Throughout the pages you challenge the familiar model of success by arguing that « the purpose of a company is not to make a profit (…) it is urgent and necessary to place meaning and relationships between people at the center of the redesign of our approach to business ». Is this shift underway?
Hubert Joly: Yes, and there is even an acceleration in this direction. I might be a staunch optimist, but there is an imperative: the world in which we live does not work. We face a health crisis, an economic crisis, major societal and racial tensions, an environmental time bomb, geopolitical tensions, in short it doesn't work. What is Einstein's definition of insanity? Doing the same thing and expecting a different result. Many people are aware that there is an urgent need to rethink the corporation and its economic model.
HEC Stories: Speaking of people you mention in your book the strategic partnership between Best Buy and Amazon, « the famous Goliath who was supposed to bring down the company ». This alliance between your companies surprised many people!
Hubert Joly: When Best Buy was moribund, my team and I worked on our turnaround. In order to grow we invested in the customer experience, cut costs to support our investments and were careful to envisage downsizing as a last resort. We developed partnerships with the biggest companies in tech, including Samsung, Apple, Microsoft, Sony and Amazon. Amazon gave Best Buy the exclusivity on its smart TV platform (Fire TV). We announced this partnership at one of our stores near Seattle. Jeff Bezos was in attendance and highlighted the key role played by Best Buy in the distribution of technology products. Journalists in the audience were in awe. Best Buy's turnaround was achieved by applying the practices I develop in my book. Best Buy was in a free fall when I arrived and 9 years later the stock price had increased 10-fold; that's not bad! Such a turnaround gave me legitimacy to address leadership principles I felt fit for this new era. This book is a manual for any leader who wants to move in this direction. We are all at least leaders in our lives, so this book is for all of us.
HEC Stories: In 2018, you decided to create the Purposeful leaderchip chair at HEC, why?
Hubert Joly: What makes a good leader today is his or her ability to create an environment in which others can flourish. In my time at HEC, these skills were hardly ever addressed. Today, HEC rightly considers that its programs must help develop a leadership that is centered on meaning, the human being and all stakeholders. When we talked about this Chair project with Peter Todd, the Foundation and Rodolphe Durand in 2018, we immediately agreed on the ambitious idea that all students should go through an apprenticeship on the subjects of meaning and humanity. HEC has thus become a pioneer in this field, which is one of its great strengths.
« The Heart of Business: Leadership Principles For The Next Era of Capitalism« , was published in the United States last May. With 60,000 copies sold, it is now being translated into 14 languages.
On the same subject : Hubert Joly (H.81) : entreprise, quête de sens et humanité ; Hubert Joly (Best Buy) face aux étudiants HEC