Georgiy Grokhovsky (E.10), president of the Ukraine chapter of HEC Alumni, urges us to act quickly as the fight intensifies in Kiev and the whole of Ukraine faces a massive displacement of its population. Meet a man who navigates between Ukraine, Russia and France.
From one country to another
« I am half Russian, half Ukrainian and French at heart », says Georgiy Grokhovsky, upon visiting the HEC Alumni Paris offices to conduct a virtual meeting with Ukrainian students on the campus. Son of a Russian father and a Ukrainian mother, Georgiy grew up in the Soviet Union Ukraine, and studied at the Kiev Polytechnic Institute in the 1990s, at the height of the communist system's collapse.
A visionary who as a student had already started a business exporting beet alcohol and grain, Georgiy organized an exchange between his school and the Cachan Ecole Normale Supérieure. There he met a young Frenchman who for many years became his partner for many years and met his current wife. As the student exchange came to an end, each went his own way. To keep in touch, the two students wrote letters to each other and sometimes, by dint of patience, managed to talk on the phone, « after waiting 40 minutes with the operator in Kiev », explains Georgiy, who remembers this period in the early 1990s with emotion. The years pass and the feelings remain. Georgiy Grokhovsky now runs the country's first brewery and is developing his business in France.
In 1997, the entrepreneur joined a childhood friend in Moscow and the two of them launched a project around alcohol production and the manufacture of glass bottles. They went on to acquire a large fleet of trucks to transport their beer bottles. Business is booming.
With the business climate « much less liberal », recalls Georgiy, he decided to return to Ukraine in 2004. That same year, the businessman returned to France, this time for a golf competition, his passion, and managed to find his future wife after an epic story.
From Jouy-en-Josas to Saint-Petersburg
 Six years later, the businessman was back in Kiev and started an Executive Master at HEC Paris. « I needed the theory and I also wanted to meet other entrepreneurs with whom to exchange ideas », says Georgiy, who was impressed by the quality of the teaching material. Ironically then-teacher Philippe Pelé-Clamour elected to split the EMBA between Paris and Saint Petersburg. Georgiy has several companies in Ukraine but also works with France. For example, he organised the cooperation of the Bolloré group with the Bogdan group, which manufactures electric bus frames, assembled in France. As well as the development of electric trucks, followed by the hydrogen-powered truck project for Europe.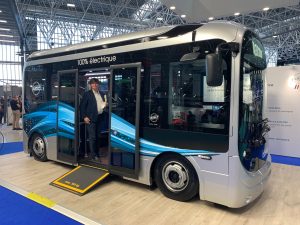 « Putin has not understood who the Ukrainians are"
 Now 53-years old, Georgiy Grokhovsky can claim an intimate knowledge of the Soviet Union Ukraine and of the post-dislocation Ukraine, but also of Europe and Vladimir Putin's Russia. « Putin's most serious mistake is not to have understood that the Ukrainians are like the French! Freedom is in their DNA. Much like breathing, eating or drinking. Their aim is to live! ».
Being free is like breathing, eating or drinking. It's living », says the man who finds the international community's sanctions insufficient. « We need to add more and hit hard on all fronts. The economic and media pressure is important. The Russian people must come out of their silence, because they have their share of responsibility in this war, » he says.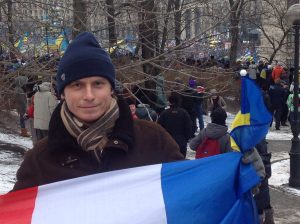 Georgiy invites the alumni community to activate three levers. « We must provide humanitarian aid to shore up the support system in Poland and open the gates to refugees in Germany, Belgium, France or Switzerland. Then, we need to send basic necessities to Ukraine to help keep the population on its feet.
Finally, communication and opinion must be strengthened. We were all Charlie and today we need you all to be Ukraine. Ukraine's victory is crucial for all of us who are fighting against authoritarian regimes. As our President Zelenski said « life will overcome death and light will overcome darkness. »