When you stop micro-managing, it's because you are no longer determined to control everything. Delegating responsibilities and demonstrating confidence in your team will help create a stimulating, productive work environment. It's an art! Here are some tips for developing authentic, efficient leadership.
Be aware of your own shortcomings
Before you can stop micro-managing, you have to discover what makes you want to do it! Are you too much of a perfectionist? Do you always have to control everything that your team is doing? Do you sometimes do their jobs for them, with the excuse that this will make things go faster? You have good intentions: you want your team to perform well. But are you aware that you may be causing stress and even making your team less productive? The more you micro-manage, the less responsibility your team members will have, and the more they will be discouraged and uncommitted. When teams sense their boss lacks confidence in them, their performance will suffer. Working with a (good!) coach will help you meet these challenges and find your own solutions.
Set a goal and live up to it!
Your task is to free yourself from obsessing over the details of daily operations and to take a more global perspective. Here are a few questions to ask yourself to help you do this: What is my team's mission? What should we accomplish together? What are my priorities as a manager? What are my technical, human and economic resources and how can I best use them to attain my objectives?
Dare to be confident
Once you have determined the basic goals, you have to define the ways in which each employee will be autonomous, and to establish a "virtuous" managerial relationship with each person. Be aware of each person's needs and be ready to adapt to circumstances. A young, newly hired employee who has recently graduated from a top school shouldn't be managed in the same way as a technical expert who has been with the company for 20 years. Be clear about what you expect, but let your employee tell you how he or she will accomplish the task and whether he or she needs help.
Create a stimulating environment
Neuroscientists have shown that any kind of learning activity stimulates the neurons that control our inner happiness, without the need for other rewards. To boost motivation and commitment in your employees, encourage them to show initiative and to be autonomous. Stimulate your team members' curiosity!
How about trying a little coaching?
Instead of focusing on what hasn't been done well, make concrete suggestions about how things can be improved in the future. Demonstrate your desire to make your teams even stronger. Develop your empathy and learn how to ask questions to better understand and stimulate your team members. You will now have the tools you need to be a more authentic and inspiring leader. There's a really good chance that better overall performance will be the result. You will add value, both human and economic, and your young team members will respect you.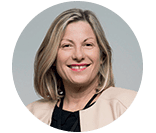 Catherine Tanneau (H.85)
CEO of Variations International, a corporate coaching consultancy, co-founder of Welead, a coaching network for executives, and vice president of the International Coach Federation, she is also an Executive Education professor at HEC and is in charge of the leadership modules of the EMBA program.