Nourish a vision of the future? Alimentary, my dear Watson
1. Alternative meat : Such tasty microbes
The water in the volcanic hot springs of Yellowstone National Park, in Wyoming, US, is so full of acid that it can quickly dissolve the body of anyone unlucky enough to fall into it (as happened not long ago). Only a few microorganisms are able to survive such conditions, and these extremophile bacteria caught the attention of Thomas Jonas (H.93). "To adapt to such a hostile and nutrient-poor environment, these organisms learned how to make the best use of the limited resources available to them," he explains.
An entrepreneur based in Chicago, he founded Sustainable Bioproducts in 2014 to study how such microorganisms work in order to discover potential human applications. He says, "At first, we were looking into using them as biofuel. However, we soon realized that these bacteria were above all an incredible source of proteins." In fact, as they ferment, the bacteria produce an edible, stringy substance that is very rich in complete proteins, much like muscle tissue. And, the conversion rate is exceptional: only 10 liters of water and 500 grams of starch are needed to obtain a kilogram of this "meat" in only a few days
In the US, all kinds of projects have recently been launched to manufacture alt-meat (alternative meat, or laboratory meat, obtained, for example, from stem cells), and Jonas's idea soon attracted a great deal of interest. Sustainable Bioproducts has already raised US$33 million from investors like Danone, ADM and Bill Gates. "It's the biggest Series A round in the history of food tech," Thomas Jonas reports proudly. As to whether consumers will be willing to try protein produced by bacteria, he's pretty optimistic. He says, "We often forget just how quickly eating habits can change. After all, it wasn't so long ago that in France, people bought their yoghurt in pharmacies…"
2. Ecosystem : Seafood – without the sea
Prawns are the second-most-popular seafood after salmon. Problem: all the 80,000 tons of the big shrimp consumed every year in France are imported frozen from the tropical countries where they're produced. Biologist Charlotte Schoelinck thought this was a huge waste of resources. She imagined a system whereby prawns could be raised anywhere, especially near the big urban centers that were the biggest markets for them. "The idea is to recreate a marine ecosystem in which everything has a role to play. Algae and invertebrates filter the prawns' waste, allowing for a closed system that isn't connected to the sea," says Gabriel Boneu (H.11), co-founder of Lisaqua.
The result: locally produced prawns, unfrozen and guaranteed antibiotics-free. The company set up its first plant in Nantes in summer 2018 and plans to open a commercial prawn farm in the next two years. Gabriel Boneu says, "Our model is easily adapted to larger-scale production and can be used for other types of fish."
3. Baby food : From mini jars to maxi-organic ingredients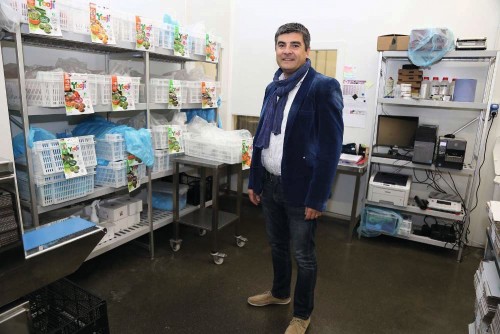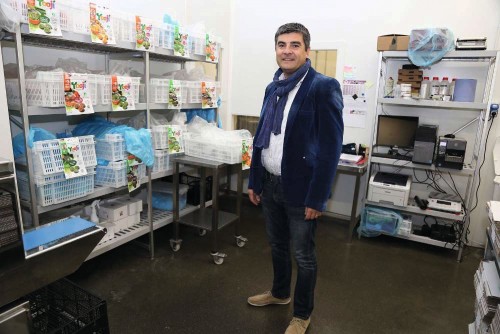 The man behind Yooji is Frédéric Ventre (H.93). He's a dad who, like many dads, prefers to cook food for his baby himself rather than buy it. Even if it means putting the leftovers in the freezer. It was at the beginning of the 2010s and almost no frozen baby food was available on the market. "Picard had just offered a line for babies, but the idea of Yooji went a lot farther," explains Philippe Briffault (H.93), confounder and marketing director.
Yooji, launched in 2014, has two guiding principles: 100% organic ingredients and small portions (cubes of 10g to 20g) so that parents can put together meals themselves based on vegetables, fruits, meat or fish. "The big supermarket chains were interested right away, but they didn't know whether to display our products with the frozen food or with the baby food," says Philippe Briffault. Yooji designed a case for the prepared-foods section and also decided to distribute their products through store pick-up and home delivery. Frédéric Ventre and Philippe Briffault predict confidently that "2019 will be a growth year." For their baby.
4. Dried food : Edible powder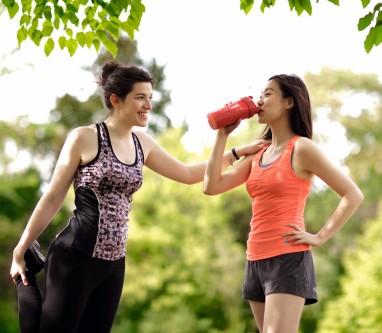 Just a few years ago, it was consumed mainly by hikers who needed a quick calorie boost, or Silicon Valley geeks too busy to seek out a sandwich. Today, dried food has carved out the lion's share of the Food Tech sector. A packet of edible powder mixed in a shaker with a little water. Simple, practical, fast: qualities that appeal to the general public. And, such products let consumers control their food intake down to the last gram. Among the emerging names in the market is Smeal, co-founded by Sijia Wang (MSc.16), which targets "athletic-active" people looking for meals that are rich in protein and also tasty. The Smeal line includes six flavors, both sweet (Speculoos, red berries) and savory (garden vegetables, cream-of-mushroom soup).
5. To be continued
With his series The Original Foodies, Matteo De Vos (H.18) puts the focus on farmers committed to producing better and more sustainable foods.