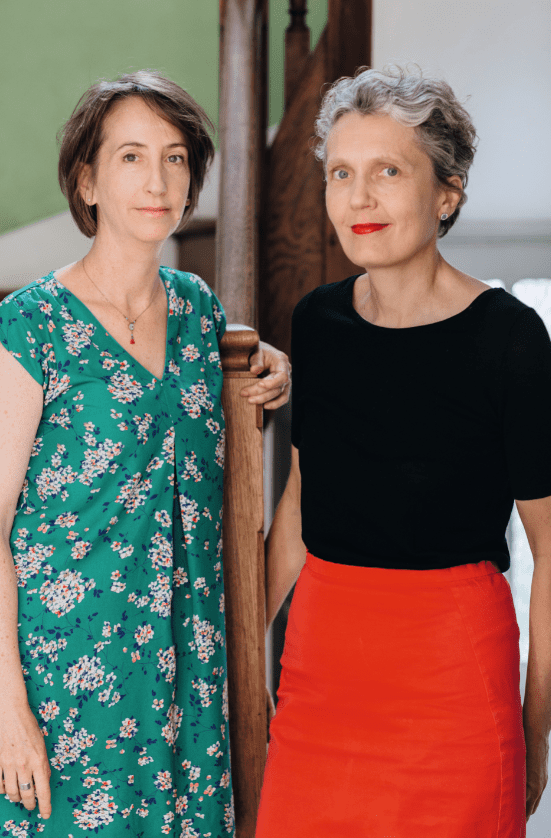 Ever since they met in an HEC class, they have stayed in touch. They each write novels and they jointly teach writing classes for company employees.
It's the story of two young women who began their HEC studies at the same time, at the end of the 1980s. Christine Avel (H.90) and Sophie Chabanel (H.90) are both from families of teachers and love literature. They chose HEC because of its excellent reputation, not because they were interested in the business world. Coming from outside the Paris region and from small preparatory classes, they quickly discovered that they had many things in common. When they realized that both of them had a tendency to break out into hysterical laughter for apparently no reason, a long-term friendship was born.
Thirty years later, on an August afternoon, here they are in Christine's home, a charming house on a flower-filled lane in Bas-Montreuil (93). Sophie, who grew up in Nantes, lives in Lyon. She came here to celebrate the launch of Christine's latest book two days from now. In Here Only We Are Unique (Ici seulement nous sommes uniques, Buchet-Chastel), Christine draws on childhood memories to tell the story of a group of young people spending their summer holidays at an archaeological dig on a Greek island.
In 48 hours, the writer's family and friends will show up to sip ouzo in her garden to mark the book's release. But for now, the two friends are chatting over cups of tea. Sophie Chabanel has also recently published a book, last March: Cat Blues (Le Blues du chat, Seuil), which follows Cat's Claw (La Griffe du chat) published in 2018. Two mystery novels in which the writer plays around with the clichés of the genre: a couple of detectives who are total opposites (the reckless and rebellious commissioner and his sensitive sidekick) investigate a crime in the Lille region. At the same time, we follow the story of Ruru, a chubby cat inspired by the author's own pet. Now 50 years old, the two friends adroitly balance their writing and their jobs, one of them as an instructor and the other as a consultant.
Life between the lines
After graduating from HEC, Sophie Chabanel became an auditor at Motorola and then a consultant at AT Kearney. This experience, combined with her passion for literature, inspired her to write an essay in 2001 entitled "Managers, Re-Read the Classics!" in which she compared management principles and great literary texts as a way of exploring how the head of a team should behave.
Determined to find a job that matched her convictions, she soon made a big change to join the world of non-profits. First she was the Ile-de-France delegate to Adie (Association for the Right to Economic Initiatives), then she joined the Doubs Economic Agency, which supports companies' development, and then the Association for Housing for Youth in Difficulty, in Lyon. In 2015, she published The Reality Principle in the Labyrinth of Social Services (Le Principe de réalité, dans le labyrinth de l'action sociale), which denounces the absurdity and inefficiency of the social-services support systems she dealt with in her job with this association (which she left, she says, "to avoid sinking into depression").
"Getting people to abandon stereotypical corporate speech and tell stories allows them to think in new ways."
In addition to writing about issues she had confronted in her professional life, she began, thanks to her love of literature, to explore various genres. Her first novel, Countdown (Décompte), published in 2006, is about the sadness of a woman in her 30s who is overcome with a desire to have a child. Two years later, in Birgit Pécuchet Is Not a Saint (Birgit Pécuchet n'est pas une sainte), her heroine is a woman totally out of synch with her world who has all kinds of adventures. For the past 10 years, this fan of writing and literature has been offering classes in written communications and public speaking as well as conducting writing workshops. Her many clients include Orange, Veolia, BNP-Paribas, Groupe Seb and Suez. Her friend Christine Avel often helps her lead these workshops.
Inspirational travel
"During these workshops, we try to get people to abandon stereotypical corporate speech and tell stories, which helps them think in new ways," Christine Avel explains. She remembers with relish a fairly inhibited manager, whose first language was not French, who read to his stupefied colleagues an acerbic, hilarious text in which he described them marching through his office begging for raises. A much better way to relieve frustrations than an escape game!
Christine Avel also gives thematic conferences on how famous writers have viewed companies, citing the works of Maupassant, Balzac, Thomas Mann and Annie Ernaux. In addition, she has a job as a development consultant specializing in micro-finance, work which often takes her to Africa and Asia, thousands of kilometres from her native Auvergne.
"Going to new places stimulates my imagination," she explains. She lived in Paris, Cambodia, Italy and Montpellier before coming back to the Ile-de-France. Even when they were at HEC, the two friends dreamed of exploring the world. "By the end of the first year, we had both chosen a speciality that would require studying abroad. I wrote my thesis in American literature on the plays of Arthur Miller with a professor in Barcelona!", Christine Avel remembers.
In fact, her novel Self Portrait of the Suitcase (Autoportrait de la valise), in which the narrator asks herself why she needs to always be on the move, is no doubt autobiographical. A real militant for good writing, she contributes to the literary review Décapage, imagines stories for Radio France, and serves as an administrator for the Literary Society (Société des gens de lettres).
She published her first novel in 2005. Bifocals (Double Foyer) is the amazing story of a near-sighted man whose life is turned upside down after laser surgery makes his vision brutally clear. The following year, she wrote Effortless Apocalypse (Apocalypse sans peine), a collection of short stories which was awarded the Jean Monnet des Lycéens prize. Since then she has written six books for young people, all published by L'École des loisirs.
Crossed words
Even though they have only once tried to write something together (a project they describe as "unrealized"), the two authors are partners in other ways. They discuss their ideas, email each other chapters and samples, and give each other feedback. They refer to "joint proofreading" as an exchange of best practices.
Christine explains how the creative process — with its successive phases of euphoria, doubt, questioning and discouragement – requires talking things over with a person one trusts. "There's a little bit of coaching involved," she admits. Complicity and caring overcome all differences, whether of style, rhythm or method.