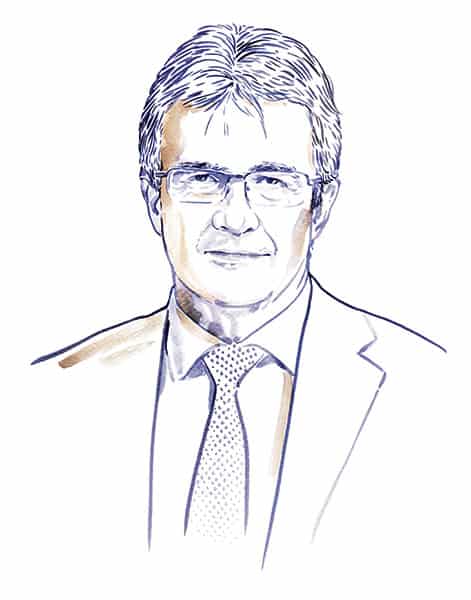 The green bank continues to flourish. In February, the Crédit Agricole group announced its highest profits since 2006, a result driven as much by its Cacib investment bank as by its retail-banking activities (including LCL, acquired in 2003). France's number one banking group — and the leading insurance group, a fact that is less well known — has an atypical structure. A UFO made up of 39 regional operations and a central listed entity, Crédit Agricole SA, the bank is also the French economy's top source of financing and the Hexagon's leading source of tax revenues. Its boss, Philippe Brassac, is a true company man: he joined the bank as an intern in the 1980s and hasn't left. He patiently climbed the ladder, first locally and then nationally, before taking the reins of the group in 2015.
His motto: "To be profitable, you have to be useful." Which means being responsible. Crédit Agricole has announced its complete withdrawal from investments in coal-based activities and even asked its clients to eliminate any involvement in this particularly polluting fossil fuel. Oxfam and Friends of the Earth praised the bank's strategy – a minor miracle. After a flying visit to the bank's verdant Montrouge headquarters, three HEC Paris students spent an hour and a half with this big boss who's passionate about judo and who informed them about a banking sector having to cope with Brexit and continuing low interest rates. Born in the Gard region to a family that was not affluent, the Managing Director earned around 2 million euros in 2018, but he still has his feet on the ground. Surgery two years ago could have ended his life. From this experience he has retained simplicity and wisdom that impressed his student interviewers.
Low interest rates and Brexit
Amine Maaninou (H.20): Some analysts are worried about low (even negative) interest rates in wealthy countries, arguing that this situation could encourage investors to take reckless risks in the stock market and thus possibly precipitate a new financial crisis. Do you agree with this position?
Philippe Brassac : Confronted with the euro-zone crisis, the European Central Bank (ECB) used two methods to cut short any panic. First, it positioned itself as a last-resort lender through acquiring sovereign bonds. Secondly, it reduced key interest rates to very low levels, which allowed banks to provide loans with more favorable conditions. This strategy, led by Mario Draghi, was successful. Today, we anticipate a very slow rise in interest rates over the next few years. This rise will, however, increase the interest burden on European countries. Changing the paradigm is going to be difficult.  
Amine: Commercial banks are also suffering because of the low rates.
Philippe Brassac : Over the past three years, banks have learned to live with the low rates and have adapted to them. To analyze the effect on banks, we need to consider intermediation margins, in other words the average difference between credit and savings rates. When loan rates (on the active side of the balance sheet) are at 10% and savings rates (passive) are at 9%, it's the same as though they were respectively 1% and zero %!  The reality is that banks' intermediation margins have gone down a bit, but this has been compensated for by growth in the number of loans being provided. In addition, the banking sector is not showing any signs of fragility. One proof of this is that Crédit Agricole just announced that its performance in 2019 reached historically high levels, with 7.2 billion euros in net profits, a 5% increase. This strong performance will make the group, once again, France's leading contributor to tax and social-services revenues. Our success is the result of our strong business model, which is based on three main components. We have developed a universal bank, serving all clients in all locations, which gives us significant potential for organic growth.
We're a leading European bank, and our size enables us to form partnerships in many domains. Additionally, our decentralized structure helps us respond to society's greatest challenges, like energy transition and social cohesion. Low interest rates represent a real paradigm change for clients, however. This is definitely true for borrowers, who benefit from very attractive financing options; many modest households have been able to acquire property because of this. It's even more true for lenders. I believe that, these days, there is no way to make money without risks. People with savings are thus faced with a dilemma: they have to choose between earning very small (or no) interest income from their savings accounts, or accepting some risk if they wish to make a profit.  In this environment, advice from banks has become particularly important. We must do the best job we can to help our clients diversify their savings programs while limiting risks.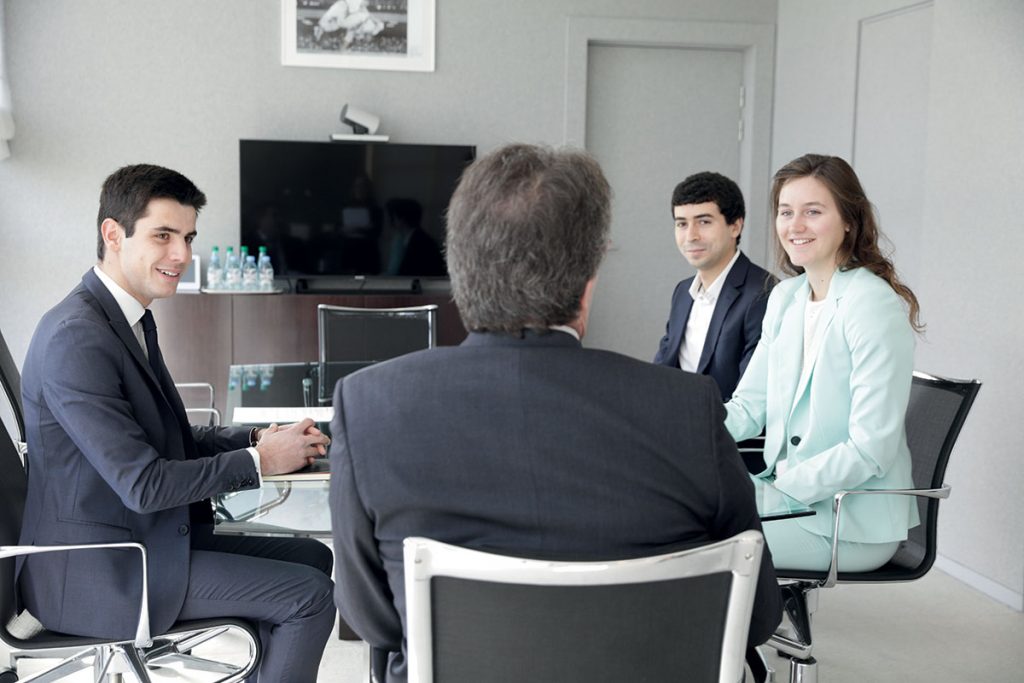 Baudoin Robert (H.20): Ever since 1999, Crédit Agricole Normandy has offered British citizens the Britline online banking service, whose slogan is "French banking, British thinking".  How will this unique offering be affected now that Brexit has taken place?
Philippe Brassac: One of Crédit Agricole's strong points is that it is made up of 39 independent regional operations, each with its own structure and commercial strategy. This regional approach allows us to develop services that respond to local clients' needs. The service you mention enables Crédit Agricole Normandy to assist British clients who wish to invest in Normandy. Brexit won't call this service into question.
"The sector is not showing any signs of fragility."

Philippe Brassac
Baudouin: More generally, how will Brexit affect your activities in the United Kingdom? Will Cacib, your financing and investment bank, bring its staff back to Paris?
Philippe Brassac : Brexit will have only a marginal impact on the group. We have four operations in the United Kingdom, which combined represent 4% of the Crédit Agricole SA's net banking product (note: the equivalent of turnover for banks). We employ around 1,000 people there, mainly at Crédit Agricole CIB, our investment-banking subsidiary. A few dozen of these employees will be transferred to our Montrouge headquarters, but most will remain in London. I saw, Baudouin, that you did an internship at Bank of America Merrill Lynch. Their situation is different, because they need to transfer employees to continental Europe in order to access the European market.
The "green bank", a unique model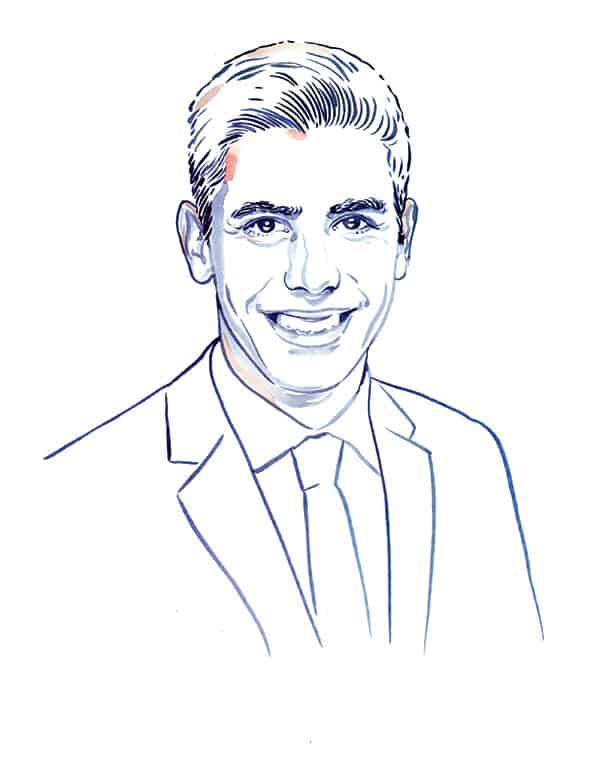 Baudouin: You head a group that is both cooperative and listed on the stock exchange, with, on the one hand, local deposit-oriented banking and, on the other, foreign subsidiaries vulnerable to financial markets. How do you consolidate in one system two activities with such different scopes and perspectives?
Philippe Brassac: It's what makes our model unique. Half of the Crédit Agricole group is made up of its 39 regional cooperative banking operations, and the other half involves national and international activities listed on the stock exchange: insurance, consumer credit, administration of securities, financing and investment banking, etc.  People often think of Crédit Agricole SA as only the main group, but that's not the real picture! Thanks to our beginnings as a cooperative bank, we grew from a small banking operation in the Franche-Comté region to become the world's 10th-largest bank (note: in the size of its assets, according to a ranking by The Banker 2019).
The bank operates in 50 countries but continues to provide services in the heart of regional markets every day. This proximity to our clientele gives us a certain agility. Throughout our history, we have managed to grow along with the great social changes of different eras: providing financing to farmers at the beginning of the 20th century, expanding households' access to banking services in the 1960s, offering real-estate financing in the 1980s… Today, we continue to be guided by a long-term vision.  In June 2019, we announced a new development phase for our group based on three key goals: excellence in consumer relations, targeted local services, and social responsibility. As the leading source of financing for the economy and for regions, we have also defined a guiding principle based on our DNA: "Act every day in the service of our clients and of society."  Today, what unites our regional operations, our insurance division Predica, our investment bank Cacid, and our subsidiary Amundi, the leading non-American stockbrokerage firm? If we don't pay attention, nothing! That's why it's so important for the group to have a common objective and to present our stockholders with a clearly defined social initiative. A cooperative bank is a universal model, not one designed to optimize each activity on its own. As Managing Director, I'm not merely a manager but also an entrepreneur!
Baudouin: French farmers often face many difficulties. According to the Agricultural Mutual Assistance Association, one-third of them live on less than 350 euros per month, many farmers are heavily in debt, and, every two days, a farmer commits suicide. Crédit Agricole vows to "respond to farmers' unique needs".  How are you dealing with these serious problems?
Philippe Brassac : Naturally I share the concerns of farmers in difficult situations. The agricultural sector is currently undergoing a profound transition. Even so, French agriculture is among the most modern and productive in the world. Agriculture was our first major market and it still accounts for 7% of our outstanding amounts. We have been involved in the primary sector's transformations for over 100 years and are still actively taking part. We act responsibly and support our clients in good and bad times. We stand beside farmers facing temporary problems and also those affected by major climatic or health-related crises. For example, when drought greatly reduced the cereals harvest in northern France in 2016, Crédit Agricole assumed its responsibilities and provided a five-billion-euro package specifically to help farmers. We try to offer tailored services for each client, but we can't solve the agricultural crisis all on our own.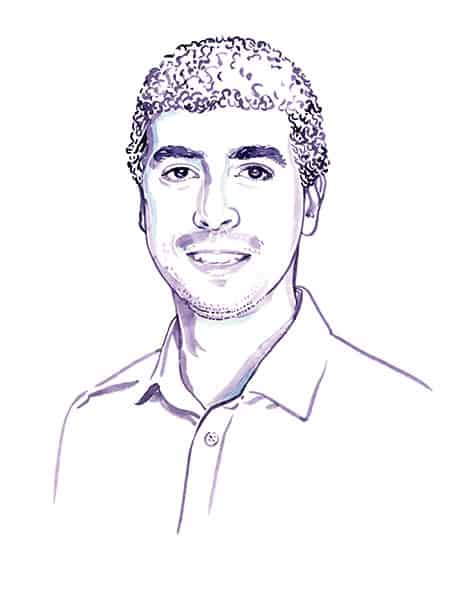 Amine: Shouldn't you offer new products geared to farmers? I did an internship at BNP Paribas last year, and the bank has created a green microfinance product in partnership with NGOs.
Philippe Brassac: Eight out of every 10 farmers in France bank with Crédit Agricole. Our offerings include more than 100 products specifically designed to fulfill farmers' needs: cash-flow solutions, deposits, payments, retirement savings, precautionary savings, insurance, coverage for the futures market, etc. We are constantly creating new products and have developed insurance solutions to protect farmers from unforeseen economic, climatic or health-related issues. Microfinancing mainly concerns developing countries. In 2009, Crédit Agricole worked with Nobel Peace Prize laureate Muhammad Yunus to establish a foundation with a budget at the time of 50 million euros. Its purpose is to support entrepreneurship thoughout the world, particularly in sub-Saharan Africa. Around 80% of the projects it has supported are in rural areas, and 80% are led by women. The foundation has provided more than 200 million euros in funding to date.
The group's strategy and CSR policy
Amine: Crédit Agricole has a strong record in environmental and social commitments. You signed the United Nations "Principles of Responsible Investments" charter in 2006. Your new climate strategy has been praised by Friends of the Earth and Oxfam France, recognition that is rare enough to deserve notice. Last June, you announced your guiding principle, to "Act every day in the interests of our clients and society." Given the enormous challenge of global warming, though, shouldn't you have said that you will "Act every day to fight against climate change"?
Philippe Brassac : I share a sense of urgency regarding climate change. We decided to make sustainable financing one of the keys to our group's growth. This decision motivates us and guides us to choose financing and investment projects that will have positive environmental impacts, in line with the Paris climate accords. We have particularly chosen a zero-tolerance policy regarding coal. We will eliminate all our activities involving coal in the developed world by 2030 and in the rest of the world by 2040.  This is not a public-relations effort but rather a business decision. For the past 15 years, we have been evaluating profitability and usefulness as orthogonal: either something is profitable, or it's useful. These days there is talk about 'giving new meaning' to capitalism, but I don't think that capitalism can make sense without freeing objects' usefulness from any moral values. Either you provide society with what it wants, or you get out of the game.  Climate change is definitely a priority for society, but it's not the only one. Our goal is to become the bank for fair transition, because this transition can only be successful if we manage not to overlook the most fragile members of the population. Climate issues cannot be disassociated from inclusiveness issues.
"This profession suffers from a negative image"
Amine: You have estimated the value of the green-bonds market at US$200 billion, but if it is going to make a difference to climate change, it should be around US$1 trillion. That's an enormous difference. What can be done to narrow this gap?
Philippe Brassac: Ecological awareness has become pervasive and the green-bonds market is flourishing. We are trying to support this transformation as best we can. Our group was a pioneer in introducing green-bond principles in 2014. Today we are the world's leading broker of green bonds and we continue to develop responsible bond issues, such as social bonds and gender bonds. Our responsibility as a bank is to help our clients achieve a successful transition, but we can't do this alone. Limiting the effects of climate change means that everyone must work together: countries, companies and individuals. The financial sector doesn't drive the economy. It is only the fuel.
Amine: How can we speed up the process?
Philippe Brassac: Strong positions need to be taken and everyone involved must act as quickly as possible. Why doesn't the government simply forbid banks from financing coal-based activities? Another example: tax havens. In Asia, Africa and Central America, Crédit Agricole has withdrawn from countries that don't automatically share bank information with France. Why doesn't the executive branch prevent French banks from doing business with countries like Panama? Unfortunately, transforming the system and "greening" the economy and behavior is a complex process that takes a lot of time.
Career path and personality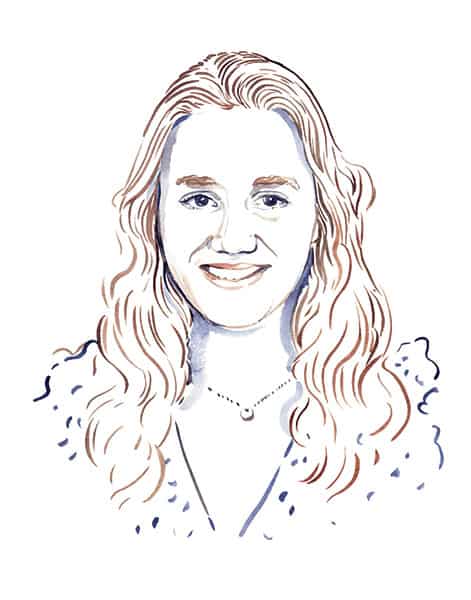 Margaux Fodéré (H.22): French people are often critical of the banking sector in general and its leaders in particular, whom they accuse of speculating to make themselves rich, like George Soros. Why did you choose to work in the banking world?
Philippe Brassac : activities. The bank was one of the best local companies, with an emblematic leader.  I admit that this profession suffers from a negative image. It's an image that was probably deserved in some cases, but we have collectively progressed.  Crédit Agricole was one of the first European banks to commit to this evolution, by reaffirming that consultancy was at the heart of its mission. In fact, beginning in 2003, we ended the practice of awarding commissions to our counselors. I can't deny that the 2008 crisis continues to taint our reputation – even though taxpayers haven't had to pay even one euro to bail out banks, except for the Franco-Belgian bank Dexia. For example, I went to see the show "Writers Talk about Money", with Fabrice Luchini. It didn't treat bankers kindly…. We have a long way to go to regain the public's complete confidence, but it's a task we aim to accomplish by focusing on excellence in customer service.
Baudouin: You joined Crédit Agricole 38 years ago and have had your entire career there. Today, young people expect to change employers every three to five years. Can your career path still serve as a model for young graduates?
Philippe Brassac: I was lucky to join a group that's inspiring, open, diverse and that gave me a chance. There's more mobility than in other big companies. My advice to young graduates is the following: do your best at your job, and you will be asked to take on another one.
Margaux: You graduated from the National School for Statistics and Business Administration (ENSAE), and you are the son of a farmer and a cafeteria employee. It's a rare profile among students of top French schools. Do you believe that top executives in France are disconnected from the real lives of most French people?
Philippe Brassac: I grew up in a modest environment, but France opens its doors to everyone. It's one of the advantages of our country. Many prominent political and industrial leaders have similar histories. I strongly believe that social class doesn't determine a person's value. Someone who wants to succeed will do so, no matter what the person's background or diploma. We should not deny the facts, but instead strengthen equal opportunities for all and to emphasize professional insertion for young people coming from disadvantaged environments. This is an issue that is really close to my heart. As an example, last year Crédit Agricole welcomed 750 interns from middle schools in disadvantaged areas. I hope we have inspired some of them to have careers in banking.
Margaux: As the leader of a CAC 40 company, do you feel cut off from the population?
Philippe Brassac: A little bit, certainly. I have a privileged lifestyle in material terms. I earn a lot of money; I have a driver. However, I don't believe that my work determines my life and I have preserved friendships with people who are outside this elite social circle. In particular my friends from judo, who come from all sorts of backgrounds.
Margaux: You still practice judo?
Philippe Brassac: I practiced judo throughout my career, but the surgery that I had two years ago threw me down on the mat a bit.
Margaux: In your profession, does judo help?
Philippe Brassac: Thanks to judo, I learned a form of respect and humility. It's a sport that involves certain codified behavior: in competition, we begin with a salutation to our adversary. At the end of a match, we do this again, whether we win or lose. This mark of respect has definitely instilled something into my professional approach.
Margaux: What did you think of Teddy Riner's loss in the Paris Grand Prix?
Philippe Brassac: I have followed Teddy's career very closely, especially since Crédit Agricole is a partner of the French Judo Federation. He's a great champion. And he gave us an important life lesson by demonstrating that no one is invincible.
Margaux: Is Teddy Riner a friend of yours?
Philippe Brassac: We're close enough that I send him a message at the end of a match.
Baudouin: Do you often return to the village where you grew up? Are you still connected to the agricultural world?
Philippe Brassac: Yes, I grew up in Générac, a village near Nîmes. I'm known there most of all as the guy who tries to catch bulls!
Margaux:  In hearing you speak, I get the impression that you're very philosophical. In fact, your colleagues describe you to the press as a calming influence.
Philippe Brassac : I'm happy to hear that .
"Thanks to judo, I learned a form of respect and humility."
Margaux: Are you an advocate of soft management?
Philippe Brassac:  A bank is intangible. It's mainly a collection of people. The book 'Sapiens' by Yuval Noah Harari explains this well: we have evolved from tribes of 10 or 15 individuals into countries of many millions of inhabitants thanks to our collective imaginations. Does Crédit Agricole exist? It's a real question. No company can exist without the men and women who make it up. As you know, I had serious surgery two years ago. I vowed to make sure that the people around me realize that life shouldn't be taken for granted. I choose benevolence in my approach to events and people. We must never forget that men and women have feelings, and yet there's a kind of shame, reserve, even a prohibition: is having feelings unprofessional? I believe that if feelings are sincere, we should welcome them! If professional relations are sometimes devoid of humanity, it's because people are protecting themselves. In contrast, when you have self-confidence, you become more open, including to criticism. Even if criticism isn't pleasant, it makes us progress.