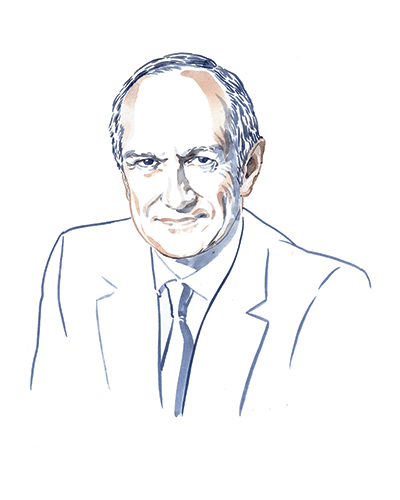 Passing the torch marks an historic moment for the cosmetics giant. Only the fifth CEO in L'Oréal's history, Jean-Paul Agon (H.78) is getting ready to hand his job over to his second-in-command, Nicolas Hieronimus. It's a big step for someone who has spent his whole career with the beauty-products leader; he will remain president of the board. He's leaving with honors. L'Oréal's stock prices are flourishing even during the pandemic: the group has managed to stay profitable in spite of a drop in makeup sales. For this big boss with a very traditional background – Sainte-Croix preparatory school in Neuilly and then HEC Paris – beauty products represent "the ultimate art" of marketing, a combination of "creation, intuition and passion".
Named HEC of the Year in 2005, Jean-Paul Agon, a fan of contemporary art, was appointed head of L'Oréal's operations in Greece when he was only 24 years old. He achieved the subsidiary's turnaround in three years. He also launched Studio Line, re-launched Elsève, and saved Biotherm. Most of all, he created L'Oréal's Asia division, which now drives the group's growth. The decade of his leadership has been marked by two great challenges: digitalization and sustainable development. L'Oréal aims to achieve carbon neutrality at all its sites within four years. The group recently announced that it would no longer sell makeup brushes made from animal hair. The leader in its sector, L'Oréal has a 12.5% market share. "That means we still have 87.5% of the market to capture," Jean-Paul Agon declared to LSA magazine.  Our three students were not intimidated by this prominent executive who's regularly the subject of interviews. They asked him about greenwashing, plastic packaging, the lack of women in the group's top management, and L'Oréal's work culture.
The beauty-products sector during the crisis
Kristy Asseily: You have been L'Oréal's managing director since 2006 and CEO since 2011. You are getting ready to pass the torch of managing director to Nicolas Hieronimus. How do you feel about these past 15 years? Would you have done anything differently?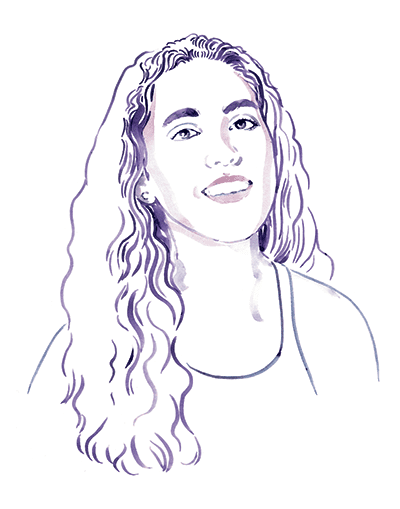 Jean-Paul Agon : First of all, I'm very happy to pass the baton to Nicolas Hieronimus, even though, as you know, he graduated from ESSEC. [Laughter] We have prepared for the transition very well, and I'm not worried about it at all. Things I would have done differently…. You know, I have to say that I don't have any regrets. We might have been able to do some things a bit better, but, overall, I reached the major goals that I had set for myself. When I took over the management of the group in 2006, I wanted to continue to develop L'Oreal's growth, profitability and market leadership, but also its excellence in environmental protection, ethical behavior and inclusion. Today, NGOs have recognized the group's non-financial performance. We are the only company that has received an "A" rating from the Carbon Disclosure Project for five years running in all of the categories the organization evaluates: the fight against climate change, the preservation of forests, and the sustainable management of water resources. At the same time, our stock-market prices have quadrupled in 15 years.
Kristy: So you don't have any regrets about your career?
J.-P. A. : I've had an amazing adventure at L'Oréal. I've been able to do everything that I wanted to do.
Kristy: You haven't made any mistakes in 15 years?
J.-P. A. : Of course I've made mistakes….  At the international level, L'Oréal has been incredibly successful in some countries, for example China, where I established our operations in 1997. There were 10 of us colleagues in an apartment in Shanghai. Today, we're the leader in China and it has become our second-biggest market globally. Our operations in other Asian countries haven't been as fortuitous. I'm thinking in particular of the Philippines. If there's one thing I regret, it's Africa. That's L'Oréal's next frontier.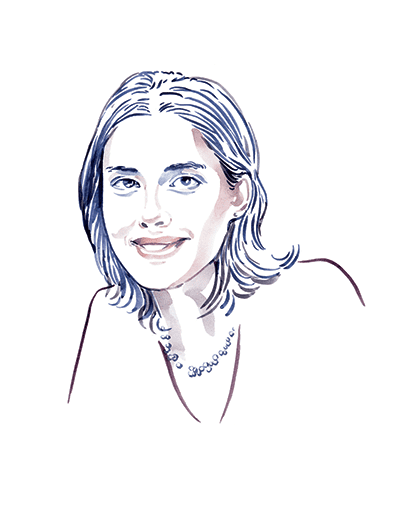 Céleste Lévy:You arrived in Greece when the subsidiary there was bankrupt, in Germany just after the Berlin Wall fell, and in New York three days before September 11…
J.-P. A. : .And in Asia three months before the Asian financial crisis! It's my destiny: when I go somewhere, a crisis happens there! But you're familiar with that Chinese ideogram that means both "crisis" and "opportunity".  L'Oréal had its 10 best years after the 2008-2009 financial crisis.
Céleste:  Is the current crisis more daunting? How have you dealt with it?
J.-P. A. : First by protecting the health of our employees – and luckily we were able to do this. Secondly, by holding on to jobs in France. We haven't put people on partial unemployment, in order to reassure our employees and to avoid asking for support from a government that is already under great pressure. We have also been proactive in protecting our ecosystem. To my knowledge, we are the only company in our sector that froze the bills owed to us by our smaller customers (we work with hundreds of thousands of hairdressers and cosmetics stores). At the same time, we made sure to pay our 10,000 suppliers upfront to keep them financially afloat. This represented several hundred million euros, which helped these companies weather the crisis. They all repaid us within six or nine months.
Céleste: You also manufactured lotions for hand sanitizer…
J.-P. A. : Yes, we produced about 15 million units that we supplied to health-care professionals all over the world.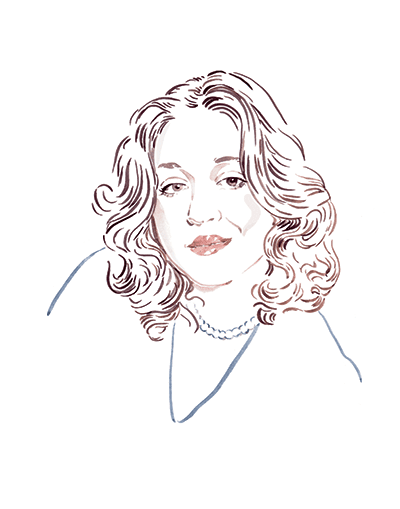 Kenza Daoudi: When we're working at home, the hairdressers are closed and we're going out less, it makes sense that we're using fewer beauty products…
J.-P. A. : It's true that sales of certain products have declined, for example makeup. But the real crisis is of supply, not demand. Sales will pick up strongly again as soon as the population is immunized. Now that the vaccination program is getting off the ground, I am confident. At L'Oréal, we are convinced, as we explained to financial analysts last week [note: during a report on annual results] that the post-crisis period will be like the 1920s. It's an interesting coincidence: exactly a century ago, humanity was witnessing the end of the Spanish flu. We call this period the Roaring Twenties, "les Années folles" in French, because there was such a feeling of liberation, of a return to normal life, such a sense of joy at being alive that it affected people's behavior.  Particularly their buying patterns. A few months from now, people will want to buy festive products like makeup and perfume. Nicolas Hieronimus is lucky to be able to oversee the end of the crisis. L'Oréal is looking forward to some very good years.
Kenza: You are passing the managing-director baton to Nicolas Hieronimus. What can you tell us about him?
J.-P. A. : Nicolas has been at L'Oreal for 33 years. He has been working directly with me for five years as assistant managing director. I know him well and he was the best choice for the job..
Kenza: What advice do you have for him?
J.-P. A. : Be yourself, and stay on top of the latest trends.
Céleste: More and more new brands are positioning themselves in the holistic-beauty niche. Does L'Oréal plan to branch out into dietary supplements, spas, or even sports classes?
J.-P. A. : In a partnership with Nestlé, we created Innéov, a brand of dietary supplements that are good for hair and skin. The products benefited from both companies' in-depth research. The problem was that these things need to be used for quite a long time before any results are visible. Because of this, we ended the joint venture after 15 years, because it wasn't a success. Research has been part of L'Oréal's DNA since the beginning. It's because of this that we can continue to revolutionize beauty products in a market with enormous potential.
L'Oréal's strategy
Céleste: I'm enrolled in the Entrepreneurs master's program. Most of my fellow students want to create a company or join a startup. They're not at all interested in working for a huge multinational. How does L'Oréal manage to recruit talent in spite of its enormous size and the unwieldiness that results from that?  
J.-P. A. : It's not unwieldy. L'Oréal isn't a giant cruise ship but rather a fleet of boats. We have 30 brands: L'Oréal, Garnier, Maybelline, Lancôme, Yves Saint Laurent, Armani, La Roche Posay, Kérastase, Vichy, etc. They are all different companies of different sizes. L'Oréal Paris is a big boat, of course; it's the world's leading beauty brand. But we also have smaller entities. Also, L'Oréal is a big company with the spirt of a start-up, a leader with the spirt of a challenger. So, our employees don't feel they are working inside a huge machine. In fact, we have had no problem attracting talent. We receive around a million unsolicited job applications worldwide every year. You mentioned that your fellow students want to create their own companies. I also chose the Entrepreneurs option at HEC and I started my own company while I was still a student, in the 1970s. It's a really good sign that young people are enthusiastic about entrepreneurship. We recruit a lot of professionals who have started their own companies and then sold them in order to move on to something else. And, some of our employees leave us to launch their own projects. Some of them return to us a few years later.
Kenza: You mentioned inclusiveness, but there is almost no diversity in your top management. It's only one-third female and there is only one non-white person. Why?
J.-P. A. : When I became managing director, there was only one woman on the executive board. Today there are six [note: and 14 men]. In addition, women hold 54% of our 1,300 key positions, the jobs that are the most strategic. And, most of the heads of our brands are women. To tell the truth, for some of our brands, there are very few men still involved [laughter].
Kristy: I was struck by an article published in the Financial Times in December in which you're quoted as saying, "L'Oréal has a culture that's not to everyone's liking." This culture is sometimes described as toxic, very French, rigid, and with a bias for people from top French schools. What do you think about this?
J.-P. A. : L'Oréal's culture isn't elitist. It's a meritocracy. Everyone starts off with the same opportunities, without any consideration of gender, origin or social class. Some employees might prefer a more comfortable, peaceful work atmosphere. But our corporate culture isn't toxic; it's a culture of excellence. We are always trying to outdo ourselves. Each person finds new inner resources, and that's what's so exciting. The group attracts a lot of people. The proof: we are the only European company to be among the top 10 on the Universum list – which measures companies' desirability among students [note: L'Oréal is ranked tenth].
"You need to have a healthy disquiet about what your competitors are doing.'
Kenza: The Financial Times article states that L'Oréal's managers are supposed to "cultivate a healthy disquiet about their teams so as to see who rises to the occasion". Isn't this a bit "old school", to promote a corporate culture based on fear about whose head might roll?
J.-P. A. : That's not it at all. I referred to "healthy disquiet" in reference to the competition. The beauty-products sector is very competitive. We are the leader, but we only have a 13% share of the market.  We have to maintain "healthy disquiet" about what our competitors are doing. Are they more innovative than we are? Are they launching better products? Do they have ideas that we haven't had? It's like an athlete getting ready for the Olympic Games. He constantly asks himself whether he can improve his time, whether a competitor is faster than he is.
Céleste: You said that research is in L'Oréal's DNA. But you still haven't solved the problem of plastic packaging. Can we liberate cosmetics from plastic?
J.-P. A. : We have made some very strong commitments. By 2030, 100% of our plastic packaging will be produced from recycled or organic materials. We will reach 50% by 2025. We buy our packaging; we don't manufacture it ourselves. Our researchers focus on cosmetics, not plastics. On the other hand, we encourage initiatives on this issue. We invested in the French company Carbios, which invented a revolutionary process for recycling PET plastic. And, through a partnership with Total and Lanzatech, we were able to produce the first sustainable packaging made from captured and recycled carbon emissions. A few months ago, we launched our first solid shampoos, sold in 100% recyclable cardboard packaging, which eliminates any plastic waste products. I'm confident: over the next five to 10 years, through intelligence and creativity, solutions to the problem of plastics will be discovered.
"L'Oréal gave me responsibilities very quickly"
Kristy: L'Oréal's statements about CSR seem a bit too much to me. By talking about this so much, aren't you worried about a backlash? We're hearing a lot about greenwashing these days…
J.-P. A. : It's not greenwashing. Look at our CDP ranking. Your perception of this is probably influenced by the fact that you're studying the subject in your master's program on sustainable development. To tell the truth, I'd be happy if people thought we were putting too much emphasis on CSR!  In fact, very few people are aware of what we're actually doing. Communications about our environmental performance are infinitesimal compared to communications about our brands and products. We do what we do because we have a responsibility to be good corporate citizens. Not to promote ourselves.
A beauty-products veteran
Kenza: You were recruited when you were still a student at HEC. You were named head of L'Oréal in Greece when you were only 24 years old…
J.-P. A. : What attracted me to L'Oréal was its international presence. When I was a child, I had maps of the world on my bedroom walls. I dreamed of going to Asia, Latin America, China. I came into contact with L'Oréal on campus and was immediately enthusiastic about the company, because it allowed me to achieve my two dreams: to work in marketing and to be able to travel. I wanted to discover other cultures and adapt to other environments. My career has been absolutely outstanding for this. You're right; L'Oréal gave me some very important responsibilities very early. You know, when the human-resources director asked me to be the head of L'Oréal in Greece when I was 24 years old, I was super proud and I said yes right away. When I got to Athens, I found out that the job had been offered to 20 people before me, and everyone had turned it down because the business there was in such a mess! It was really tiny, with no strategic interest. It was almost a suicide mission. I took the job no one else wanted. Sometimes careers don't develop the way we expect.
Kenza: Today, you need to have completed at least five years of education after graduating from secondary school to even be considered for an internship at L'Oréal.  Why do big multinationals refuse to take a chance on young people?
J.-P. A. : I agree with you that the amount of education someone has had shouldn't be the number one criterion for joining a company like ours. In fact, we recruit around 1,000 young apprentices in France every year. But I'm going to take a look at what you've mentioned and, if it's true, I'm going to see what I can do about it.
Kenza: Now I'd like to ask you some questions, if you don't mind, as though I were a recruiter interviewing L'Oréal.
J.-P. A. : OK.
Kenza: Can you describe in one sentence the success you're most proud of, and why?
J.-P. A. : The digital revolution. We were pioneers in digital and e-commerce. I'd like to add a couple of things, if you don't mind: our excellence, both financial and non-financial, and our success in China.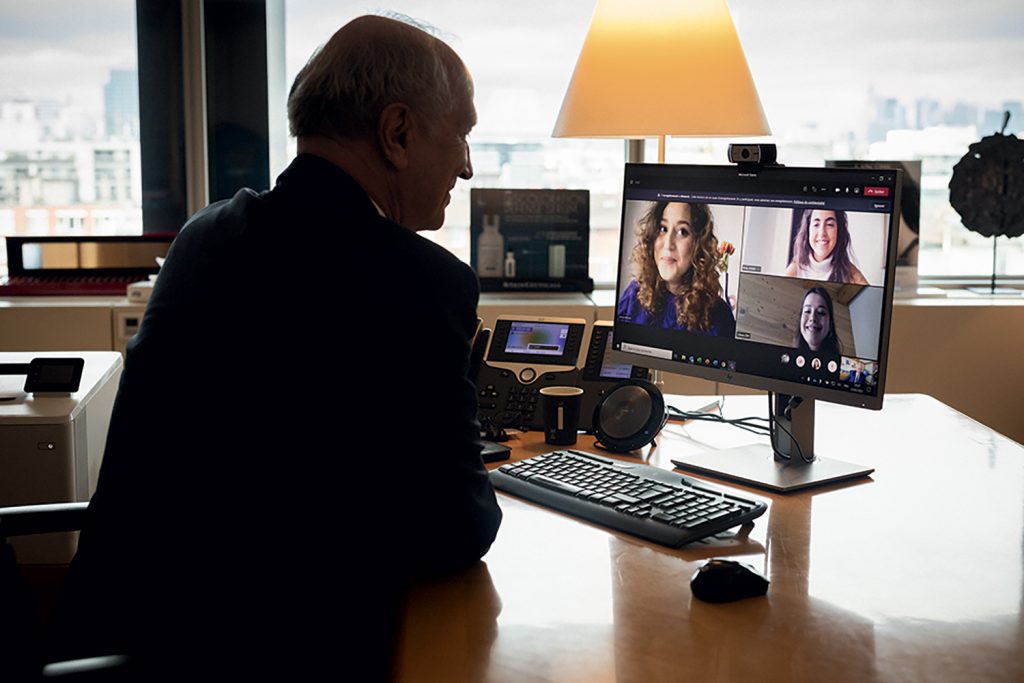 Kenza: Which of your jobs did you enjoy the most?
J.-P. A. : Being the head of our operations in Asia. It was fantastic. The job checked all the boxes. I discovered an extraordinary continent, one with infinite variety. China, Japan, Korea, Indonesia, the Philippines, Malaysia… Everywhere I went, I was fascinated by these rich and exciting cultures. It was also an entrepreneurial job, on a very large scale. An anecdote: When I was 38 years old, I told my predecessor, Lindsay Owen-Jones, "We have to develop a presence in Asia because we're late and it's the continent of the 21st century." After I said that, he made me head of L'Oréal in Germany [laughter]. But, two years later, he decided that my idea hadn't been so bad after all, and he sent me to Asia. He let me just get on with it. I started from zero and set up subsidiaries in China, South Korea, etc. It was amazing to be able to start with a blank page. You ask yourself really basic questions, like "What are we doing? Which brands, in which countries?" On top of that, it was the height of the Asian financial crisis in 1997.
Kenza: And which job did you like least?
J.-P. A. : Probably working at headquarters, because I wasn't able to travel as much. As soon as I could, I went abroad! What I love is discovering new countries, people, cultures. There's a sociological aspect to this kind of work.
Kenza: Which job would you have liked to have had?
J.-P. A. : At L'Oréal? I've had them all! [laughter]
Kenza: Even data scientist?
J.-P. A. : Well, no. I haven't been a data scientist. But, the advantage of being managing director is that you get to do all the jobs by proxy. To make projects work, you have to get involved with your employees. I led the digital revolution with Lubomira Rochet [note: Chief Digital Officer], the environmental revolution with Alexandra Palt [note: Chief Corporate Responsibility Officer], and I continue to work on developing China with the new boss there. I enjoy this: getting involved in all kinds of activities along with the people who are responsible for them.
Kristy: You adore Greece. Are you planning to spend your retirement there?
J.-P. A. : I have a house on an island in the Cyclades. I love Greece. I speak Greek, and I go sailing there every summer. For me, it's paradise on Earth. I've visited almost every country in the world. Sometimes I think, "Maybe I'll discover a country that's more beautiful than Greece." I haven't found one yet.
"I was in the bottom ten on the HEC admissions list"
Céleste: You're a big fan of contemporary art. I can see some lovely paintings on the wall behind your desk…
J.-P. A. : .:  Yes, the painting behind me is one that Alekos Fassianos, a Greek artist, painted for me. Everything in my office was a gift from colleagues. For example, this Chinese painting of Gong Li. And over there, the wrapping of the Reichstag by Christo and Jeanne-Claude. The contemporary art I like best is the contemporary German school: Anselm Kiefer, Georg Baselitz, Gerhard Richter, Albert Oehlen…
Céleste:  What's the latest work that you've appreciated in a museum?
J.-P. A. : I haven't been to a museum in a long time. I miss it. Especially since my wife runs an art gallery.
Kristy: What's your worst memory of HEC?
J.-P. A. : I'm not able to remember bad things. I only remember good times.
Kristy: Even the campus cafeteria?
J.-P. A. : You're right. The food wasn't great.
Kristy: And your best memory?
J.-P. A. : When I found out that I had been admitted. When I was selected to do the oral exams, I worked like a dog, but without any hope of succeeding. The day I saw my name on the list, I was in heaven. I was in the bottom ten!
Céleste: Did you get involved in student organizations?
J.-P. A. : .: I lived off campus. I started out living on campus, but after a few weeks, I got a bit bored, and I worked part-time in Paris. I was able to take all my classes in the mornings. I drove my little Fiat 127 very early from Paris out to Jouy-en-Josas. I left there around 1:30 PM and I worked in the afternoon in an advertising agency. I sometimes think I should have taken more advantage of campus life….
Kristy: You can always come visit us and experience the campus life you never had…
J.-P. A. : You're right! [laughter]. That's kind. I do go to Jouy from time to time. I established a foundation to help HEC students finance their education. I wasn't able to meet our scholarship students this year because of the pandemic, but I hope I'll be able to get together with them soon.