By Marianne Gérard (H.98)
Shapr, what is it?
A free-to-download professional networking app that uses geolocation to let the user connect with and then meet people who share their interests… and whom they would never have met otherwise!
How does it work?
When you create your profile, you immediately display the goal(s) you are pursuing: finding a new job, investors, a source of inspiration, recruitment, etc. Then you list up to twelve of your interests in the form of hashtags. For example: #entrepreneurship, #elearning, #hecparis. Finally, you specify how you would prefer to meet —over coffee, lunch, by phone, a drink after work, etc. Based on all this information , Shapr suggests fifteen new profiles every day that may "match" yours.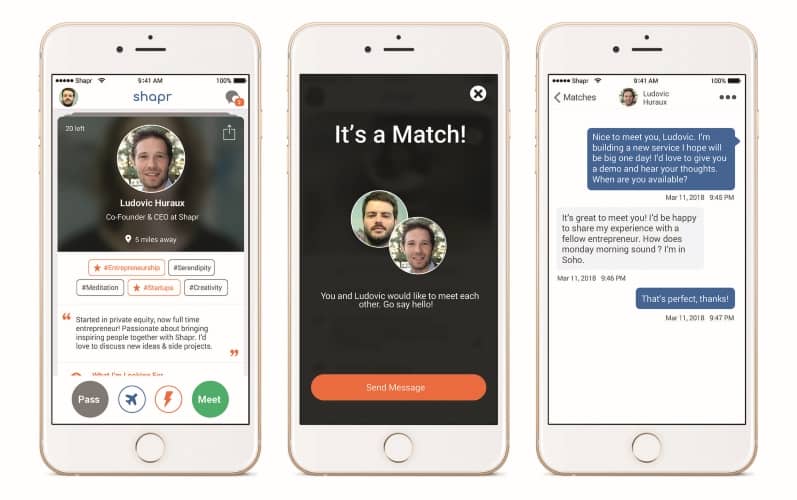 How is it different from LinkedIn?
LinkedIn is an essential online storefront, but it remains quite static: most of its users store a lot of "dormant" contacts there. Shapr, on the other hand, encourages you to actually meet the people you connect with. The concept could be likened to a professional version of Tinder: it is assumed that the users are looking to network.
How did the test go?
It is easy to use. Creating your profile is a snap if you choose to import the data from your LinkedIn account. And from day to day, it only takes a couple of minutes to swipe the suggested profiles. The suggestions cover an extremely broad range of profiles, sometimes not what you were expecting… but fascinatingly diverse. With the hashtags #journalism, #storytelling, #editorial, I got the contact details of a television scriptwriter, the editor of a magazine I didn't know, an organizer of writing workshops and tourist tours, and more.
Upsides ?
It is a useful tool for self-employed people, entrepreneurs, and anyone who wants to swap ideas and experiences, or even broaden their horizons. Shapr is also useful for recruiters in search of very specific — or offbeat — profiles. And because it uses geolocation, you can target your catchment area… even when you are on the move!
Downsides?
While Shapr is attractive as a concept, it can quickly become frustrating. It identifies "matching" profiles extremely quickly. So much so, that you need to present yourself as willing to engage in a discussion, and then meet (but that is the whole point, after all!). If you don't want to content yourself with leafing through a catalog of headshots, you have to take charge of contacting them!