Career Fair
The 2019 edition of the HEC Career Fair took place on January 23rd and 24th, and brought together 165 companies and 2,000 students. "Back in September, we announced the event on our completely redesigned website," said Mathieu Schimizzi (H.22), president of the association. What's new at this year's event? The recently created Energy and Sport corners. And the highlights? "The speech from our guest of honor, Jean-Luc Bélingard (H.71). And the lunches, which are always a special time for discussion between the students and the companies, and greatly enjoyed by all."
HEC Summer School
In June and July of this year, five hundred high school students, college students, and recent graduates from all over the world will come together at the HEC Paris campus to attend seminars on a range of topics: strategy, finance, entrepreneurship, digital marketing, leadership, and more. The program will include classes taught by HEC professors, case studies, and job training in groups. A word of advice to alumni wishing to offer their children this great opportunity: among the benefits of the Infinity Pass membership is a 25% discount on a Summer Schools academic session for the selected students. For further details, go to hecalumni.fr.
A cross-disciplinary approach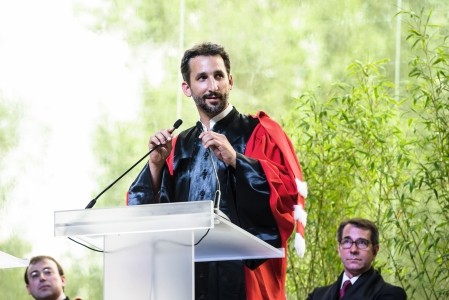 Eloïc Peyrache, Deputy Director in charge of the Grande École and specialized Master's programs since 2008, was appointed Deputy Director General in charge of programs on February 1st. He now supervises all the HEC Paris segments: Masters (Grande École, MS, and MSc), MBA, and continuing education. So, what is his vision of the way forward? "Create more of a cross-disciplinary approach to make our corpus of programs and processes more comprehensive. HEC already has a tremendous history, and now plays in the big league. Its compartmentalized organization undoubtedly enabled that success, and we must retain that agility and the identity of our various programs. But that compartmentalization has become an obstacle to HEC's future development and upgrading." A new challenge that Eloïc is delighted to take on.
The cooperation agreement between HEC Paris and the Institut Polytechnique de Paris has been concluded! Signed on February 21st, that agreement now formalizes the partnership with the five major engineering schools at the Paris-Saclay teaching center of excellence.