André, the shoe specialist, marched forward with great strides for more than a century. Nevertheless, it was the first French company to be stopped in its tracks by Covid 19.
Will André be the first French company to fall victim to the coronavirus pandemic?  Part of the Spartoo group, André files for bankruptcy in March 2020. It has not yet been liquidated, but its chances of escaping that fate seem slim. At stake: 150 stores and 600 jobs. And a brand with more than 100 years of history.
A giant's first steps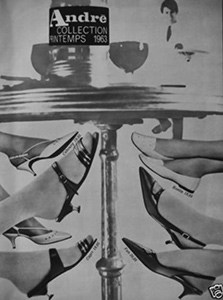 1896: André is born in Nancy. Albert Lévy, a young Alsatian entrepreneur, acquires a local shoe-manufacturing enterprise and forms a partnership with Jérôme Lévy, a solicitor in Toul (to whom he is not related, even though they share the same last name). Shoemaking is still a small-scale craft, but Albert, inspired by Taylorism, has some new ideas. He wants to control the whole production chain, all the way to sales in stores. The company opens its first shops in Paris in 1903. Two stores, on Boulevard Barbès and Avenue de Saint-Ouen, bear the name of their former owner, André. The brand has found its name. The André group flourishes: 12 stores in 1906, 117 in 1930. Not to mention tanneries, workshops for stitching, factories producing wooden and rubber heels…. The guiding principle? Provide shoes for the whole family at low prices. In the shops, each usually run by a couple, there are no shoes on display. Boxes are piled up in the windows and customers ask for advice.
| 1896 | 1904 | 1914 | 1932 |
| --- | --- | --- | --- |
| The Alsatian Albert Lévy acquires a shoe factory in Nancy, aiming to become the "Taylor" of the shoe business. Seven years later, he opens his first store in Paris with the name… "Mathieu". | Now partnering with Jérôme Lévy, he acquires two shops in Paris named "André" (for their former owner). The concept: a choice of shoes at affordable prices. | The brand has 57 stores, more than half of them in Paris, but the war stalls its growth. When the war ends, Alfred sets up his headquarters in Paris on the Rue de Flandre. | "Le chausseur sachant chausser" ("The shoemaker who fits shoes"), a slogan created by Marcel Bleustein-Blanchet, helps boost sales through the roof. André becomes France's number one shoe brand, a step ahead of Bata.. |
In 1927, Marcel Bleustein-Blanchet, convinced that advertising is going to revolutionize the economy, launches Publicis and starts looking for his first clients. He meets Albert. "Advertise? What's the point of that?", Albert Levy responds. Bleustein-Blanchet stands his ground and gets the job with his tongue-twister slogan "Le chausseur sachant chausser" ("The shoemaker who fits shoes"). André's sales double and the company dominates the French shoe market … until war breaks out. Since its owners are Jewish, André is at risk, but it survives the war and enters a new golden age at the beginning of the "Glorious 30s" (the 30-year post-war boom). The brand even opens a store on the Champs-Élysées.
The empire loses its footing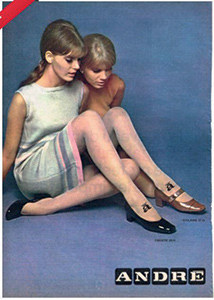 George Lévy, who took over the company from his father Albert, dies in 1960. Jean-Louis Descours takes up the reins and remains CEO until 1996. André has been led by only three people in 100 years. After tiptoeing through two world wars and the oil crisis, the company finds itself in a more competitive era and begins to try to reinvent itself. Descours, a clever strategist, enters the discount market by launching La Halle aux Chaussures (Shoe Hall) and La Halle aux Vêtements (Clothing Hall) in 1981. During the 1990s, he acquires several ready-to-wear brands (Minelli, Pataugas, Kookaï, Caroll…) and restructures the company, which becomes the Vivarte group.  "A colossus gorging itself on acquisitions, whose network depended on how well its suburban stores were doing," explains Quiterie Thomann (HEC certificate), André's director from 2012 to 2016. Except for its focus on global expansion and e-commerce, the group has trouble setting its priorities. Quiterie explains, "I had five managing directors and five presidents in four years. In such conditions, it was hard to develop a long-term strategy for the brand." Patrick Puy, appointed CEO of Vivarte in 2016, admits, "We set our sights too high. We acquired too many brands even though we weren't able to support them." In 2018, André is sold.
| 1940 | 1963 | 1967 | 1981 |
| --- | --- | --- | --- |
| Under provisional administration as a result of the Vichy government's anti-Jewish legislation, the company has to toe the German line. | As shopping malls begin to proliferate, the company's strategy evolves. A network of franchises helps André open stores in even the smallest towns. | André shoes go international. The brand opens stores in Belgium, Germany, Canada and Italy. | The group, now restructured, has 500 stores and its turnover is growing by 15%. André enters the discount market and opens La Halle stores in suburban locations. |
A flashy new look, tip to toe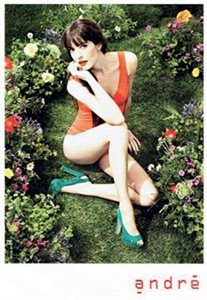 Boris Saragaglia (M.05), founder and CEO of Spartoo, is the buyer. He acquires a history, know-how and a network. His plan for beating André's competitor, Sarenza, is to combine e-commerce and physical stores. "One foot in the Internet and the other in real life," he puts it.  André grows from 400 to 1,000 employees. However, the shoe business has changed. Sneakers have replaced leather loafers, and consumers favor sports brands. And while sales are falling, by almost 15% in 10 years, rents continue to rise. With 100 million euros in turnover, André has 10,000 euros in losses. Spartoo invests in modernizing the brand, using Instagram influencers and launching a line of fabric athletic shoes. In the stores, salespeople use touchscreen tablets and shoppers make their choices on the screens. It's an effort to appeal to millennials. But all this is not enough to stop André's downward spiral, and various events make things even worse. "First there was the yellow vests, then the strikes over retirement reforms, and then Covid 19," the CEO points out. "When the stores had to be closed, it cost us 250,000 euros every day." So, the time has come. As Quiterie Thomann observes with regret, "All the same, it was a popular brand with a lovely history."
| 2001 | 2013 | 2018 | 2020 |
| --- | --- | --- | --- |
| The Vivarte group is born. It brings together André, La Halle, San Marina, Caroll, Besson, Creeks-Liberto, Chaussland, Minelli, Kookaï, Pataugas… | A new logo, a new in-store concept, a new slogan ("André: Fashionable shoes since 1900") and an e-commerce site: André positions itself as a luxury brand. | On July 1, André and its 200 stores are acquired by the online-sales group Spartoo, which includes 3,500 brands. | In mid-March, lockdown measures designed to fight the coronavirus pandemic force the closure of 150 André stores. A heavy loss that precipitates the brand's downfall. Spartoo asks for its subsidiary to be put into receivership. |