In Beirut, time stopped at 6:08 PM on August 4, 2020. On that day, Lebanon's capital was violently shaken by two explosions at the port. Already suffering an unprecedented economic crisis, the country counted its dead. After a week of digging through the rubble, the total was 171 missing, 6,500 injured, and whole neighborhoods devastated. A tragedy. Very quickly, shock turned to anger, and all eyes were on the government, which had been alerted to the dangers of storing ammonium nitrate. Instead of the expected deluge of resignations, officials shifted responsibility onto others. Inertia was followed by a return to the status quo….
A battle with the "forces of injustice"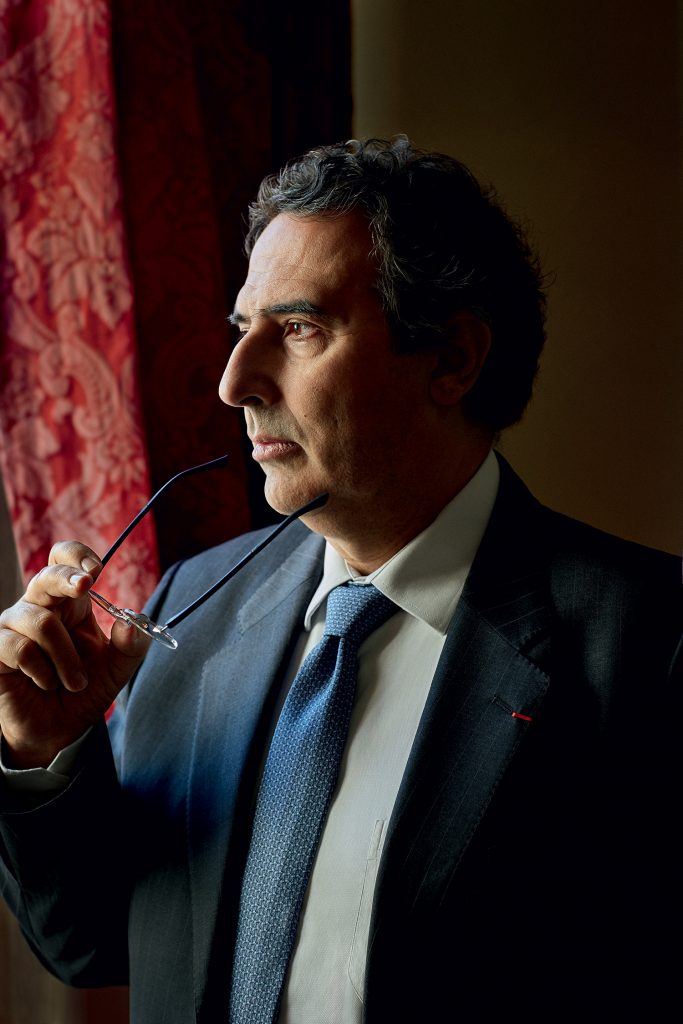 A few weeks earlier, another event, less spectacular, shed light on the flaws in a government rotten with corruption. On June 29, Alain Bifani (H.94), the very well-known Director General of Lebanon's Ministry of Finance, announced that he was resigning his post, after two decades of service. This prominent 52-year-old bureaucrat had been one of the drivers of Lebanon's economic recovery plan and related negotiations with the IMF, which had come to nothing. "The recovery plan involved requiring those who had most benefited from the system for 30 years to pay their fair share.  Since Lebanon is mired in inflation and purchasing power is dissolving like snow in sunshine, this economic collapse hits the Lebanese population hard. People with limited savings can't take their money out of the banks, while financial criminals have been able to transfer six billion out of the country." [Note: Lebanese banks have not allowed ordinary account-holders to transfer funds out of the country since October 2019.] In his announcement of his resignation, the ministry's former number two man did not hold back. "We've arrived at an impasse. I have chosen to resign because I refuse to be complicit in or witness what is happening. […] Forces of injustice have banded together to kill the recovery plan." "The system" won out over his tenacity… at least for the moment.
From HEC classrooms to consulting firms
When we meet him four months later, it's clear that he still feels bitter about losing a battle against the "political-financial octopus". After overseeing the ministry's 3,000 bureaucrats for two decades, Alain Bifani isn't sure what he's going to do next. Re-joining the administration? Not likely. The private sector? He acknowledges that banks and financial institutions have sought him out. Politics? He's not interested in prestigious titles and has no illusions about the possibility of changing things. It's the first unknown in a dazzling career that began with an exemplary education: graduation from France's most prestigious preparatory schools, training to be an engineer, and then, starting in 1992, classes at HEC, entering directly into the second year of the program. What does he remember? "First, the question on the exam on general culture: 'A man in space. Why?' Seriously, what I remember most is life on an exceptional campus with exceptional people." His diploma in hand, he joins consulting firm Arthur Andersen and, a year and a half later, ABN AMRO bank in the Netherlands, before answering the call of his country and moving to the bank's branch in Lebanon.
The economist with this prestigious pedigree begins to make a name for himself in the halls of power. At only 31 years old, he earns the trust of Georges Corm, Minister of Finance, who chooses him to be Director General of the ministry. The challenge is enormous: to overhaul public and financial accounts, restructure the tax system, create a new means of automatically exchanging fiscal information with the OECD… Alain Bifani estimated his job at the ministry would take four of five years. He stayed there for 20. "I think my youth was an advantage because it forced me to be permanently on a learning curve. I had to be humble, but also tenacious to bring back to life a division of the government that had been weakened by an interminable war and by the decade of calamitous management that followed it. Organizational structure, human resources, processes… Everything had to be reinvented."
Reports on corruption buried
The effects of his authority were soon felt, particularly concerning the costs of managing public-sector debt. The ministry's team had to reconstruct Lebanon's financial accounts, which had not been tallied since the beginning of the 1990s. Among the initiatives he's proudest of: the successful computerization of the ministry's services. He explains, "These successes proved that in a country like Lebanon, where the people have little faith in government institutions, an administration can accomplish an enormous amount if it has the will to do so, even in opposition to the political system." That system again… When he promised the World Economic Forum and the OECD that Lebanon would transition toward financial transparency, this high-ranking official knew very well that his move would horrify the Lebanese establishment. He sighs when he remembers the many reports on corruption that his staff compiled, most of which were stuck into drawers or are still bogged down in the courts or with central inspection services.  Or when he mentions Minister of Finance Fouad Siniora, who wanted to get rid of the post of Director General and with whom he was engaged in grueling trench warfare  from 2001 to 2009.  "We didn't share many values," Alain Bifani says succinctly, adding that he's still surprised that he held on to his job during that period.
"Since Lebanon is mired in inflation and purchasing power is dissolving like snow in sunshine, this economic collapse hits the Lebanese population hard."
Living up to his reputation, in 2018 he organizes a press conference – against his minister's advice – to denounce bad practices. Needless to say, this does not make him popular with the ruling class, which fights back… When his wife is accused of transferring money to France and Switzerland after the sale of her medical-products company, he sues for slander, releases private bank information, and demonstrates proof that all income taxes have been paid. When he is criticized for having underestimated the costs of restructuring the salary scale of government jobs, this highly placed official points out that the budget ballooned because, before voting on it, ministers and deputies consented to "gifts" (adding extra job levels, maintaining voluntary early retirement for members of the military…). Here we see the Alain Bifani paradox: a destroyer of political big shots who himself was one of the longest-serving members of government. A schizophrenic position that had no doubt become untenable. Today, it's as a simple citizen that the reformer observes the Lebanese economy's downward spiral. In 2020, inflation is close to 120% while shortages of consumer goods are widespread. No one even bothers to total up the number of layoffs, and a fifth of the country's companies have gone bankrupt in barely a year. A third of the working population is currently unemployed, and 45% of the Lebanese people are living below the poverty line. "Deposits made by the middle class are currently dissolved into profits for banks' shareholders," he sighs. "It's unbearable to see citizens experiencing massive devaluation of the currency because of corruption, mismanagement and gangsterism."
Get rid of heads of clans or manage them?
For the economist, a new recovery plan would be useless unless profound governance changes are made. "How can you expect international donors to help a country in which the central bank refuses to reveal exact figures and lacks managers capable of handling a recovery program?  It would also be necessary for parliament to vote for reforms, but parliament is currently dominated by heads of clans who profit from the lack of reforms. That's a lot to overcome…" Is there any reason to be hopeful? After the explosion at Beirut's port, France's president Macron asked for Lebanon to establish a new government whose mission would be to implement reform programs, and Alain Bifani approves of this.
France-Lebanon: Ancient Ties
On August 6, 2020, just two days after the explosion in Beirut's port, Emmanuel Macron was the first international head of state to visit the scarred capital. In a speech, the French president urged the creation of "strong political initiatives" to "fight against corruption" and combat "lack of transparency in the banking system". Some saw this as interference, or even a form of post-colonial paternalism…. To understand the special relationship between the two countries, we have to go back to September 1, 1920: almost a century, to the day, before the president's visit, France, mandated by the League of Nations, proclaimed the creation of Greater Lebanon. Up until 1943, France would administer the country; import its culture, language (French is still spoken by 40% of the Lebanese population), and educational system; and would furnish Lebanon with a constitution. Today, France coordinates economic and financial aid programs for Lebanon provided by the IMF and the World Bank. The political ramifications are also important. At a time when the United States is disengaging from the Middle East, the country of the famous cedar represents an important ally.
"The Lebanese people saw this demand by Macron as support rather than interference. It was geared to managing destructive figures in government and encouraging the international community to support Lebanon. Macron's well-thought-out roadmap reassured institutions that could provide support to Lebanon, while also keeping heads of clans involved. But they were incapable of coming to the table to form a government. I don't know how all parties would be able to reach an agreement about making constitutional changes."  Heartbreaking for someone who explains that he now spends more time in France than in Lebanon and who no longer rules out the prospect of civil war and chaos in his country. "In the absence of capital, the risk over the medium term would be the formation of a quasi-military system with only dirty or laundered money coming into Lebanon." We have been warned.
Bertrand Morane