A bombshell in the heart of the Mayenne region! Laval's outgoing mayor has decided not to run in the municipal elections. That puts a young HEC graduate in a good position to capture City Hall. The story of a campaign's first day.
"It should be just a formality. She has already said yes," he assures me. Set up on the first floor of his small campaign headquarters, he speaks softly, as though he wants to avoid disturbing the silence of tiny Saint André street, whose stones are slowly warming up in the clear early sunshine this January morning. "She" is a former choreographer, well known by the 50,000 inhabitants of Mayenne's capital. This morning, she is supposed to confirm that her name can be on the electoral list of Demain Laval Ensemble (Tomorrow Laval Together). As a local celebrity, she's a valuable recruit for this center-left party headed by a little-known 29-year-old entrepreneur and HEC graduate, Florian Bercault (H.16).
9 AM, campaign headquarters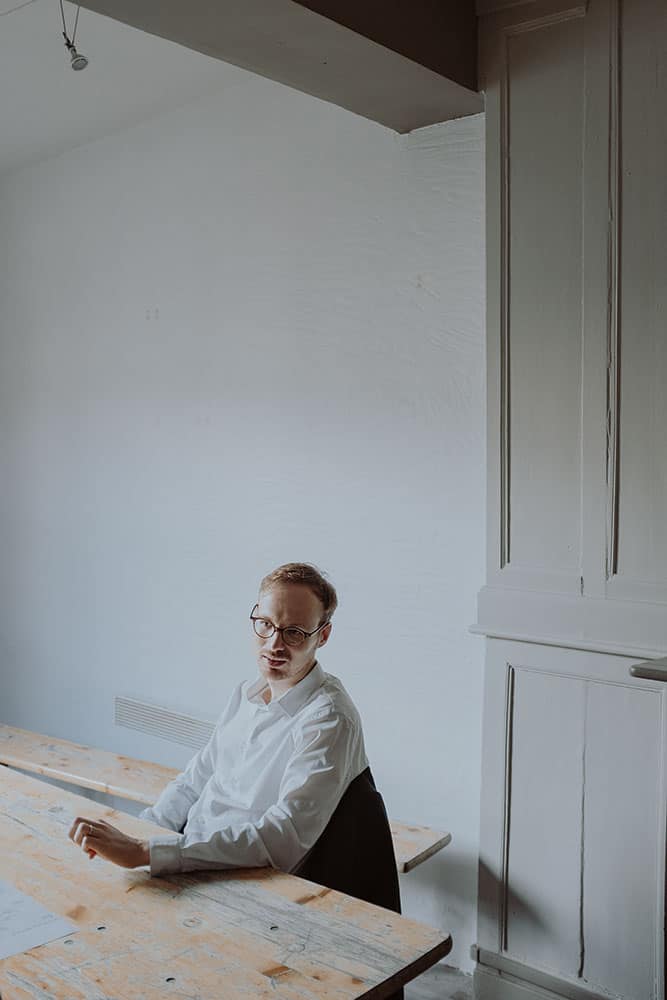 When she appears, the young candidate greets her as a friend. She, however, hasn't expected to see a journalist there and takes a step back. "You're not a local reporter, at least?" she asks, clearly uneasy. Is the rumor mill so powerful here that people are more worried about a few columns in the local Courrier de la Mayenne than an article in a national daily? Florian reassures her and then, impatient to tackle the issue at hand, asks her with a smile, "So?". "So, I'm sorry, but no." The young man is visibly shaken. She explains. There are personal issues, time constraints, and then what is clearly the real reason she has decided against participating: a fear of calling attention to herself. As compensation she agrees to be on his support committee and give him feedback on his projects. "And if you need some inside information to take down the other side, I have a lot," she says before leaving. So, Florian must now start looking for a new running mate. A delicate matter. "We need a balance of ages, genders, professions, neighborhoods and non-profits being represented," he explains.
There aren't a lot of options for finding the missing piece of the puzzle: canvassing the area, and, if that isn't enough, just going through the phone book. All the while hoping that supporters won't refuse to participate openly because they're worried about what people might say. "Some people don't want to get involved because Laval politics has long been marked by social connections and certain limitations. Laval has always been dominated by four prominent families who call all the shots." These families, Florian tells me, are the B., who rule over a dairy empire; the G., auto-shop kings, etc. A coterie of local leaders who will be strongly behind the center-right candidate. In opposition to this, he intends, with his group of newcomers to politics, to bring about a radical transformation. This seems familiar! A determined young entrepreneur with progressive ideas, surrounded by political outsiders and promoting a program developed with input from the public. He acknowledges this. "I look like the archetypical Macron candidate." He has never been a supporter of Macron's "Republic on the Move" party, however. "I have the impression that Macron is pushing hard on the button marked 'progress' without a long-term vision and without knowing exactly where he's headed." To show me his own vision, he takes me on a tour of the city.
10:30 AM, City Hall square
At the end of the main shopping street, sadly named Street of the Deported, we reach 11 November Square, the city's nerve center and the hottest issue in the current campaign. Political parties are not only fighting to establish themselves there (it's the location of City Hall), but also to control how the square is used. Everyone wants to find an alternative to the huge parking lot in the center of the square, but "the right wants to build a shopping mall, while I want the square to be a place for residents, associations and civic life to flourish," Florian explains. We also pass in front of the Chateau-Neuf, a magnificent Renaissance edifice that is now entirely empty. He thinks the building might be dedicated to the Douanier Rousseau, one of Laval's celebrities. He refuses to promote a fully developed project, however. Everything, from the building's insulation to the organization of its access, must be decided with the input of the local population.
11 AM, media event
Florian is smart, backed by a committed team, and with considerable political experience, but he is well aware that he will never win the election unless he raises his profile as quickly as possible. To be reported on by local media is therefore a top priority. He can't afford to be too selective: he'll agree to any interview. Next week he's having lunch with journalists from Ouest France, but today he's meeting with Mediascop, a YouTube channel whose editorial bent is not clear. The subject of the interview isn't very clear either. "Someone vaguely mentioned a drawing I would be asked to comment on," he says. And, sure enough, the interviewer shows him a cartoon. Two people are standing in front of a deserted election center. "Wow, pretty high absentee rate today!", says one. "Not at all; the mayor was elected in the first round last week!" says the other, with just a glint of humor. Sitting at a table in a café in the center of town, Florian has five minutes to come up with a response on camera. Compared to this, HEC oral exams are a piece of cake. He does pretty well, commenting on the dangers of absenteeism and calling on the people of Laval to vote, before he pays the YouTubers' check. One more addition to his campaign costs, which should total around 70,000 euros, financed by a personal loan (reimbursed if he manages to get at least 5% of the votes). Not cheap! Is the job of mayor of Laval well paid, at least? "To tell the truth, I have no idea what the mayor earns, but obviously no one gets into this for the money."
"Thanks to HEC and my company, I could make a much better living much more easily." So, why would an HEC graduate not even 30 years old decide to throw himself into local politics? "To serve others, to defend the interests of the population in a city that I love; my reasons are pretty standard." He also feels comfortable in this kind of role. When he was younger, he served as a class representative, and at HEC, he founded the first student union of any elite French school. "Along with this, my travels, particularly to Mexico, made me realize how important it is for elected officials to be honest and competent. When I was an exchange student in Guadalajara, I saw first-hand what corruption and drug traffic can to do a city and its inhabitants."
12:30 PM, The Palatium restaurant
As Florian well knows, a candidate's most important asset is a willingness to listen. He doesn't take this bit of received wisdom lightly. When he meets with long-winded constituents, he must remain attentive at all times, no matter what. This is his challenge during his lunch meeting with the president of one of Laval's most important sports associations. A former union leader, the president is cheerfully outspoken and clearly thrilled to have a chance to describe a number of flawed municipal actions regarding sports policies. For a whole hour we are drowned in a flood of information full of allusions (totally meaningless to me) to local events in the past and to prominent people who, out of caution or a love of mystery, must not be named. When the subject of the "senseless" proposed plan for the electricity system of a future community center comes up, I've had all I can take. Not so Florian, who remains attentive and takes notes in his little notebook. This is, after all, an important meeting, because Laval's associations are very active, and local residents are strongly committed to them. It's crucial for him to take them into account in his campaign. And, he needs to know exactly how local leaders of clubs stand, since traditionally they are the ones who organize a debate between candidates for mayor. No candidate can get by with platitudes during this debate, and, starting this year, moderators will even be allowed to give yellow or red cards to candidates guilty of palavering. As we're having dessert, the president takes out a piece of paper listing the issues he plans for the candidates to debate, but when Florian tries to get a look at it, the president quickly hides it away. Mustn't spoil the show!
2 PM, Lethal weapon
As we're leaving the restaurant, Florian gets a message: it's his father, who has just arrived from Paris and has brought something important. We quickly head toward Trémoille square. Standing next to a truck, his father grins at us and, opening the tailgate, reveals an imposing three-wheeled machine, jet black like a Batmobile. Like Q in James Bond, he shows his son how it works. There's no grappling hook or ejectable seat, but rather a big trunk that can hold thousands of leaflets, a small roof, and a kind of sail towed at the back with a huge portrait of the candidate, everything powered by an electric battery and pedals. It's a power-assisted tricycle, a weapon of choice among militants, something his opponents don't have and that can give him a distinct strategic advantage. "I believe that a campaign takes place in the field, and that means it's physically challenging. My team and I are going to spend weeks on our feet all day long, crisscrossing the city. This machine will help us be visible and efficient."
2:30 PM, door to door
Pound the pavement, get out and meet people, show up at all the markets. This is what he's counting on to help him win the battle. This afternoon, he's targeting businesses located near his headquarters in the center of town. We begin with a visit to a nearby barbershop, whose owner greets us with respect mixed with a bit of defiance. "I don't get involved in politics. It's not good for business," he tells us over and over. No politics, no politics, but it doesn't take long for him to reveal a very specific political perspective, no doubt developed as he shaved his customers. Soon he can't stop talking. "Ever since the city implemented new parking regulations, it's been hell for us. We've had to pay fine after fine. We urgently need a parking sticker for local businesses. Public-works employees shouldn't be the only ones to get this. And, on our street, there's a question of cleanliness and odor. Some think it's from the bakery next door, because yeast, it's true, ferments and smells. But the problem is really from the huge flower planters along the street, which local cats use as giant litter boxes. I asked city hall to take these planters away, but I haven't gotten an answer," and so on. Florian takes note, agreeing with some points, but avoids promising anything, and instead assures the shop owner hat he will consider these issues when he is mayor. He has, in any case, proved one thing: he can make people feel free to express themselves.

5 PM, at home
We head back to Florian's home so that he can prepare the speech he plans to give tonight at the inauguration of his campaign headquarters. "It's kind of a mess; we just moved in," he apologizes. It's obvious that the couple hasn't really had time to set things up. The disarray, though, is obviously for a good cause; everything has been put on hold for something that's more important than home decorating. His wife Flora is also involved in local politics; in fact, that's how they met. She occasionally makes suggestions about his campaign strategies, and now she disagrees with him about the little barbs he intends to throw at his adversary. She thinks he should be above this kind of thing. OK, he says, but on the other hand we can't let ourselves be pushovers. The other side will just have to watch out. Seated here at his work table, he looks a bit unsettled for the first time today. He's always focused; we can hear him urging, making gestures, without ever losing his composure even when he's constantly being interrupted by those around him. It's just that there are many practical details left to deal with, and even though he has a team, many little unplanned tasks tend to land in his plate. In fact, it's time to go to the headquarters on Saint André street to find out how preparations are progressing.
6PM, inauguration of the headquarters
The atmosphere is completely different from this morning. The little shop with its medieval charm is now full of fellow party members dealing with last-minute tasks. Pieces of orange and green cardboard have been hung on the rather uneven walls (there was no time to re-paint). These are the party's colors and they're everywhere (except on the wastebasket, which is pink, the only color available. Too bad; the wastebasket will be Socialist). The scarves that party members are wearing are also orange and designed to help voters easily identify them. These scarves are a bit too big, so everyone is trying to find the best way to tie them… A small crowd is already starting to gather in front of the shop window: supporters, the press, passers-by, everyone curious to hear what the new candidate has to say. He begins, logically, by introducing himself. His first goal is to dispel any rumors that he doesn't really belong in this city. "It's true that I wasn't born in Laval; I wasn't able to make sure that I was born here. On the other hand, I grew up here and I chose to live here and start a family." He chooses his words carefully to reassure his listeners and dispel any doubts they may have about him because of his youth, another possible weakness for his campaign. Head of a company (he never describes himself as someone who has launched a startup), married, he is stable and mature enough for the job. The rest of his speech focuses on the major goals of his campaign and the values of his party. A speech basically aimed at consensus but accurately reflecting his character: sincere, optimistic and approachable. The public seems to like his style, listening to him appreciatively and quickly surrounding him once the speeches are finished, ready to sample the chips and sodas his team has quickly set out. And in this low-key, convivial atmosphere, Laval's municipal battle truly begins.