Not your average auctioneer, this art lover and graduate of both HEC (H.94) and the École du Louvre (Louvre Art School) promotes the appeal of a patrimony from an unlikely source: companies. Her auctions are an outstanding success.
If there's one quality a successful auctioneer needs on this late-January day, it's insensitivity to cold. Before an auctioneer gets to pound the hammer in an auction room, she has to nose around behind the scenes: in storage buildings, empty houses, cellars, warehouses, closets, attics, and various other nooks and crannies that never get the benefit of central heat! The day before our meeting, Elsa Joly-Malhomme, 48 years old, sent us a message: "Above all, make sure you're well covered up. Thick socks, a heavy sweater, a warm coat. It's freezing where I am right now."
8:30 AM, just steps from the Louvre
The place where we first meet, a luxury hotel right in the heart of Paris, has good reasons for not firing up its boiler. Thanks to the pandemic lockdown, no one is crowding into the lobby; this place has been closed to the public for months. The address is quite prestigious: 202 Rue de Rivoli, in Paris's First District. The entrance to the iconic Saint James Albany, reached through Rue de Rivoli's famous arcades, features the vestiges of an 18th century mansion that was once the home of the Marquis de La Fayette. All the bellboys have taken to their heels. Only one guard oversees the lobby's rare comings and goings. It's cold enough in here to crack the crystal chandeliers. Snowflakes drift down to melt on the asphalt outside.  The Tuileries Gardens are just across the road, the Louvre to port, the Place de la Concorde to starboard. Elsa Joly-Malhomme, who managed to juggle HEC and the Ecole du Louvre, feels right at home in this golden triangle. "It was in 1994, a year when I only remember doing one thing, or almost: working like a demon! But it was thrilling!", she recalls. She welcomes us completely bundled up in a bulky down coat. This Nordic-looking blond, a native of Normandy, is bubbling with the boundless energy of someone who loves what she does. "I haven't been pounding the hammer very long," she tells us. "After my dual education, I got involved in projects related to the arts, first in the EDF Foundation's sponsorship program, and then as the head of marketing and communications of Christie's France for eight years."
"In 2003, I decided I wanted to go back to school to achieve my dream of becoming an auctioneer. With my new diploma in hand, I spent a bit more than 10 years in a Parisian firm. In 2019, I finally decided to branch out on my own." Her very original idea: to establish the first auction house specializing in showcasing the patrimony of companies and institutions. This new notion causes a stir in a sector typically bound by tradition. Companies collect, over time, all kinds of things whose value is rarely recognized: office furniture, designer objects, tools for specific purposes, obsolete industrial equipment, advertising posters, ephemeral collections…. Cast aside in a corner, not being used for anything anymore, this apparent junk can conceal treasures that eagle-eyed Elsa unearths and puts on display. To help achieve its goals, her little startup has formed a partnership with the prestigious Ader auction house, founded in 1692. Ader Entreprises et Patrimoine (Ader Companies and Heritage) was born just over a year ago. A new adventure that doesn't leave Elsa much free time.
9 AM, treasure hunt
In fact, it's time for Elsa to finish an inventory. She needs to keep wandering the icy hallways of the Saint James Albany.  The hotel will begin a renovation project next month. For the last several days, the auctioneer has been ferreting around the whole building, from cellar to attic, casting her expert eye on everything in hopes of discovering the best pieces to be auctioned. She will eventually select 423 items. A lovely black-lacquered grand piano, carpets from Pakistan, a beer pump, wrought-iron garden furniture, crystal chandeliers, dozens of paintings and reproductions of all kinds, leather armchairs, a fountain topped by an angel, nice bottles of wine from the cellar, and a long bar counter in blackened wood, carefully polished by hand over many years.
10 AM, photo session
Now it's time to organize all this stuff so that it can be presented in an attractive catalogue. What a job! Every item has to be assessed, measured, described in detail, photographed, and finally assigned a starting price. "This is going to take at least four full days, morning to night," says Elsa with a smile. Her team is already hard at work with the photographer, Léang Seng, who has set up a studio in the hotel's lobby.  Everyone else is shivering, but he strolls around in a short-sleeved tee shirt, smiling, his camera in his hands, and socks on his feet so that he won't make any marks on the immaculate floor that he's using as a backdrop. Four movers haul up objects as his camera flashes. Then it's the turn of Inès del Valle, the auctioneer's assistant. She numbers each piece and enters all the descriptions into a computer and into a little grey logbook whose cover bears the famous quote attributed to Christopher Columbus: "If you know where you are, you haven't gone far enough." A motto for auctioneers? "An auction is always a leap of faith," Elsa explains. "Often the companies that call on me are amazed by what an auction will bring in. They had no idea that they had anything worth that much." A few days after the photo session, the Saint James Albany online auction achieves an astonishing total: 135,117 euros for the 96% of the objects that were sold. Drawn by the hotel's prestigious pedigree, buyers showed up in droves. Virtual auctions are seeing outstanding success, proof that a digital revolution is well under way. Elsa is really proud of another success story. Last November, she organized an auction for the Palais de la Découverte ("Discovery Palace") in Paris. The event should have been held in the museum and open to the public, but, at the last minute, the pandemic shut things down. Elsa had to improvise "a lockdown live auction". She had a green screen installed to display the objects in front of an image of the stunning museum. The Internet did the rest. The science museum's 130 objects practically flew off the shelves, including a huge gorilla made out of artificial fur for an exhibition in the 2000s. It sold for around 11,000 euros.
11 AM, secret mission to Fleury-Mérogis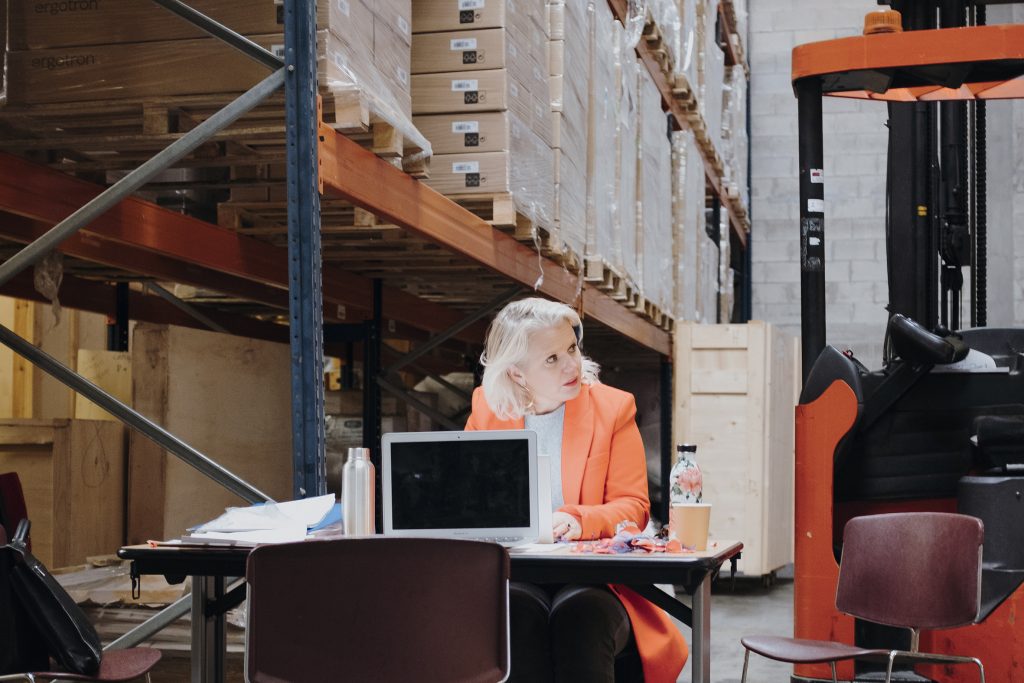 Our next meeting is in a warehouse whose address we keep a secret. It's just as icy inside as the hotel was. The client is a "prestigious Parisian palace". Nevertheless, we're heading to Fleury-Mérogis, a suburb south of Paris, to visit a strange parallel universe. A huge hangar in the middle of an industrial park is waiting for us. It contains whole kilometers of piles of objects. Wooden containers stacked against each other reach all the way to the 20-meter-high ceiling. Hefty guys wearing blue work shirts and white gloves gingerly remove rare furniture and objects from these boxes, where they have been stored for years. Elsa is as excited to see each treasure as a child opening Christmas presents. Over there, an enormous chandelier. Over here, a mirror with an oriental decoration. This lengthy session in Ali Baba's cave is an opportunity to witness Elsa's expertise in action. Ulysse Gaunet, 25 years old and still a student, describes each piece as his boss looks on attentively. His deep voice resonates through the storage facility: "Here we have a Napoleon III-era liquor cabinet decorated with marquetry." "A chest of drawers with legs in an asparagus design." "A leather trunk, upholstered inside, with a fitted and removable system for hanging clothing."  A brief visit to the world of magnificent objects that no one uses anymore.
Noon, break for lunch
The team gathers in a tiny adjoining room to snack on a light lunch delivered by a messenger. What's Elsa Joly-Malhomme's secret for keeping up this pace day after day? "I go for a run twice a week. And as soon as I can, I head to Normandy to spend time in the fresh air with my family." What made her choose this profession? "Probably my parents, who often went to auctions at Drouot." Her phone rings between every question. People want to know how the next auction announced on her company's site will be organized.  Others ask her how to transport their new acquisition. "Thanks to online sales, a lot of first-time buyers are discovering the world of auctions. We try to answer all their questions. Good auctioneers always keep track of trends and know how to stay humble, for example by consulting top experts in fields where the auctioneer isn't a specialist," she explains. She adds, "The classic nightmare scenario is to rummage through an attic without noticing the Van Gogh painting leaning against a wall." Her phone rings again. It's time to let them get back to work. The team returns to the icy hangar.
1 PM, between Dufy and Matisse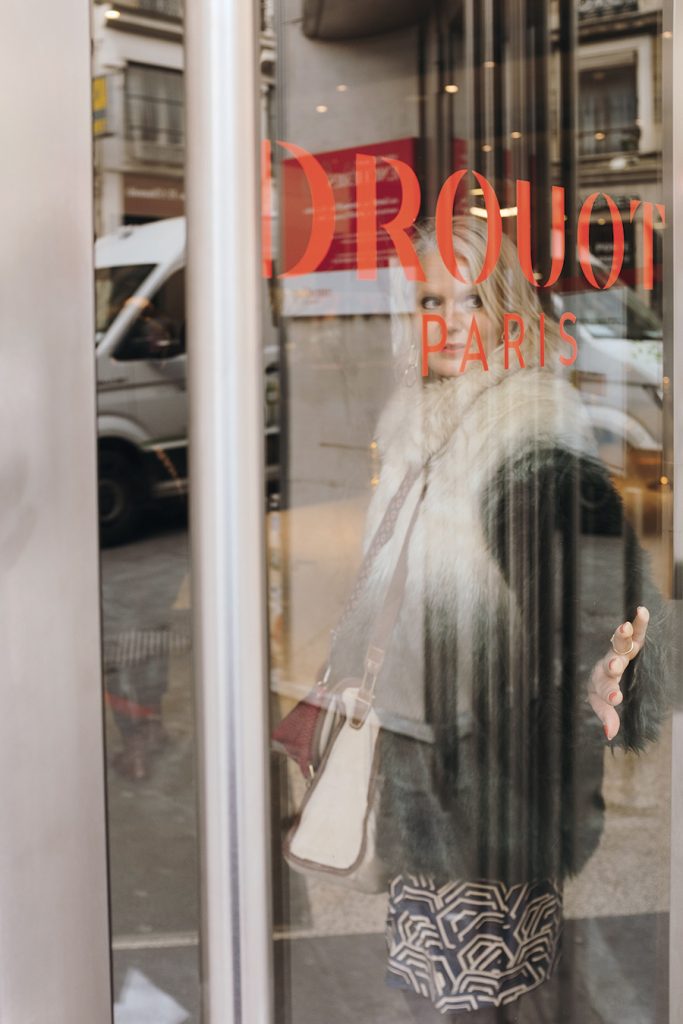 Ader and Elsa Joly-Malhomme's company has organized an important auction to take place at Hotel Drouot this afternoon. The day before, our marathon runner completed an inventory in a private bank. Then she rushed to record an episode of the auction program Affaire Conclue on France 2, for which she serves as the in-house expert. We find her in the heart of the Grand-Boulevards district, Paris's hub for antiques dealers and auction houses. She spends part of her professional life in a cozy and well heated setting complete with marble fireplaces and decorative molding on the ceiling. Located facing the Opéra-Comique, Ader's headquarters are housed in a beautiful late-19th century building, with works of art and precious objects displayed on every floor.
In the stairway, a recently sold Raoul Dufy painting is waiting for its new owner. On a nearby wall, a shelf holds a Matisse engraving. In one room, weapons straight out of a history book are being cleaned: a Napoleon-era saber, a hunting rifle engraved with delicate arabesques… Elsa prepares for this afternoon's event. She will present some exceptional lamps and light fixtures from Paris's Maison de la Radio (the home of Radio France), an institution with whom the auctioneer has particularly close ties: the various auctions of Maison de la Radio objects that she has organized have brought in almost one million euros. These auctions have attracted professionals in the sound industry but also, to her surprise, members of the public interested in acquiring something from the iconic Parisian radio landmark: sound equipment, musical instruments or vinyl records. One of the latter, an exceptionally rare 45 recording by Syd Barrett, sold for 10,500 euros – a record in France. "This afternoon's auction is the last stage in a very lengthy process involving preparation, transport, cleaning and repairing," she points out as she puts on some lipstick. "At Drouot, in front of the public, it's a unique moment, fueled by adrenalin, a real spectacle. You have to be at your best."
4:30 PM, at the rostrum
In room number one, the show started at 2 PM. On the podium, Master Xavier Dominique, one of Elsa's Ader associates, maintains a breakneck pace. He's presenting a sumptuous collection of 20th century decorative art and sculpture. In the audience, men in loden coats, tweed jackets, elegant ladies wearing hats, collectors and antiques dealers. Most of the buyers are elsewhere. Nine staff members stay on the phone taking their orders. Other auctions are happening via the Drouot On Line platform. A sublime piece of furniture by Josef Hoffman, from 1912, sells for 121,600 euros. A massive tapestry featuring a design by Fernand Léger goes for 128,000 euros. The mood in the room is electric. Elsa takes the stage for the auction of the lamps and light fixtures, which are displayed just behind her.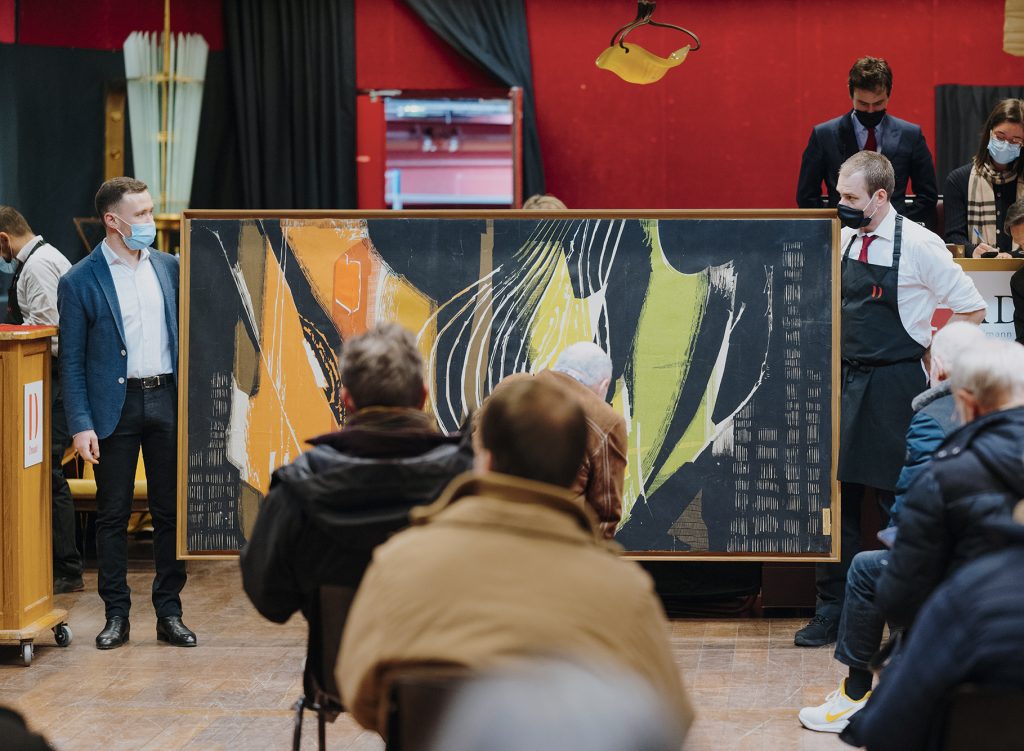 First up, a series of ten pairs of wall-mounted lamps created by the master French glass artist and decorator Max Ingrand. They once lit up the Salle des Varieties (Variety-Show Auditorium), now Studio 102, designed by architect Jean Niermans between 1961 and 1963, the year "the round house" was inaugurated by General Charles de Gaulle.  Another series, created by the decorator and ornamental metalworker Gilbert Poillerat, features four pairs of enormous 2.20-meter-tall lamps. They reigned over the Salle de Musique (Music Room), now Studio 103. These pieces were removed during a renovation and reorganization of the Maison de la Radio in 2011, and were then boxed up and forgotten in a storage facility. Keeping an eye on everything, her voice strong, maintaining a steady rhythm, Elsa snatches each bid out of the air, encouraging the hesitant. Going once, going twice, going three times…. Then a sharp whack of her hammer on the rostrum. By her last "Sold, ladies and gentlemen!", the auction of these treasures has brought in a total "hammer price" (before fees) of 329,500 euros. All in less than 25 minutes. In this profession where winters are icy, there are also moments when things really heat up.
Sébastien Desurmont