We are three students of the Grande Ecole program of HEC (class of 2023), Samuel Calef , Pierre-Augustin Fehr and Matthieu Delsart. For our second year, we chose to take up the HEC United project. The objective? To meet alumni abroad and share their experiences for the HEC community. During our 6 months of travel, we plan to visit 9 countries, from Senegal to Japan. Second stop: Lebanon, where the dynamic alumni community seems determined to help the country overcome its current difficulties.  In Beirut, we have the chance to attend a meeting of the Chapter Lebanon office. Each of its members shares with us their vision of the current crisis and their way of seeing the future.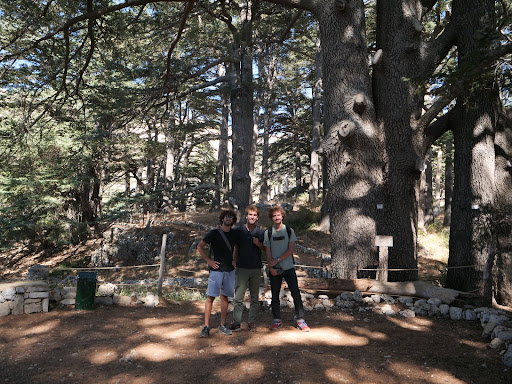 With a 6-hour stopover in Istanbul, the trip from Senegal to Lebanon was definitely trying. It is with wonder that we see through the window the mountains above Beirut, as our plane descends to Rafiq Hariri airport. We spend the first few days exploring the city, discovering delicious mezzes and realizing the extent of the difficulties the country is going through – since the explosion of the port, the state hardly distributes electricity to the Lebanese, who are reduced to buying individual generators when they can. After several exciting meetings with local alumni, the Chapter President, Tina El Boustany (H. 02), suggests that when we have dinner with her, we attend the monthly Chapter Lebanon board meeting, which will be an opportunity for each member to share their perspectives on the current crisis. We hasten to accept.
One of the board members, Zaid, has kindly offered to host the meeting in the premises of the investment fund where he works. As night falls, we head towards the gleaming buildings of Zaitunay Bay, where a business district, shopping malls and a luxury marina were built at the turn of the 2010s. We arrive among the first, at the same time as Tina El Boustany who welcomes us with a big smile. She was elected at the beginning of the year with ambitions of renewal for the Chapter, by integrating in particular the young generations and the diaspora. As the other members of the board arrive and settle in one by one, she gives us her vision:
« Over the past few years, Lebanon has gone through a difficult economic crisis. Many alumni have lost purchasing power and access to their savings, even though they are often the main breadwinners for their families. Many of them have decided to leave or start their careers elsewhere. But I think Lebanon is also a country full of talent and potential, a bridge between East and West, and a fascinating school of diversity in everyday life. Times of crisis are times when we are challenged to discover new opportunities. It is a time to care for each other and to create. I believe that love is the best driver of creativity and that a strong network and partnerships built on trust can go a long way in mitigating the risks of any country. »
Many of them talk about the difficulties of everyday life and the strength of the mutual aid that reigns between the members of their community. As alumni join the circle and speak, we gradually understand how their personal stories are intertwined with the episodes that Lebanon has experienced over the past years, between different crises and good times. In the case of Nadine Mendelek  (H. 05), for example, who started her career as an economist for the UNDP in the 1990s before launching her own executive coaching firm. She speaks with emotion:
« I left Lebanon at the beginning of the 1975 civil war when I was a child, and I wasn't sure I would ever return. But when my father passed away a few years ago, I realized the deep emotional bond I had with this land, and I decided to divide my life between Beirut and Paris. Today, my tenacity and resilience are driven by my love for Lebanon, my desire to inspire people to think positively and excel as a team, and my determination to shake up the status quo and encourage urgently needed change. »
These deep connections between personal history, family history, and country history are also felt by Roba El Ahmadie (H. 17). After growing up in Africa among the diaspora, she returned in the early 2000s to study with her family, and has since stayed on, majoring in human resources. According to her, it is precisely this emotional dimension that explains her attachment to Lebanon and her desire to stay, which she links to her involvement in the alumni community:
« I chose to stay in Lebanon to stay with my parents in a country that offers no social protection to the elderly. Today, I owe much of my determination to my father, who chose to leave Lebanon in 1964 in search of a better life for his family and returned to his country after 55 years. The depth of attachment I feel for this country has fueled my desire to share and give back. For me, being part of Chapter Lebanon is my way of giving back to HEC and Lebanon, especially in these difficult times, by helping those who are looking for a job to get in touch with local employers or professionals in the same sector (HEC alumni). In the same way, I am in contact with alumni living abroad to encourage them to offer remote employment opportunities for those who have chosen or have no choice but to stay in Lebanon.  »
As the Chapter members gathered there speak to tell us about their experiences, we understand that their choice to get involved in the Alumni community is also, for many, closely linked to their desire to help the country and its inhabitants recover from the crisis. For those who have chosen to stay, the HEC community has an eminent role to play in helping to move forward, based on the specific fields of activity of each. For example, for Nadine, training at the highest level, especially for women, and for Roba, human resources, a key area in a country that is experiencing both mass unemployment among young people and a brain drain. For all of them, their expertise is a way to change things and a message of hope.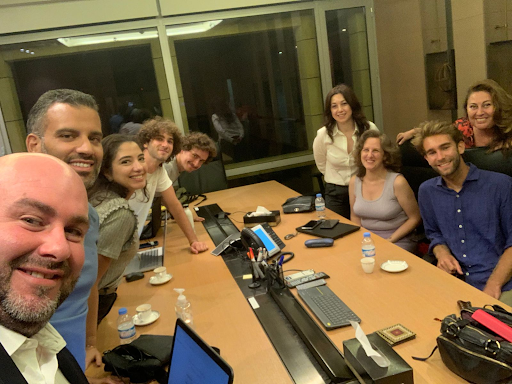 This is also the case for Elsa Aoun (H. 07), a dynamic entrepreneur who founded with her husband Wassim, also an HEC alumni, a series of groups active in the Middle East in the beauty and healthcare sectors. Logically, her preferred fields of action are youth and innovation. She mentions the board's action in favor of young Lebanese entrepreneurs, through the creation three years ago of the ESA-HEC Entrepreneur Prize, which gives the winners access to the Station F incubator.
« My commitment to the board is first and foremost for young people. For those who have decided to pursue their studies abroad, to successfully integrate them into a path of excellence through better access to information, networking with other classes and experience sharing. And for those who, like me, have decided to return or who have simply chosen to stay in Lebanon, to develop entrepreneurship and innovation as vectors of growth, job creation, and hope. I hope that with the support of alumni and the HEC community, we will create more initiatives (mentoring, consulting, access to financing) for the development of entrepreneurship in Lebanon. »
For Philippe Chalu (H. 03) and Zaid Midani (H. 12), who was kind enough to welcome us, it is also in their fields of expertise that they can help the most. But for these two financiers in their forties who share their lives between Beirut and the Gulf countries, the place where they can be most useful is above all on the financial level, as the country faces a serious liquidity crisis, and by mobilizing their networks. Philippe recalls the role he played in helping to found the Dubai Chapter in 2007, and the strong ties that unite Lebanon with the Gulf financial centers. For him, these international links, which are very old in the case of Lebanon, can be crucial to help raise capital:
« With my experience in fundraising and structured finance, I would like to help startups find funding outside of Lebanon, given the crisis in the banking sector and the limitations of venture capital funds. »
Zaid, who speaks of his long-standing involvement with the MBA alumni, says nothing else about the importance of looking beyond the country's borders to try to solve its problems. He believes that Lebanon's board must play a key role in interfacing with the outside world, and his experience in finance now allows him to advise a variety of players in the service of the country:
« One of the main reasons I joined the HEC Lebanon board is the passion I have to contribute to helping NGOs and communities from different angles, from consulting to volunteering. »
He mentions in particular how he accompanied several MBA students by advising them, and a mentoring platform for Lebanese startups that would be under consideration. We understand that, for these two who, like Nadine, share their life between several countries and are partially settled abroad, the international is not a way to distance themselves from Lebanon but to be more efficient in the service of their community. The desire to act as a link to help Lebanon emerge from the crisis recurs throughout the speeches, along with the historical importance of the Lebanese diaspora abroad. This diaspora, of which many have been a part at one time or another, the Chapter is trying to integrate it to strengthen its role as a platform. And, as they see it, living partially outside the country is not at all incompatible with a deep commitment to Lebanon.
The last member of the board, Mansour Azar (H. 03), insisted on sending us a message even though he was abroad on the day of the meeting. According to him, as for the others, the alumni community has already started to give a new dynamic that will, he hopes, contribute to change the old ways of thinking and foster renewal.
« I returned to Lebanon in May 2020, during the repatriation efforts due to the pandemic. Little did I know then that this would mark the conclusion of a 10-year chapter as an entrepreneur in West Africa. Beirut, our city and its people were barely recognizable, the multiple crises had taken their toll. It was clear to me that the old models of thinking no longer worked, we needed better ways to educate, create wealth, manage conflict, and build social cohesion.
For me, it was important to participate in new solutions, whatever the scale. My involvement with HEC alumni is part of the hope to build a dynamic and talented community. One of my goals is to leverage talent to support projects and initiatives with social impact. The enthusiasm was palpable among many alumni we met this summer. We can strengthen our community by bringing like-minded members together in a social impact working group to identify, support and develop initiatives. Especially those in the digital and green economy.  »
They all seem to share this sense of being at a crossroads, and seeing this conviction of being able to make things better that drives them, we think to ourselves that we would love to help them in our own way if we can. So, as the various alumni in the room that evening begin to gather their belongings to continue the discussion over some mezze, Tina takes the floor one last time to charge us with delivering a message: « I want the Lebanon Chapter to become a trusted reference for all HEC alumni and help them identify opportunities, whether they choose to stay in the country, return or build bridges between Lebanon and other countries. Together, I believe we can help create a more equitable and sustainable model and contribute to peace building.
Beyond the occasional networking, we seek to create a framework where even the alumni very busy with their work can bring and receive in a spirit of conviviality and intergenerational brotherhood. Furthermore, I wish that the whole HEC alumni community discovers the beauty of the country and the land. Let's celebrate the values of authenticity and integrity and let's put into play the complementarities between Lebanon, Europe and the Middle East! Whether you are a mentor, a business angel, a connector, a recruiter, an expert, a business owner looking to expand, a donor, a political advisor or simply an alumni curious and interested in Lebanon and the region: join us!
We are planning to create open committees, where all alumni and even their friends are welcome. »