When she was a student at HEC, Laetitia Pouilly (H.14) had only a vague notion of sexism and sexist bullying in business schools. The #MeToo movement radically changed her attitudes. She decided to take a stand…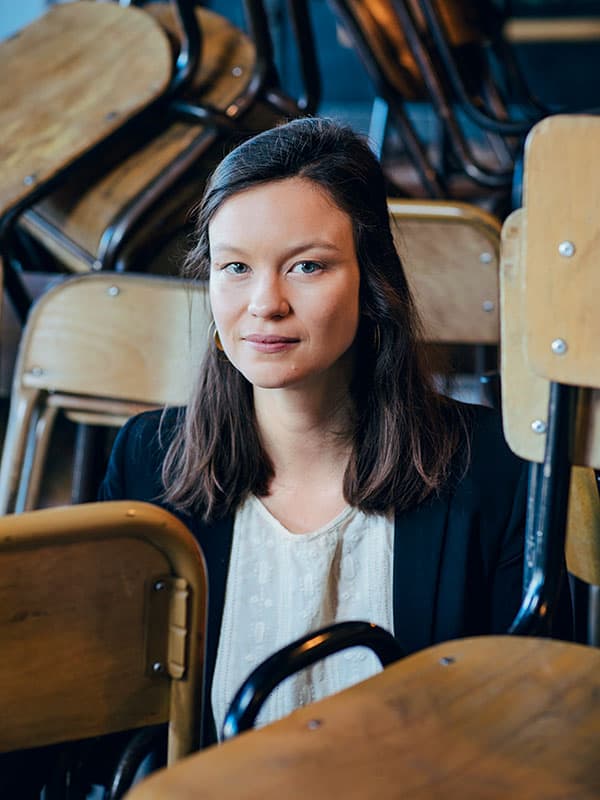 I'm part of the class of 2014, which I joined after my bac and preparatory classes in literature. My HEC class was equally divided between men and women, but I sensed a strong masculine presence because I had come from a very female-dominated environment.
During my student years, I often witnessed tasteless jokes, games that were more or less degrading, and public revelations of different people's sexual lives. To be perfectly honest, though, I never took any of this very seriously. Only much later did I understand my own implicit and unconscious acceptance of the sexist and other kinds of violence that reigned on campus. As a student, I was most of all impressed by how supremely self-confident and all-powerful my fellow students seemed, both males and females. It was as though they had already reached their main goal and now would only need to live out the rest of their lives. I felt that there were a lot of unwritten rules that I didn't understand at all. This led me to stupidly follow whatever everyone else was doing without even thinking about it. Some of the examples I remember were the raunchy songs about particular people that made fun of their bodies or their sexual proclivities.
Today, I ask myself how I could have done something like this without questioning it, but at the time, I admit, I thought it was funny. There was also a web site, sortievauhallan.fr, that I checked pretty regularly. It often had articles on individual students, complete with their names and photos. Some of these articles were just teasing; others were really vicious. One of the pages on the site was titled "Show your boobs", with pictures of female students showing off their breasts. That kind of thing. The web site doesn't exist anymore, but its content – supposedly just harmless humor – was filled with homophobia, racism and slander. It could and should have been blocked by law, but at the school, everyone accepted all this as normal; hardly anyone commented on it.
Implicit complicity
I also remember that during the student-body election campaign, each group had to publish photos of its members, in the style of "Gods of the Stadium" calendars. At the time, I had no problem with this because it all seemed light-hearted and funny, and I didn't even think about refusing to participate. I freely chose to take part, but I was completely unaware of the potential consequences and implications of these photos that exist, will always exist and are in the possession of many people. It would have been easy to refuse, but we just followed the herd without question. That's what I find really problematic: a culture that makes light of these kinds of actions.
Violence made ordinary
There is a distinctive shared culture expressed through the words we use, a vocabulary common to the students of a particular school, a sign of belonging, of differentiation…. At HEC, this is strengthened by the geographical isolation of the campus and the social homogeneity of the student body, which is far from being representative of the French population in general. It's like a little island with its own special laws. All this creates a feeling of impunity, of not being accountable for our actions. Students enter HEC after several years during which they haven't really asked themselves many questions about life because they have been preoccupied with their studies. The process of forming an identity has been put on hold. Preparatory classes don't really help us develop critical-thinking skills, since students are so protected there. We lack maturity, which certainly explains our aberrant and thoughtless behavior. Personally, I believed for a long time that I had had a privileged education and that I had not come into contact with sexism until much later, in my professional life, where I had the impression I was confronting more open, direct violence. Only two or three years after I graduated did I realize that there had been latent sexism at HEC, and that we had all supported this totally ignorantly.
In fact, it was the #MeToo movement that opened my eyes. In reading others' stories, and in putting words to certain behavior – sexism, slut-shaming, bullying – I realized that yes, I had indeed witnessed these things, lived through them, and even participated in them.
"Once we are made aware, once we put words to things, we see the world more clearly, as though we're wearing new glasses."
Another big awakening for me was a self-defense class for women that I took through the group Loreleï. I recommend this experience to every woman. It made me realize that violence isn't far removed from our daily life, committed by a stranger in a dark alley, but in fact it's everywhere around us and very near us, committed in most cases by people we know. This is another concept that I can retrospectively apply to my HEC experiences: the real danger is internalized violence. These two experiences changed my life. Once we are made aware, once we put words to things, we see the world more clearly, as though we're wearing new glasses. After this, I started to study the issues seriously, which demanded a lot of reading, listening and time. It's a long-term project that I'm doing for myself but also to give me ways to defend my point of view when I talk about these things with people around me.
Open your eyes
When Médiapart published its survey on sexual humiliation, homophobia and sexism in top business schools, and a group of former students decided to publish an open letter on these issues, I didn't hesitate for a second to sign it. I completely agreed with the points that were listed and I wanted to support what others had to say. This letter was mainly based on people's individual accounts, so its content seemed indisputable to me, and I didn't expect the reactions it elicited. Some former students approved of it immediately, while others were surprised and didn't understand it at all. This shows that there's a need for prevention and education about this subject. Even before the letter was published in Libération, I had decided, along with a group of friends, to write directly to HEC, to find out more about initiatives that were being launched and to see how we could contribute.
The school's administrators have been very open about all this and have offered us a chance to meet with them directly. There are no easy solutions, but we need for more people to speak out about these issues. We would also like to share our own stories and advice, our contacts with groups and specialists, and our skills, to strengthen the effort. Many HEC students go on to have top jobs involving decision-making and managerial oversight. It's essential that they be made aware of problems associated with sexism and bullying so that they don't engage in this behavior throughout their careers. To get the message across and not take these things lightly is what's most important now, I believe.