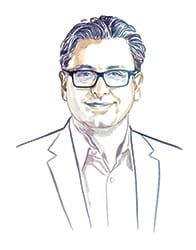 He's a big boss whose company is playing a crucial role in the current healthcare crisis. Three HEC students met him on May 15, via Zoom. Paul Hudson had just had to deal with a deluge of criticism following a report that Sanofi would deliver its future covid 19 vaccine to the US before Europe. Unthinkable for a French company which, to top it off, receives tax breaks, cried many French political leaders. Under attack, Paul Hudson daringly rocked the boat further by pointing to delays in the Old Continent. A few days after this uproar, France and Germany called for a "Europe that prioritizes healthcare", promised to finance medical research, and vowed to ensure a strong production network. Even though he had hundreds of messages waiting for answers on the day of our interview, Paul Hudson took the time to answer questions posed by Alexander, Maria and Benjamin, sharing his own perspective on the situation.
Direct and pragmatic, Paul Hudson belongs to the generation of foreign top executives who have raised the French flag high on the international stage. Like the Canadian Ben Smith at Air France-KLM, the Portuguese Carlos Tavares at PSA, and the German Thomas Buberl at Axa. Born in Manchester, Paul Hudson, 51, can boast of an exemplary career in the pharmaceuticals industry. A veteran of giants like GSK, AstraZeneca and Novartis, he was named head of Sanofi last September and now presides over an enterprise with 100,000 employees and the third-biggest market capitalization in France, after LVMH and L'Oréal and ahead of Total. This fan of Manchester United is competitive. He wants Sanofi to become number one through developing new medicines. Such as a vaccine against covid 19, for which the whole world is anxiously waiting.
Vaccine and controversy
Alexandre Thys: Sanofi was the top story on May 13, 2020. According to reports, if the group develops a vaccine against covid 19, it will offer this vaccine to the U.S. first. This shocked many French citizens and political leaders, since Sanofi is a French CAC 40 listed company. When I read the papers yesterday, it struck a nerve.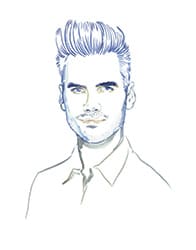 Paul Hudson: I understand. The last 24 hours have been particularly stressful for me. You can just imagine how many vicious and grotesque messages I've received since yesterday. I wrote to our employees to express my disappointment and apologize for the uncomfortable situation we're now in. The Internet is marvelous in the way it gives everyone instant access to information, but the flip side is that false or out-of-context information can be spread at lightning speeds. This can be devastating, especially in our current tense situation.
"We need a Europe that prioritizes healthcare."
It was a Bloomberg article titled "U.S. Likely to Get Sanofi Vaccine First If It Succeeds" that gave everyone the wrong idea and set off this uproar. People thought Sanofi was going to decide who was going to live or die. This is completely false! Since March I've been letting European countries know that they were not prepared for a pandemic of this scope, whereas the United States has been preparing for something like this for the past 15 years. The U.S. Department of Health and Human Services, through its agency the Biomedical Advanced Research and Development Authority (BARDA), began in 2006 to study different possible pandemic scenarios and to find ways of coping with them. For covid 19, after assessing various players in the field, the agency determined that Sanofi could potentially develop a vaccine against the new coronavirus. In addition, the United States doesn't hold back on spending. They have made massive investments and have even begun to manufacture doses of medicines that are still at the clinical-trials stage, and whose effectiveness has not yet been proven. When BARDA contacted us, it promised right away to provide the necessary funding to share any risks with us and to help produce a vaccine on a grand scale.
Alexander Thys: What are you actually asking Europe to do?
Paul Hudson: I've been saying this since the beginning of the crisis: we can learn from the United States and create a Europe that prioritizes healthcare. Even if it's too late for this pandemic, it would make a difference in the next ones. I would never want to go through again what I've experienced in the past 24 hours. On the other hand, the media and political outcry against Sanofi has led to something positive. Lots of people have been calling me to ask "What can we do? How can we catch up with the United States?" What I've been hoping for over the past few months has finally happened: people have begun to wake up. Europe's main problem is its lack of manufacturing infrastructure. Europe needs factories that can produce drugs and vaccines on a massive scale for all kinds of research laboratories, working closely with member states. Such facilities would be able to produce very quickly all the treatments the continent needs while of course meeting the highest pharmaceutical-industry standards. It's not enough, though, to just build such facilities and then leave them idle until the next big crisis hits. We have to maintain this infrastructure and use it all the time. That's the way to make sure that the facilities remain functional and that personnel retain their skills. Technical excellence and the capacity to react quickly are the only ways to ensure that the pharmaceuticals industry and Europe can offer citizens a vaccine in 18 months instead of 10 years, and be able to distribute it throughout the continent as well. This is essential if we are going to be prepared for the next pandemic.
Challenges of a pandemic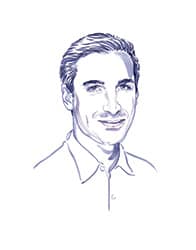 Benjamin Dahan: Let's pretend that next month you discover a coronavirus vaccine, in Boston, Cambridge or anywhere else; it doesn't matter. How long would it take for Sanofi to provide this vaccine to all French people and all Europeans?
Paul Hudson : We want to deliver it everywhere at the same time. Our partnership with BARDA in the U.S. is at an advanced stage. Now we are working with European states to boost production capacity as quickly as possible. The biggest challenge in fighting covid 19 isn't research; it's production. To manufacture seven billion doses of vaccine for all humanity is a challenge that the pharmaceuticals industry has never faced before. If we can step up European production capacity, we will be able to provide the vaccine to Europe at the same time as to the United States. This is what I've been fighting for since March
Maria Olivo: The pharmaceuticals industry has high margins. Will a covid 19 vaccine be expensive? How can we avoid the risk that not everyone will be able to afford it?
Paul Hudson : Since the crisis began, I have never had even one conversation about the cost of a covid 19 vaccine. Not one call, not one meeting about this. This may or may not surprise you, but our only focus now is to advance in our research and to invest in our production capacity, in spite of the risks, so that we will be ready to manufacture a vaccine if we discover one. We are committed to making this vaccine available to everyone. We have already managed this with the vaccine against polio, a disease which has unfortunately reappeared in certain parts of Africa. (Note: Sanofi has commercialized over six billion doses of its oral polio vaccine.) We have set a very affordable price so that this vaccine is available to the people who really need it. After clean drinking water, vaccinations are the second-most-effective factor in improving a population's health. I promise you that price won't be an obstacle in getting access to the covid 19 vaccine.
Benjamin Dahan: I expect that the crisis has affected the way people are working at Sanofi, as in other companies.
Paul Hudson : Maybe you've seen the joke that was going around the internet at the beginning of the crisis: "Who's responsible for making your company go digital: the head of IT, the finance director, or covid 19?" It's a good point. During the lockdown, a lot of people all over the world started working from home. If, in early January, I had asked Sanofi employees "Could we keep operating if everyone telecommuted?" they would have said that it was impossible. In fact, it IS possible! I don't want to downplay the problems faced by people who have children, who live in confined spaces or who have psychological problems. From a purely technical standpoint, though, a company can be run with a computer and an iPad. On the other hand, we need to find ways to organize this so that our teams will be able to work in the best conditions.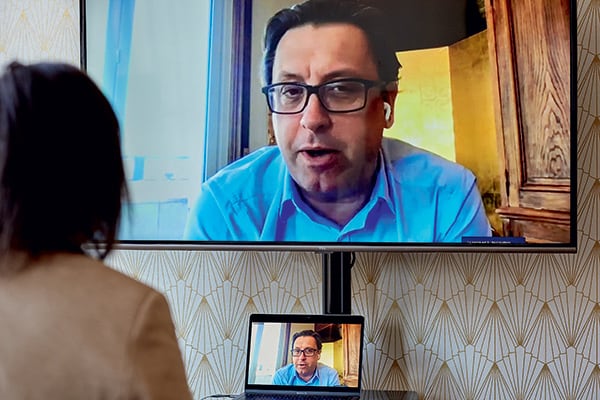 Benjamin Dahan: What was your personal experience of the lockdown?
Paul Hudson : I have a son in high school in Paris and two daughters studying at universities in the United States. They are now with us in Paris during the lockdown, and they have to deal with the time difference to keep up with their classes. My oldest daughter, in fact, graduated today and we had a little ceremony for her.
Alexander Thys: Do you believe even more in telecommuting now?
Paul Hudson : One good thing to come out of the coronavirus is that people are more aware that telecommuting is possible. This will mean taking another look at the way we operate, of course. An advantage of Zoom meetings is that we don't spend time gossiping about our colleagues. We focus on the matter at hand. We shouldn't neglect the group spirit and camaraderie that develop in a workplace, though. We need to find a mixed solution that achieves a good balance between working at home and working at the office. The office could be a place for meetings, brainstorming and social events, while the rest of the time could be spent in a home office. We have 31,000 salespeople all over the world. They have been far from our offices for a long time, and it has worked well.
Strategic choices
Benjamin Dahan: Sanofi's strategy since 2010 has focused on three main poles: invest in research and development, form industrial partnerships, and acquire biotech companies and laboratories. How do you rate this past decade? What could have been done better?
Paul Hudson : It's too easy to criticize something after the fact. I'd first like to emphasize the real success stories the group can be proud of. It has created some incredible medicines: Lantus, the leading brand of insulin worldwide; Plavix, a treatment for heart-attack victims; and Doliprane, which is well known in France.  We have set the bar high. When I came to Sanofi, I studied all the projects in the pipeline and I was fascinated to discover all the treatments with incredible potential. Our employees were almost afraid to talk about them because they didn't know if these new medicines would work or not. I think that Sanofi's corporate culture is marked by a certain self-effacement, a tendency to minimize the importance of discoveries. I think that's a shame. For the past eight months, I've been reinforcing our research capacity by acquiring innovative small companies of only around 10 employees.
 "Working in the healthcare sector makes even more sense these days."
Advanced research is no longer reserved just for big companies like Sanofi. We need to be open-minded about the way we innovate. In the coming years, we will partner with universities and with small operations that have great ideas but maybe not the means to develop them on a grand scale. Internally, we have identified six key medicines that could dramatically alter our portfolio, as well as change the lives of many patients. One example is Dupixent, a very innovative medicine with enormous potential.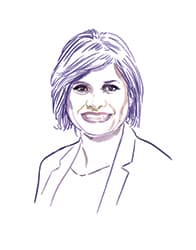 Maria Olivo: When you came to Sanofi last September, you defined a strategy for the company. Is your plan completely up in the air now because of covid 19?
Paul Hudson : Excellent question. It was the American boxer Mike Tyson, I think, who said, "Everybody has a plan until they get punched in the mouth." No matter how well you've planned, your priorities get turned upside down when a major crisis happens. Our original plan, though, has proven to be very appropriate for the current situation. In December, we established three strategic priorities: the development of new medicines, vaccines, and Dupixent, used to treat asthma and eczema. This drug is very effective in treating atypical dermatitis, a disease that can affect people at any age. During the crisis, patients covered with eczema were able to get prescriptions for Dupixent after a simple teleconsultation with their doctors. This is an innovative drug that treats the cause of the disease, not just the symptoms. And it has very few side effects. As for developing new medicines, we will continue to make use of scientific data, in spite of the crisis, to advance our research, particularly concerning multiple myeloma, lung cancer and multiple sclerosis. As for vaccines, that's obviously a priority. In other words, our initial strategy has been validated. What's new is that our employees are committed to our goals more than ever before. They realize how important their work is. Their choice to work in the healthcare sector makes even more sense these days. They want to make people's lives better. Every employee I meet tells me the same thing. They have never been prouder to work for Sanofi. What we need to do now is to maintain this commitment and energy over the long term, beyond covid 19. As the head of the company, my job is to make sure we celebrate our successes and learn from what we are facing today.
Maria Olivo: You had been CEO for only a few months when the crisis started. Did this make your job harder? Do you think you would have been better prepared if you had been head of Sanofi for many years?
Paul Hudson : I'll tell you a story. In 2011, I left Spain to head the Japanese branch of AstraZeneca. I arrived in Japan just a few days before the tsunami and the disaster at the Fukushima nuclear plant. I called my N+1 to ask his advice. He said, "I don't have any advice to give you. I've never had to deal with anything like that. Good luck." I find myself in a similar situation now. I just came to Sanofi, it's true, but the crisis is something that no one in the world has seen before. Other heads of pharmaceuticals groups don't know any more than I do about how to deal with the coronavirus.
"The pharmaceuticals industry is behind in using algorithms and processing data."
If I had been in my current job for two or three years, I would certainly be a bit faster. I would already be familiar with the group's special characteristics and I could add value more quickly. On the other hand, I came here seeing things with new eyes and I ask people new kinds of questions. "Why can't we do this? Who said that would take 10 years and not 12 months?" They answer, "Paul, it has always taken 10 years." But who says that's normal? Why can't the FDA (U.S. Food and Drug Administration) give an answer in 24 hours instead of in a year? This crisis has given us the opportunity to change the way we think and to call into question our unconscious biases. In the end, I think that being "new" in my job actually gives me a bit of an advantage.
Alexander Thys: Sanofi has established several partnerships with tech leaders. Will artificial intelligence play a role in the fight against the pandemic?
Paul Hudson : Your question deserves a four-hour discussion! The pharmaceuticals industry sees itself as innovative, but it's behind other sectors in using algorithms and processing data. This is partly because of the strict regulations imposed on the industry. Last February, Sanofi created the position of Chief Digital Officer on the Executive Board. It's a first in the history of the group . . . 13 years after the launch of the first iPhone!  The initial goal of our partnership with Google was to create an algorithm that precisely calculated the dose of insulin a patient with diabetes should inject each day. But we came up against hardware problems. We reoriented the partnership toward a new project, Darwin, that analyzes huge amounts of anonymous data from many countries' healthcare systems. This could allow us to predict, for example, the "cytokine storms" that create severe respiratory problems and seem to play a major role in the most serious cases of covid 19.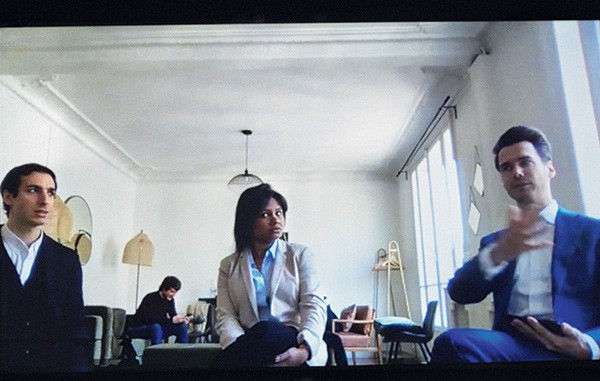 Work and team sports
Maria Olivo: My question is a bit self-centered, but I can't stop myself from asking it. I have a degree in international relations, I'm 30 years old, and I have seven years of experience in the healthcare sector. I began my career in sales, like you. What advice can you give me to help me have a job like yours in 20 years?
Paul Hudson : Don't worry about promotions and prestigious jobs. Push yourself to have a variety of experiences that will help you improve your understanding of patients and of the pharmaceuticals industry. When opportunities present themselves, you will have the knowledge you need to do your job well. Ever since I began my career, I noticed that many of my peers rushed toward prestigious jobs and high salaries. I took my time. As you pointed out, I was in sales for five years. That's a very long time on the CV of someone who's the head of big company. I have always wanted to learn and gain experience.  It's amazing how all that has now come together in a coherent package. My other piece of advice is this: treat others the way you want them to treat you. That's what I've always done. It's sometimes difficult. Yesterday, I really wanted to openly criticize the authors of that article that caused so much hysteria. But that wouldn't be constructive. I'm trying to stay focused on our activities, and on doing my job well.  I promise you, no one can survive in a high-powered job if they spend their time scheming and plotting. Do your job well. You'll be able to sleep at night. I slept well last night in spite of everything that had happened. I know that I'm doing my best and that I'm trying to do the right thing. To sum up: get lots of experience, be a good person, and do your job well.
Benjamin Dahan: I have a question about your hobbies. You were born in Manchester and you've been a Manchester United supporter since childhood. How do you feel about the cancellation of the English Football League championship?
Paul Hudson : I've never spent so much time at home, and there aren't any matches on television! That's just too much. And yes, I'm a big fan of Manchester United.
Benjamin Dahan: I'm interested to know how you see Manchester United from the point of view of a CEO.
Paul Hudson : Well, first I'd like to pay tribute to Alex Ferguson, who managed the club for 26 years. You should read his biography, Managing my Life, that talks about his years as a coach in Manchester. It's not a book about management, but you can learn a lot from it. He treated every person with respect, from the cleaning lady to the most highly paid player. Each person had equal value in his eyes. The team counted more than the individual. I respect this perspective on things. During the quarter-century that he led Manchester United, Sir Alex Ferguson witnessed football's transformation. It has become a much more technical discipline. As a leader, you have to reinvent yourself over and over again. Your teams deserve it, because they want to be able to play at the highest level.