"Obsession and perseverance: that's what entrepreneurship is about, right?"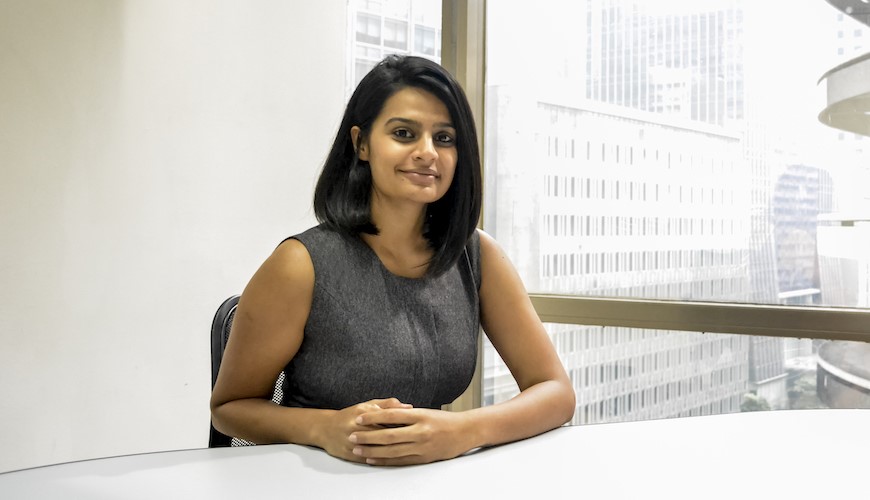 Bhavna Suresh (MBA.16) is currently becoming an emerging leader in India, a country where less than 20% of startups are lead by women. This entrepreneur from Bangalore just won an HEC Mercure Award for her vision. From being a mechanical engineer to HEC, she tells us more about her journey,
When and why did your entrepreneurial adventure start?
I did not grow up around business people. I grew up in a family that always had jobs and it was always safe. I'm a mechanical engineer. I was the first woman hired as an engineer for on-ground field operations at an Indian automobile company. It was almost like a launcher job. I had to go to different places and set things up from zero. I didn't call it entrepreneurship because I had a salary at the end of every month but I realized I liked it.
In early 2013, I was unwell. I was in and out of the hospital. I undergone a medical procedure. It was one of those decisive moments where it felt like I had a second chance. I wanted to leave, I wanted to start afresh and do something new.
"I kept talking about the same idea"
I ended up going to an event where there was an HEC city gathering in Bangalore and met a bunch of people there. I really liked the idea that it was not a traditional business school of sorts, people came from very different backgrounds and spoke very differently. They were not all consultants and investment bankers. I walked out, three weeks later I got my GMAT and I applied. A few months later, I knew I was going to school.
My entrepreneurship journey truly started at HEC. In every class, I kept talking about the same idea: renting over buying. My professor of operations told me, 'Are you sure you don't want to do something about it'?  Three months into business school, I started working on my first startup, a woman's wear online fashion rental business. Because I was in Paris and could not afford half of the clothes.
Did you spot a demand for that service?
Not at all. I built my first start up with a lot of love, but I failed. It just did not scale. I was building it for myself and not listening to anybody else. For my second one [Lamudi, a real-estate online marketplace based in The Philippines], I had an opportunity to move to Southeast Asia. I knew nothing about the Philippines. I knew nothing about real estate. So it was like starting from scratch. It's interesting because you learn very quickly to listen to others and to not get married to the idea so you can keep pivoting. I think that's what entrepreneurship is about: obsession and perseverance. We sold Lamudi and I also got to see what an acquisition looks like. Then I met somebody who handed me a term sheet for a million dollars without me having an idea of what I wanted to do next.
"Women are coming very swiftly"
And now with 10club, you are becoming a home and kitchen e-commerce player. Why this specific segment?
Many businesses have tried building a home and kitchen business in India but have failed. There really isn't anybody. So I thought: Why have so many people failed? And is there something I can do differently to make it work?
Being an emerging leader in your country, you publicly took stances on women leadership. Could you tell us what the situation is like in India?
I think there is a gender gap globally and India is no different. I think India is definitely an emerging country where women into entrepreneurship is a very, very new phenomenon. Capital, at the end of the day, is still sitting with men. I think it is broken but I do think it's changing. Women are coming very swiftly. Also, India has always been a country with bootstrap and traditional businesses. Venture capital money has only come into the country about 12 years ago. I raised the largest seed round in India ever. Not as a woman, but just generally, in absolute numbers.
"You have to be a crazy optimist"
You hit the headlines…  
For $40 million, but not all in equity. I did eight million in equity and 32 million in debt. Luckily or unluckily, I was very careful because I think at the end of the day, I'm still an emerging market entrepreneur. I had a theory that home and kitchen is the last segment in India in the branded space that has no flares. It was wide, wide open. My approach was, rather than building zero to one, to buy a few companies. That's what we did in 2021 with the money. 2022 was all about learning how to run the companies. And now we're going to start building brands on our own.
What is your vision of entrepreneurship?
I think it takes a lot of perseverance. I think that's the most important thing because there are good days and there are bad days and that's the trick, right? It's like surfing, you will fall and you will keep falling, but you have to keep getting up and going back. Everybody goes into it saying they're going to make it happens, so you have to be a crazy optimist.