The big boss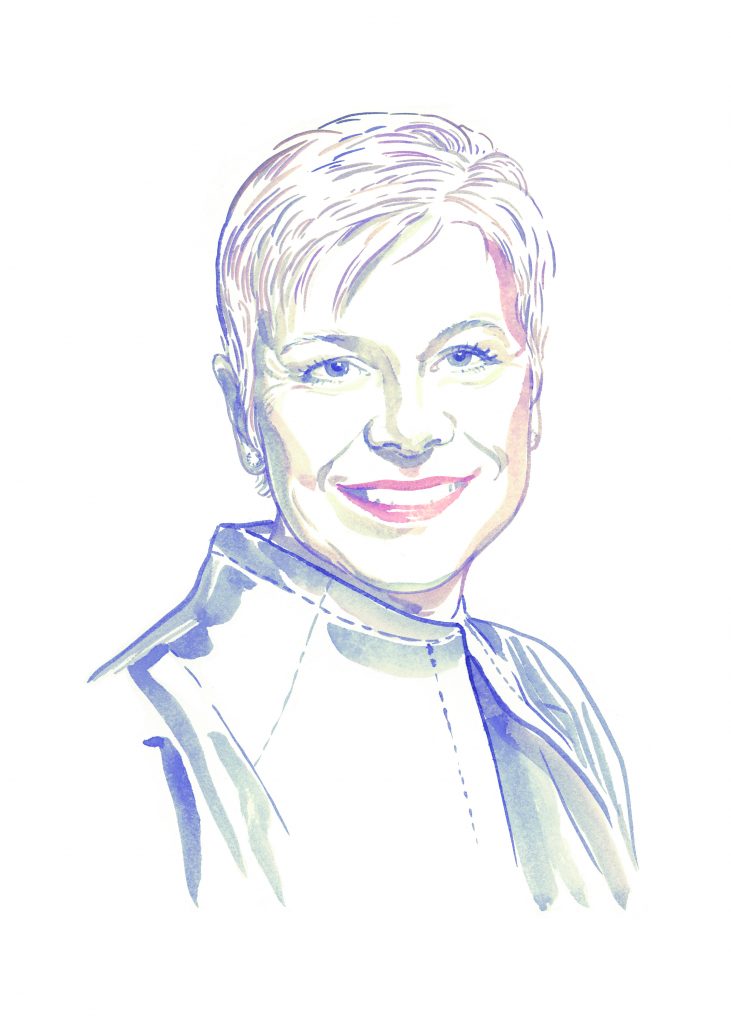 The double-chevron brand, which gave birth to the iconic 2CV and DS, just celebrated its 100th birthday. Its visionary founder, André Citroën, altered the course of history by making cars more accessible for European consumers.
Today, Citroën continues to evolve in a sector that is changing every day to meet the challenges of new ecological imperatives and massive investment in developing electric and self-driving vehicles. To satisfy these new demands, car manufacturers are reinventing themselves to become mobility providers.
Traditional business models risk falling apart. Since 2014, Citroën, part of the PSA group, has been led by Linda Jackson, a native of the UK. She's an exception in a sector where women have had a lot of trouble carving out a niche for themselves. This energetic and optimistic British woman, who planned to become a professor, landed in the auto industry by chance. She started out as an employee in Jaguar's accounting department and steadily rose through the ranks.
A work history that was particularly impressive to our HEC students, who found themselves in management positions as soon as they graduated. The boss met with three of them at Citroën's headquarters in Reuil-Malmaison outside Paris. This direct and open CEO who, very straightforwardly, made a place for herself in a male-oriented milieu, in a country not her own, chats about all kinds of things, from her collaboration with Citroën's president, Carlos Tavares, to her misadventures with journalists and her addiction to Netflix. Above all, she demonstrates the passion of those who have dared to take risks and exceed their limits. A compelling energy based on the mantra that one must believe in oneself.
The students
Noémie Escaith MBA.20
Passionate about complex industrial products, Noémie chose to work in the auto industry. She participated in the development of the Twingo and the Smart in the first joint Renault-Daimler project.
2010 Diploma in industrial engineering from INP Grenoble. 2014 Official launch of the Twingo III and the Smart S2S and S4S, whose development she participated in for three years concerning purchasing. 2018 President of the MBA French Connection Club and VP of Careers on the MBA Council.

Hugo Sallé H.21
Hugo, who grew up near Nantes, is a big fan of film animation. His interest in media led him to create the web site KIP (kipthinking.com, ranked the best student online media outlet in France in 2019). Hugo is not a pro in the auto sector, but he did manage to get his driver's license on his first try.
2017 Enrolled in the Grande Ecole program at HEC. Founded KIP. 2018 Studied cinema-business in Los Angeles through a university exchange program. 2019 Co-directed HEC Back in Time, a film about the HEC graduation ceremony.

Abhinav Garg MBA.20
Abhinav spent nine years working in the auto industry in India, covering the entire value chain, from business development to sales. He is president of the HEC MBA Industry Club.
2007 Diploma in mechanical engineering from the University of Kurukshetra, three hours from Delhi 2010-2011 Head of projects at Sandhar Technologies, a manufacturer of auto components.
2012-2017 Worked in the purchasing division of Tata Motors, India's top car manufacturer.
"AN EFFECTIVE LEADER INSTILLS A GROUP SPIRIT."
Women in the auto industry
Noémie Escaith (MBA. 20): I'm an MBA student and I worked for many years in the auto industry. What drew you to this sector?
Linda Jackson: I got here completely by accident. When I was four years old, I never said to myself, "I'm going to work in the auto industry." I wanted to study at a university to become a professor. But, the summer before I was supposed to begin my university classes, I got a temporary job at Jaguar thanks to my uncle, who worked there. That was a life-changing experience. I've been involved in the auto sector ever since. I love cars, because they are not like other products. First of all, a car is a family's second-biggest investment after housing. And, a car represents freedom, and something one "lives" in. There's a real emotional dimension to car ownership.
Noémie: Auto companies have brought more women into their administrations, but this is still very limited. According to the association Wave (Women and Vehicles in Europe), only 20% of car companies' managers are female. What's your opinion?
Linda Jackson: It's true. And this is much too small a percentage, given the fact that 50% of my clients are female. A British study even showed that in 85% of cases, a woman is behind the decision to buy a car. So yes, we need more women working in this sector! Women make up around 20% of the PSA group. However, this rises to 35% when it comes to female managers under the age of 30, which shows that some progress is being made.
Here [in Reuil-Maison] at the control center for the group and its brands, around 100 people are working for Citroën, of whom around 35 are women. The car sector is still seen as a very macho environment, even though attitudes are evolving. The industry must change so that young women don't create their own obstacles. I tried to contribute to this change in my own way by participating in the Elle Active forum at the Mondial Women conference during the latest Paris Motor Show (Mondial de l'Automobile), and at the Women Automotive Summit last June in Stuttgart. Obviously it takes time to change people's ideas, but I dare to hope that in 10 years you won't need to ask this question!
Noémie: What compromises have you had to make in your private life to have a career like yours?
Linda Jackson: That's a great question, which you could also ask a man. To reach a high level of responsibility, you have to give up certain things. The higher you go up the ladder, the harder it is to achieve balance between your personal and professional lives.
I travel 60% of the time. I spend a lot of time in airports. That's part of the job. Not everyone is ready to make this kind of sacrifice. Looking back, did I really need to work every night and every weekend? Probably not. Would I do it again? Yes, because I adore my profession.
At this level of responsibility, we deal with all kinds of things. And I love that. As a woman, choosing a career in the auto industry was unexpected. I come from a middle-class family; my parents were federal employees and my brother is a professor. But I didn't go to university. You have to have confidence in yourself to make a choice like this. Throughout your career, you build confidence; you become stronger. If you're a woman, you are challenged even more than a man is. You are part of a minority and you attract attention. This is an advantage if you do your job well, but if you make a mistake, it's always noticed.
Corporate leadership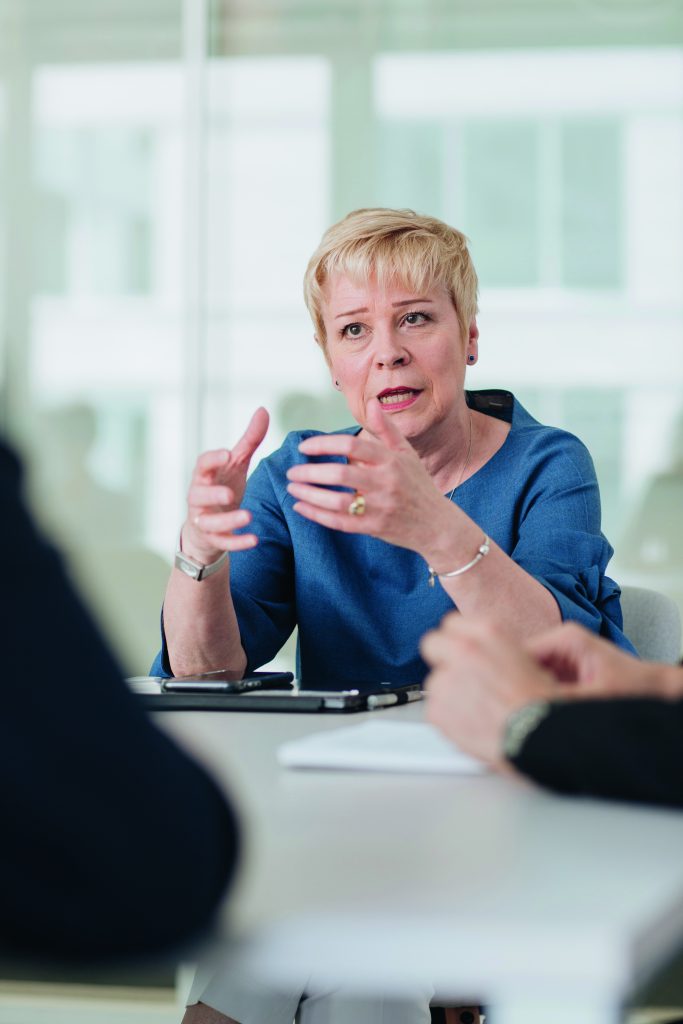 Hugo Sallé (H.22): What is your definition of a leader?
Linda Jackson: A leader is not just a manager. It's someone who sets a goal and carries everyone forward in the right direction. A leader chooses a strategy and has enough charisma to convince the boss, colleagues and teams that the idea is sound, so that they will want to follow along. A leader instills a group spirit and encourages people to work together.
This is what I try to do every day. When you become part of senior management, you can't control everything. Even Superman (or Wonder Woman) can't do that! He, or she, would throw in the towel after three days. A leader can't be an expert in marketing, products, etc. When I was appointed to my current job, I surrounded myself with people I could trust, specialists in their fields. I know that I can delegate. For example, for our TV ads for our new SUV C5 Aircross, my marketing director presented three or four possibilities and it was up to me to choose the final one. But I know that in the beginning there were around 20 possibilities. I trusted him.
Hugo: Can you think of any men or women who helped you form your vision of leadership?
Linda Jackson: The best example is my boss, Carlos Tavares. And I don't say that because he's my boss! Carlos came to us from Renault and he turned things around for us in terms of strategy and management. He put together a strong executive committee of people who work well together. The PSA group was heading toward bankruptcy when he took charge. In just two years it was profitable again and now we are one of the most profitable groups in the global automobile industry! No one could have expected such a turnaround.
Hugo: Would your motto be "make the impossible possible"?
Linda Jackson: Absolutely! I love that motto. I'm going to use it!
Hugo: How do you handle the stress when you have to negotiate a big contract or make a major announcement?
Linda Jackson: Everyone experiences stress, over big or little things. The secret is to be prepared. Before I have to make a presentation to thousands of dealers or meet a new investor, I make sure I've been well briefed and that I have all the essential information. What's stressful is to go into a meeting without all the facts at hand.
"THE IDENTITY OF OUR BRANDS WAS ESTABLISHED IN 2014"
Hugo: An example?
Linda Jackson: Shortly after I was appointed head of Citroën in 2014, someone convinced me to participate in a TV program on a French news channel. It was a 45-minute program, live and in French, which in itself was pretty stressful for me. I had been told that I would only be asked to talk about Citroën, but the journalist began to ask me to comment on issues involving domestic policy and to answer fairly specific and controversial questions about the environment, the role of women in the auto sector, etc. After about five minutes, I was really stressed. I asked myself anxiously "What will they ask me next?" But I've worked in this industry for 40 years. I have met and overcome quite a few difficulties and I've learned from my mistakes. This experience helped me handle my stress.
The Citroën strategy
Noémie: The PSA group comprises four brands: Peugeot, Citroën, DS and now Opel-Vauxhall. These brands seem to be positioned within the same vehicle segments and to be geared to the same market demographics. How does the overall strategy work? Do you have to sometimes take the lead to defend Citroën's interests?
Linda Jackson: Your question takes us back to the brand strategy established by Carlos Tavares in 2014. Before 2014, there was the Peugeot brand and the Citroën brand, which also included the DS line, to make things even more confusing. Since then, each brand has been given its own position, with its own products, targeted customers and distinct identity, in order to avoid the cannibalization effect experienced in the past.  Peugeot has been positioned as a high-quality mainstream brand, like Volkswagen, focusing on factors like a pleasurable driving experience, a certain feeling, sportiness. DS was separated from Citroën to become the group's premium brand (like Audi for the VAG group). DS is seen as a luxury product in the French style, like Paris: stylish, avant garde, etc.
At Citroën, we are focusing again on the fundamentals of our sector by affirming our identity as a mainstream brand, like Renault or Ford, for example. It's a popular brand in the best sense of the term, in other words a brand inspired by people and their lifestyles. Our slogan "Inspired by You" emphasizes this concept. Finally, Opel has been positioned between Citroën and Peugeot, with an emphasis on its Germanic identity, which is reassuring for many customers who do not favor French brands.
© Letizia Le Fur
Noémie: So, there is really no cannibalization among the brands?
Linda Jackson: No, very little! Our brand strategy helps us target very different customers. According to our customer surveys asking people what other brands they considered before choosing Citroën, they mention brands outside the PSA group. This shows that our strategy is working!
Abhinav: I'm from India and I worked for Tata Motors. You plan to launch an SUV in India by 2020. There will be two other new entries as well, MG and Kia. How to you plan to capture market share in India?
Linda Jackson: You know the country better than I do, so I'll have to be careful about what I say…. Thanks to the audaciousness in our brand's DNA, which has led us to defy expectations many times, we are well placed for a launch in India that will make waves. We are developing a new line of international vehicles called C-Cubed ("C au cube" in French). Three C's for "cool, clever, comfort". These will be three models in the B segment, which is the most important in India. We are working closely with our local team, who understand the demands of local clients concerning equipment, technology and price. We opted for design-to-cost: the manufacturing will be done locally through a joint venture with the CK Birta conglomerate, and 90% of the components will come from India, which will allow us to be competitive in our prices.
Abhinav: How do you approach emerging markets like India or Southeast Asia?
Linda Jackson: Whenever we enter a new market, we do it step by step, not arrogantly. In some ways, it's easier to enter a new market than to change our distribution models in a market where we already have a presence.
Abhinav: Has Citroën's strategy changed because of Brexit?
Linda Jackson: I hoped I could avoid that question! (laughter) I have no idea what effect Brexit will have, because we still don't know what form it will take. It's still vague at this point. But the UK is Citroën's third-biggest market in terms of volume: we have to find a solution so that we can stay there. Personally, I support a "soft Brexit", with free exchanges between the EU and the UK, but that will be hard to achieve.
The auto industry's challenges
Abhinav: The C4 will be available in an electric version in 2021. In fact, in an interview in Auto Express, you said that 100% of your vehicles will be electric or rechargeable hybrid models by 2025. Are customers ready for this change?
Linda Jackson: Electric cars are still a niche market. The only countries where electric cars are selling well are those where governments have put incentives in place, such as Norway. This will change over the long term. Standards call for it, and more and more cities are already thinking about banning gas-powered vehicles.
Abhinav: How do drivers perceive this evolution toward electric cars?
Linda Jackson: People are still hesitant; they worry about these cars' lack of autonomy and the limited number of places to recharge them. On the other hand, studies show that the average driver covers around 25 km. per day, which is well below the autonomy of an electric car! We also get incredible questions when we ask customers about electric cars. For example: "If I charge my electric car and it rains, will I be electrocuted?" Of course not! We still have a lot of work to do in informing and educating consumers.
Abhinav: The arrival of electric cars is going to upset the current ranking of auto manufacturers. Will Citroën change its strategies?
Linda Jackson: Manufacturers will certainly experience a lot of pressure concerning prices. Depending on the model, a car will cost from 10,000 euros to 15,000 euros more in an electric version, mainly because of the cost of the battery.
We need to focus on the total cost of ownership, which includes maintenance and fuel costs. From this perspective, electric cars are cheaper. We need to change our point of view.
But in addition to the question of how a car operates, we may need to re-think the way we see ourselves. Instead of our traditional function as sellers of cars, we may take on a new role as mobility providers. This is the guiding principle of our Ami One Concept project: an electric car, but also a connected experience (via smartphone) that is accessible to anyone (no license required) and available for five minutes or five years, through short-term or long-term rentals. According to the United Nations, 68% of the world's population will be living in cities by 2050. People will want to get around, but parking will be difficult. Wouldn't it be better to rent a vehicle rather than buy one? This concept of mobility is a challenge that calls traditional business models into question.
Abhinav: What other major changes does the auto industry anticipate for the coming years?
Linda Jackson: We are talking a lot about self-driving vehicles. All car manufacturers are investing in this field. But if anyone tells you that by 2025, everyone will be using self-driving cars, believe me, this is not realistic. Right now, most of the vehicles in question offer a level 2 degree of autonomy ("hands off", in other words automated performance under the control of the driver). But we need to reach level 5 in order for the vehicle to be truly and completely self-driving, with the driver no longer needed at all. Reaching levels 4 or 5 is so expensive that no individual will be able to access this kind of vehicle anytime soon. For the moment, sales are mainly B2B, for example shuttles or public-transport vehicles.
"SELF-DRIVING CARS ARE STILL OUT OF REACH"
Her career path and personality
Hugo Sallé: When you were younger, you wanted to be a teacher. Is there something else that you would still like to do?
Linda Jackson: No, I love my job. On the same day, I can study new products, work on a marketing campaign, talk to journalists, deal with a human-resources file, and take off for China or India. I'm happy with this!
Hugo Sallé: What are you proudest of?
Linda Jackson: I started out at the bottom. My first job, in billing, involved stapling two documents together. In 40 years, I've climbed every rung of the ladder. I was appointed head of finance, then general manager of Citroën in the UK. Being chosen as the head of the brand worldwide was a huge step up. I'm proud of the work our teams have done over the past five years. We have worked hard and it has paid off.
Believe me, it has not been easy. I'm thinking about your question about leadership. I was appointed CEO of Citroën in 2014. I had to wait until 2016 to launch new models. For two years, I had to convince people of our new place in the market without presenting any new products at all! Journalists were skeptical and results were not promising. For two years, I had to keep motivating teams, reminding them of small successes and of the direction we were heading. It was a complicated period.
Hugo: What advice would you give to the young people of my generation?
Linda Jackson: Have confidence in yourselves. I did not wake up one day with a plan for my career, and 99% of people don't have a plan, either. You just need to be ready to seize any opportunities, and to do that, you have to have self-confidence. If you make mistakes, it's not the end. It's better to make mistakes than to regret never having tried something. Dare to get out of your comfort zone in order to exceed your expectations. We all tend to limit ourselves. But when the impossible becomes possible, life is really worth living.
Hugo: My next question calls for a little imagination…
Linda Jackson: Wow. OK?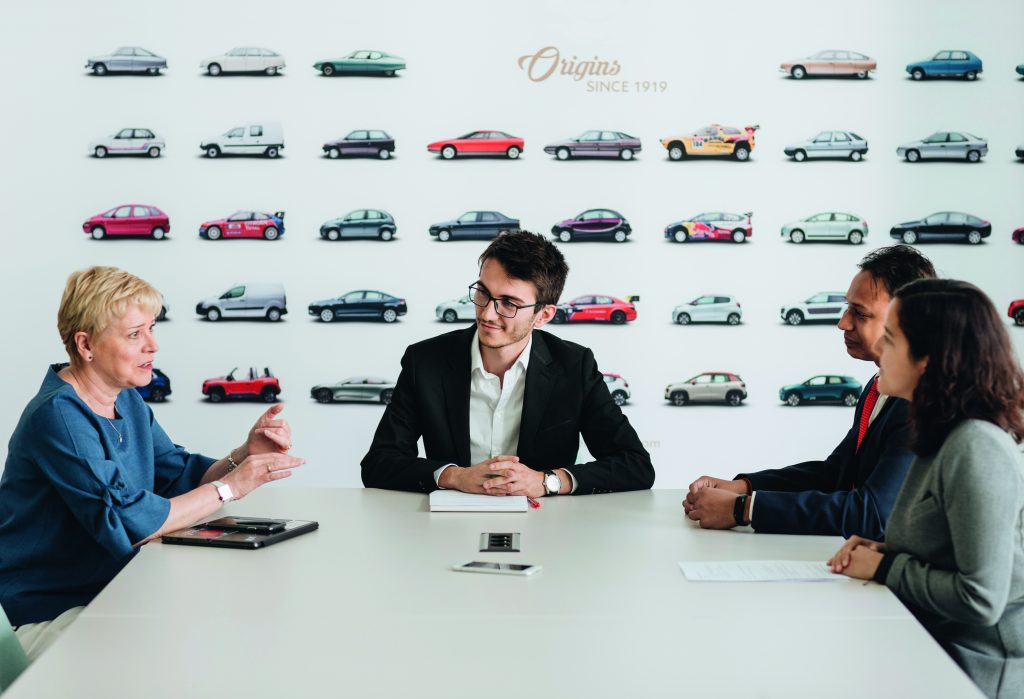 Hugo: If you became president of France for a day, what would you do? What measures would you put in place?
Linda Jackson: A British president of France! That would be astonishing. I think that I would pass a law that would let me stay in office longer!
Hugo: And then?
Linda Jackson: Seriously, that's a tough question. Concerning the auto sector, I would focus parliament's attention on new mobility issues. I would also focus on the schedule for reducing CO2 emissions, because I'm not sure the current one is realistic. I'd also pass a measure to encourage apprenticeships. Young people ought to get some experience in industry instead of always enrolling in university programs. And you, Hugo, what would you do?
Hugo: I'm a big cinema fan, so I would promote more support for film production that would distribute funds more fairly.
Linda Jackson: Ok, interesting. No one has ever asked me this question before. I will prepare myself better for the next time!
Noémie: My question is a lot easier!
Linda Jackson: If you were president for three days? (laughter)
Noémie: What do you miss most about your native country?
Linda Jackson: Not much, and not the rain. Little things, like a good cup of tea. You must admit, the French don't know how to make tea! (laughter). Radio, too. But I listen to BBC 4 radio on the Internet!
Noémie: You work and travel a lot. Do you find time to relax?
Linda Jackson: We have "feel good" rules at Citroën: no meetings before 8 AM or after 6 PM, and no emails over the weekend, unless in an emergency. I try to restrict myself to this healthier lifestyle.
Noémie: And what do you do in your free time?
Linda Jackson: On weekends, I go to Normandy, two hours from Paris. I have a house with a garden there. In fact, my professional life is so intense that I don't do much when I have time to myself! I listen to the radio, I look at TV programs; I've become a Netflix addict!
Hugo: What do you watch?
Linda Jackson: Everything! From the British series "The Crown" to the Korean "Kingdom".
Hugo: And what book is on your bedside table?
Linda Jackson: Hmmm. "Animal Farm", by George Orwell. I love that book. I have read it many times and recommend it often.
Hugo: Thank you for this interview.
Linda Jackson: Thank you for your questions. It was almost more difficult than with professional journalists!
[See also Hubert Joly (Best Buy) meets HEC students.]