The ex-professional volleyball player Jean Hornain (MBA '88) has become a champion of the circular economy, after a career as eventful and unpredictable as a Paris-Dakar race, whose TV coverage he once handled.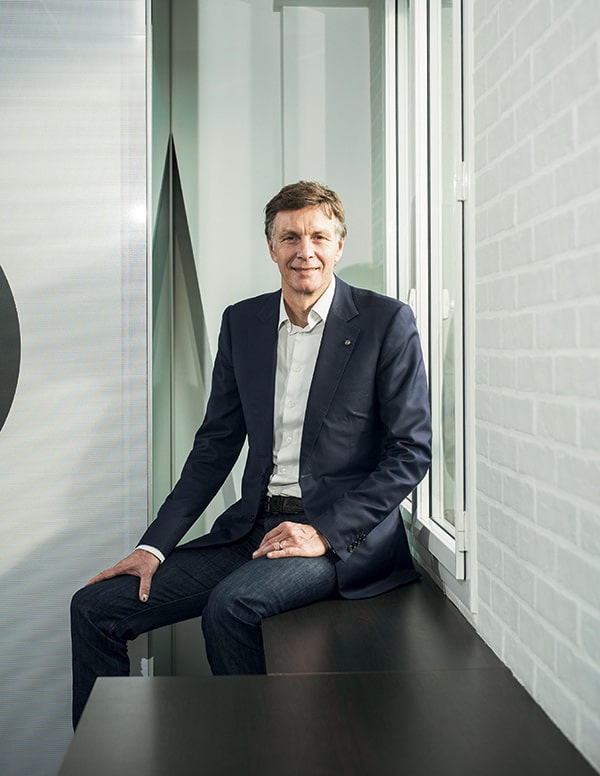 Jean Hornain, CEO of the recycling enterprise Citeo, works in a glass-paneled office at number 50 Boulevard Haussmann, very near Paris's Opera Garnier. He was named head of this company — which produces the iconic trash bins with yellow covers – almost by accident in 2016, even though at the time he had no experience in the recycling industry. He adapted, just as he's adapting today, in the covid era, to Citeo's unusually quiet offices. His professional career, by contrast, has often been turbulent… Twenty-five years ago, he was stuck in an airplane in the middle of sand dunes. "It was January 1997. We were following Paris-Dakar with my TV crew."
"One of the two Lockheed C-130 Hercules aircraft, the one carrying editing equipment and satellite antennas, nose-dived into the sand not far from Timbuctoo's airport. The team worked all day on their equipment inside the airplane, and we didn't tow the plane out of the sand and take off again until after the broadcast was finished." Taking off again: that's his specialty. Covering an auto race in the middle of the desert wasn't the crowning achievement of a career in broadcasting, but rather just one chapter in a saga filled with surprising twists. It all started with a passion for volleyball. "I had a ball between my hands from the time I was very young. We played volleyball in my family; my parents, my brother and my sister. On the grass in the spring and on the beaches of the Basque Coast in summer," explains this lean, 50-something, six-feet-four guy.
International at 18
His father is an amateur player and his mother is a physical-education teacher. From the age of 11, Jean plays in a club, where he quickly attracts attention. He joins the Espoirs team when he's 17. The following year, Jean-Marc Buchel, coach of the national team, decides to seek out new talent. Jean Hornain is catapulted into the big leagues. He plays against the best teams, the ones from Eastern Europe. "I arrived at Euro 79 with no sense of pressure. I was young and a bit oblivious! I had a good dig. I was a middle blocker because I played fast," he explains. A black and white photo next to his computer is a memento of this glorious past. It was taken in June 1979 in Bratislava, Czechoslovakia.
"When I came to HEC, I had to work like a demon to make up for being so behind in economics."
Jean Hornain had just joined the French volleyball team. At age 18, he was signing his first autographs. He will never forget the opening match of the Mundialito, in Rio in 1982. In Maracanãzinho stadium, "the little Maracana", the French team loses 3 to 1 to Brazil. But Jean doesn't regret making the trip. "The Brazilians were singing so loudly that I couldn't hear my teammates a meter away!" The thrill of the matches, buses escorted by motorcycles: the volleyball player develops a taste for the nomadic and intense life of a professional athlete. But in 1985, an injury ends his career prematurely. Tendonitis in his knee. "I tried everything, from anti-inflammatories to alternative treatments, but I finally realized that it was over. I had to move on to something else." He leaves with honors: France has just come in third in the Euro. "My biggest regret is that I never played in the Olympics," he sighs.
From the ISA to the City
After that, his path forward seems clear: to become a sports teacher. With a physical-education teaching diploma in hand, he's ready to take a job at Michelet high school in Vanves, outside Paris, when he meets the HEC physical-education professor, who tells him that high-level athletes are eligible, thanks to their years of experience, to take the exam to enter the ISA program (the future MBA) at HEC. "I went to the Jouy-en-Josas campus to check things out. I sat in on two classes: strategy, with Bernard Ramanantsoa (MBA 76) and finance with Bruno Solnik. I didn't understand a thing, but I thought it was fascinating!" He takes the entrance exam and passes. Perrine Pelen, world-champion slalom skier, is one of his classmates. "My father was a labor-union delegate. I did not come from a business background. I found myself in classes with guys from Sciences Po or who had studied medicine or pharmacy. I was intimidated. I had to work like a demon to make up for being so behind in economics."
After an exchange program at McGill University in Montreal, he joins the London office of the corporate bank ScotiaMcLeod. There he is: a young bachelor, living in the residential suburb of Hampstead. He hangs out in pubs, plays tennis on grass courts, goes to Dire Straits and Eric Clapton concerts.A comfortable life and a job that is stimulating but "very abstract – it lacked connections, contacts. It wasn't quite my thing," he admits. Fed up, he resigns after two years and moves back across the Channel in 1989.
Cartoons and competition
Flipping through Le Monde one day, he sees an intriguing job offer in "international development" with a mysterious "leisure enterprise". He contacts the company, one C&D, and meets Jean Chalopin, scriptwriter and producer of iconic animated serieslike "Ulysses 31" and "The Mysterious Cities of Gold". "An extraordinary guy, creative, who made a fortune in cartoons," Jean Hornain says. The young recruit is soon exporting blockbusters all over the world. "The one that we sold the most of and made the most money on was 'Inspector Gadget'. Kids loved it, all the way to Taiwan! But some buyers were tougher than others, particularly the British. Selling to the BBC or Channel 4 was super hard!" For two years, Jean Hornain learns about the ins and outs of television production. This new expertise, along with his experience in sports competitions, attracts the attention of the organizers of the Tour de France and Paris-Roubaix cycling races.
The company Amaury Sports Organization (ASO) approaches him in 1992 and asks him to lead their television-production department. "We dramatically increased coverage of the Tour de France, which was broadcast to 170 countries," he recalls. His team films Paris-Dakar.  An adventure and a gamble. "We had to deal with sandstorms, course changes, power outages… I lost several kilos every time!" He develops a taste for live programming, and in 1997 he decides to form a joint venture between ASO, then headed by Jean-Claude Killy, and L'Equipe newspaper, headed by Paul Roussel, to create L'Equipe TV. "Eurosport already existed; it was the beginning of thematic TV channels," he points out. Jean Hornain's team located facilities, developed a lineup of programs, and set up two production studios. At 6PM on August 31, 1998, Christian Prudhomme (currently in charge of the Tour de France) presents L'Equipe TV's first televised game, a month and a half later than its competitor, Infosport. The broadcasts have never stopped. L'Equipe TV is now on channel 79 of the Canal service. "We didn't know if it would last three months or 30 years!" Jean Hornain exclaims. Now a media expert, he takes on the task of launching the lequipe.fr web site. Another hit, consulted by one out of three French people.
Paper, cartons
Impressed by Jean Hornain's sense of initiative, the president of Groupe Amaury, Philippe Amaury, gives him the chance to manage Le Parisien – Aujourd'hui en France (The Parisian – Today in France), of which Amaury is president. The former volleyball player runs the daily newspaper from 2005 to 2015. A decade of transformations marked by the launch of the supplements Le Parisien Week-End and La Parisienne, and most of all the shift to digital. "The workforce, around 600 employees, has remained stable, but many people have been assigned new tasks to reach new audiences via the Internet," Jean Hornain says, admitting that "the infernal rhythm of the here-and-now" sometimes makes him "dizzy".
He quit his job when the daily became part of the LVMH group. "I had run the gamut of experiences there, and the change in ownership motivated me to make a change." An unexpected detour leads him to Eco-Emballages, a recycling company that will merge with Ecofolio to become Citeo. "My career didn't match up with what they thought they wanted. The managing board was really looking for someone with experience in consumer products. The headhunter believed in me, though, and managed to get me considered as a candidate," he remembers. His agility, team spirit and impressively varied job history did the rest. Today, this father of two is working through Citeo to provide companies with solutions that will help them reduce the environmental impact of their packaging and paper goods. To protect the planet. Jean Hornain, who will celebrate his 60th birthday in February, seems to have found a purpose that is ambitious enough to keep him busy for a few years. And to quote the Italian philosopher Antonio Gramsci. "I'm a pessimist because of intelligence, but an optimist because of will." This could have been a nice motto for HEC.
Thomas Lestavel