A student at Science Po and HEC Paris, Iris Maréchal (H.21) co-founded l'Observatoire étudiant des violences sexuelles et sexists dans l'enseignement superieur (Student Watchdog Group on Sexual and Sexist Violence in Higher Education), which recently released the results of a major survey. She tells us about her background.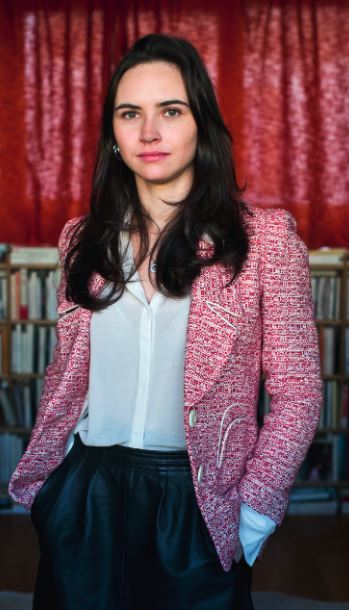 One out of 20 female students reports being raped while studying at a university, and one in 10 reports being a victim of sexual aggression. The Observatoire's first study lifted the veil on a brutal reality. Yet the association is very new: I had been at HEC for five months when Laure Lelasseux (an HEC doctoral student) and I decided to launch this project. I didn't plan on getting involved in this kind of thing. My father is a professor of virology and my mother works in the finance sector, and this pluridisciplinary environment has deeply influenced me. I was a good student and chose to study sciences, but I've always been really interested in literature and the arts, too. This did not make it easy for me to pick a course of study, and in fact it is still complicating my choices. Just a few months before I had to decide which exams I would take to begin a higher-education program, I was still hesitating between attending a preparatory school in literature and social sciences, studying finance, or going to art school!  So, I decided not to decide. I opted for a double diploma in math and social sciences at Sciences Po Paris and Pierre and Marie Curie University. Why study math? I like a challenge, I guess (although I didn't expect to have to put in so many all-nighters!). After that, I decided to continue to diversify my knowledge by enrolling in a double master's program at HEC and Sciences Po.
CEO for one month, USA for one year
One day, an Instagram ad caught my attention. It proposed being the CEO of a listed company for one month. After an interminable selection process, I was chosen to be CEO for One Month at Adecco, working alongside Christophe Catoir. It was a unique opportunity that allowed me to experience what it's like to run a company. I also learned a lot during the year I lived in the United States. I spent the last year of my bachelors' program at Johns-Hopkins. I discovered life on an American university campus and the political climate just after Donald Trump was elected. I had the chance to do an internship with Heather Boushey, Hillary Clinton's economic advisor. She showed me how to get things done and promote my ideas. My favorite memory: her speech on the inequalities affecting African Americans, which she delivered to a group of white Republicans aged over 60.
"It's gratifying to know that we are being listened to and that our project has launched a real debate."
When I came back to France, I began a master's program at HEC. The culture shock was extreme: French culture or business-school culture? I was really put off by the omnipresent sexist behavior at parties, weekend orientation sessions and in classrooms, or within associations. And I wasn't the only one to notice this. Many female students shared my anger, for example Laure, with whom I came up with the idea to set up this association. At the beginning, we only intended to develop prevention and awareness initiatives. Some educational institutions supported us right away, while others refused to recognize the problem, even telling us that this kind of project could hurt their reputations. We quickly realized that if we wanted to be able to get things done, we needed to be more scientific in our approach, with statistics and concrete examples. That led us to create a watchdog group.
Statistics vs. Status Quo
We decided to organize our activities into three pillars. First, collect data. To accomplish this, we surveyed more than 100,000 students all over France. Then, identify existing initiatives focusing on these issues, to be able to share this information with victims as well as with students who want to get involved. Finally, set up prevention and awareness programs. We have traveled all over France to present our project to higher-education institutions. During these visits, we offer to provide personalized questionnaires, and we work with our committee of experts to suggest ways the schools can collect information and develop activities adapted to their circumstances. The higher-education years are a crucial time for informing people about these issues and heightening their sensitivity to them. Later on, it will be too late, and violence can resurface in the workplace and at home. As co-founder and president, my role in the association is to manage the organization and communicate about our activities. It's a heavy responsibility that demands a lot of time and energy. Last year, I had 20 hours of classes every week, on top of 20 hours of an internship, plus the job of managing the association, including getting our major survey off the ground. I went back to putting in all-nighters, just like when I was getting my bachelor's degree in math! This demands a huge commitment, but, paradoxically, it also demands a certain detachment, because these are sensitive issues that can easily threaten one's peace of mind. But the Observatoire has given me so much. It satisfies my aspirations: it's a project that combines statistics, management and activism. It's gratifying to know that we are being listened to and that our project has launched a real debate and encouraged people to make decisions. On a personal level, I feel very fulfilled to know that I am helping others, as I realize every time a victim writes to the association to thank us for what we are doing.
The idea that anyone can change things is motivating and very encouraging. As for my immediate future, I'm looking for an internship to do at the end of my gap year, and I'm focusing on corporate-strategy consulting, to be able to work closely with executives. The Observatoire also has a lot of projects in the works: developing a guide to good practices, creating awareness campaigns, and perhaps establishing a label for student initiatives that combat sexism and sexual violence… I think I will continue my commitment to the association while also pursing my professional goals, because I really need to do this. I'm very attached to this association that I helped to create and expand, and this is also one of the experiences from which I have learned the most. I want to believe that students of my generation have the power to change society. I'm convinced that we are the future deciders, people who are aware of what's at stake in our society and who will not quickly forget this as they assume greater responsibilities.
Interview by Clémentine Baron