Each quarter, the HEC Stories editorial team selects the most innovative start-ups and projects that are moving the world in the right direction.
Music to your ears
Turn the smartphone into a relay between an audio source and the user's headphones. That is the service offered by Odiho, co-founded in 2018 by Gauthier Dalle (H.10). Not one to compromise on sound quality (he has been working with leading electro-acoustic artists for twenty years), Gauthier hopes the idea will generate some noise. Users with unimpaired vision will be able to listen to whatever they want on their TV in HD sound. Visually impaired users will be able to use the device in cinemas to listen to the audio description. And Odiho will allow conference organizers to increase the intelligibility of their speakers tenfold.
Oh my guide!
The tourist's guide to North Korea? That's him. The guide for olive oil lovers, marathon enthusiasts, those with an interest in the naughty side of France? Him again. Along with Jean-Paul Labourdette (H.78), Dominique Auzias (H.79) is the father of the Petit Futé guides, created in 1976. To their credit: 192 countries, 800 destinations… a gigantic database! Their latest undertaking is a new platform called mypetitfute.com, which anyone can use to produce their own made-to-measure and personalized guide, in digital or printed format. "It is a wonderful tool for travel agents who want to organize their clients' trips," says Dominique Auzias. It is also a source of inspiration for travelers who often use just 10-20% of their off-the-shelf guidebook. Globetrotters take note! Use code HEC2019 to create your own digital guide on the mypetitfute.com platform.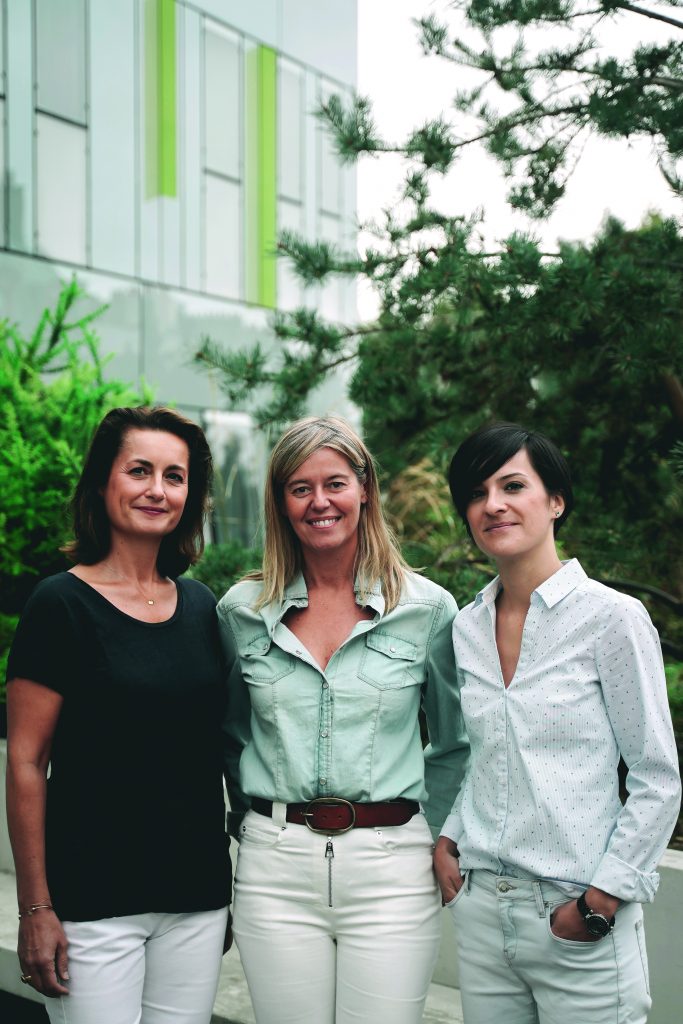 Get a second opinion
This is an idea with its origins in a (bad) personal experience. In 2013, Pauline d'Orgeval's (H.92) son needed an operation for scoliosis. The doctor recommended getting a second opinion before going ahead with the surgery. It took this entrepreneur almost five months to find another specialist and get an appointment. But when the day finally came, the child was too agitated to be examined. "In the end, the doctor just read the medical file to make his diagnosis. We would have saved a lot of time and energy if we could have done all that online!" That is when she joined up with Catherine Franc (H.93) and Prune Nercy (H.10) to create deuxièmeavis.com, a website where anyone can fill out a form to request a second opinion from a medical specialist, almost instantly. The platform is now partnered with mutual health insurance companies, so the cost of the service can be reimbursed in full.
Liebr, rolling along nicely
A winning project from the HEC-42 Startup Launchpad, Liebr is a platform that connects motorcycle riders with independent mechanics. We met up with a trio of enthusiasts.
with an advanced technician's certificate in mechanics, Léo Monnet quickly got tired of working in a garage. Put off by onerous directives from manufacturers, and tired of having to deal with the frustration and loss of trust of his customers, he decided to set up his own business. He advertised on service sites such as allovoisins or leboncoin, where he offered repairs and live troubleshooting.
A perfect match
"I quickly established a good reputation for myself and had a lot of business coming in. But the administrative tasks became hard to manage. So I started thinking about how to simplify the process. "After talking about it with two childhood friends, Antonin Siguier, a young recruit from Ecole 42, and Matthieu Rouxel, an entrepreneur who was not on his first attempt, Liebr gradually ground into gear. The initial idea was simple: create a platform that would form the connection between motorcycle riders and selected independent mechanics. The website makes its money by charging a 20% commission on the final invoice. "It makes it easier to get in touch with mechanics, who—until now—have largely stayed away from digitalization. And it rebuilds trust with customers who have often had bad experiences in their dealings with garages." The platform has another advantage: it showcases the qualities and specialties of each service provider, so that the user is sure to find the right match. "The website lists the mechanic's skills, which is valuable information not found elsewhere. Knowing that a particular service provider has more than ten years of experience working on Yamahas or Ducatis is a real added benefit." Liebr will continue to forge ahead at Station F, in the HEC incubator.
Well inspired infusions
1 million euros in turnover and more than 3 million tea bags sold… Born on the Web in 2017, the Panda Tea brand has grown faster than a bamboo shoot. "We shipped our first packages from my one-room apartment back when I was a student," recalls Thibault Ali (M.16), "and now here we are on the Amazon US Marketplace!" With a doctorate in pharmacology and a keen interest in botany, Thibault wanted to set up a business centered on plants. He settled on tea, "a nice product to start with, and one that speaks to everyone". His brothers, Robin, who went through the master's program in data science at HEC-Polytechnique, and Alexandre, who has launched several e-commerce brands, joined him in the venture. "Right from the start, we positioned ourselves on the premium market," explains Alexandre, "with organic and quality ingredients." Morning boost, Night Cleanse, Sleep Well… Their eight blends made a splash on social media. So much so that the panda—which will soon be available in Franprix supermarkets—is now looking to new horizons… and a leading place in the wellness category.
Plan your decor
Hubstairs has developed a 3D solution to offer advice on home decor and layout with an amazing photorealism. The owner showed us around.
Who? Hubstairs was born out of personal experience. "We had just bought our apartment and we didn't have enough money to hire a decorator. We spent hours searching in vain for ideas on the Internet," recalls Alexandre de Vigan (H.11), the CEO. His company now employs thirty people in Bordeaux and about twenty in Paris. "Half of our employees are "tech" people, and we have a big R&D department." 400 interior designers have joined the network.
What? Since its launch in 2016, the platform has evolved from B2C to B2B. In 2018, Hubstairs rolled out technology that lets it offer decorating advice in 3D renderings. Today, the customers are retailers (Made.com, La Redoute, etc.) and real estate professionals (Nexity, Se Loger, and the like).
"We use 3D decor to bring out the value of properties for sale or rent. For retailers, we make 3D models of the products in their catalog and then place them in an environment that the consumer can customize."
They have come up with more than 10,000 interiors.
How? In 2017, lkea launched a call for submissions to transform the way it does business. It then selected 10 start-ups out of the 1,500 candidates. Hubstairs was one of those chosen and took up a six-month residency in the Swedish giant's headquarters.
"Ikea's sponsorship gave us access to data and expertise that we wouldn't otherwise have had."
In a competitive market, Hubstairs prides itself on being "the only company to offer real-time customization, with painstakingly crafted photorealism".
High-tech for rent
In the wake of the digital economy, the subscription model is undergoing a transformation. Once limited to intangible content (music, platforms for movies and series), it is now venturing into the world of physical goods: cars, clothing, furniture, even tires! This way of consuming, which puts use before possession, is spreading. For Anthony Motte (H.16), the subscription economy is the way forward. He created Rentech, a website for renting hi-tech equipment. "Manufacturers are changing how they think about their business. Many of them—Apple first and foremost—are looking for ways to give their products a second life, so they can continue to generate revenue from them over time." For now, Rentech forms the link between the user and the repackager. In the future, the website hopes to host rental offers from manufacturers themselves. Having started with computers and tablet devices, Rentech will soon branch into phones and household appliances.
The fridge at the end of the garden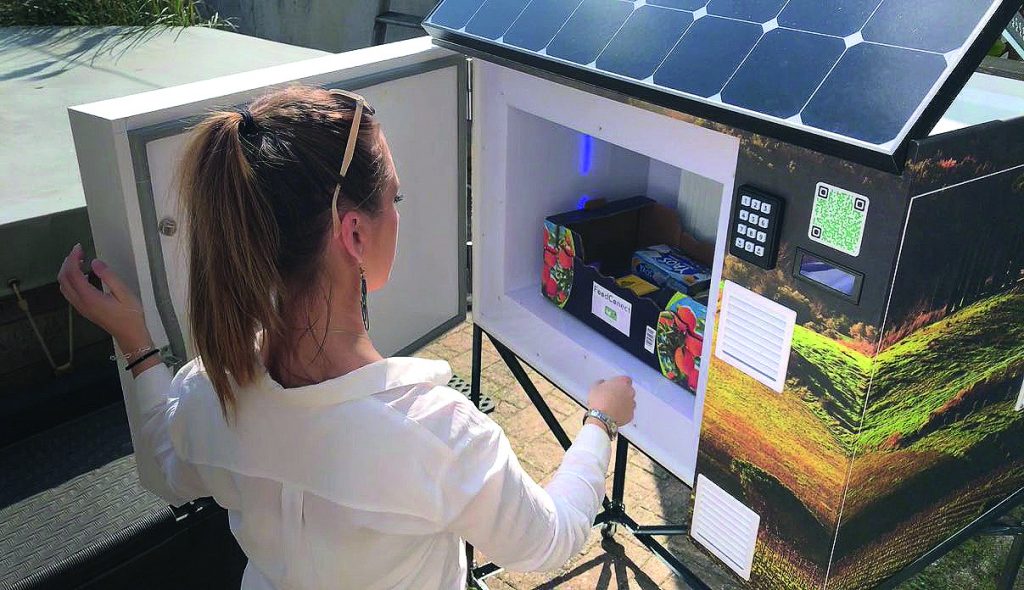 It's an idea that Amazon might have hatched, had they not been beaten to the punch by FoodConect, a small start-up based in Yvelines. Last March, founder Eryck Eby (E.18) presented the prototype of his FridgeBox, a refrigerated cabinet designed to be installed in the garden, to allow delivery and storage when the customer is not home. A bit like Amazon Lockers, but a version suitable for fresh produce. To give you a little background, the idea came to him when he was taking the HEC entrance exams in 2016. "The case study featured in the exam was about refrigerated cans," he recalls. And the idea just popped into my head!" Three years later, the first FridgeBox was born. "The hardest part was developing the refrigeration system, which is solar powered. Our current model guarantees a temperature of 4°C for nine hours." One thing sure to heat up is the fundraising for his venture!
Paying the bills with Bitcoin
Assets scattered over dozens of platforms, transactions denominated in different units, wildly fluctuating exchange rates… Investing in the cryptocurrencies market can quickly make your head spin, especially when it comes to managing your accounts and correctly reporting capital gains or losses. After making this observation, Antoine Scalia (H.17) created Cryptio, an app that bundles together all your cryptocurrency transactions. The basic idea is simple: the app takes in all the user's data (from their accounts on the various trading platforms; virtual wallets), and presents them in the form of a dashboard. "This gives you an overview of your positions in euros and lets you optimize your management," explains Antoine. Since he created it in July 2018, 1,500 users have been won over by his app (which is free of charge below 100 transactions per year). A version of the platform for professionals is currently in the testing phase.
Glamor for all
"In balance on the water"… A lofty name for this line of eco-designed sports swimwear launched in April by two young French lingerie and yoga-wear brands, Ysé and Kitiwaké. The collection is made entirely of Q-Nova fiber, an Italian innovation made from recycled materials. And its advertising features models with normal body shapes to promote natural beauty. According to Ysé's founder, Clara Blocman (H. 11), "lingerie should change the way we think about the body and well-being."
For the future of Tanzania
A bachelor's degree in economics from Warwick University, then a master's in management from HEC: for Collins Kimaro (H.19), all doors were open. But for him, there was no question of embarking on an international career before contributing to the development of his home country. "Tanzania has everything it needs to become a rich country: plentiful natural resources, a peaceful political scene, and above all, exceptional human potential; two-thirds of the population is under 25 years of age. I wanted to do something for those young people." And so he created an organization in Arusha (the country's third largest city) that helps young entrepreneurs by providing them with advice, practical workshops, and a network of contacts. The name of the organization? Obuntu. "The word comes from Bantu. It means that an individual is defined first and foremost by the bonds of solidarity he forges with others."
Green bottles
Organic, zero waste, a short reuse cycle, and solidarity employment. CoZie's founding trio combines beauty and ethical causes.
The cosmetics industry has got things all muddled up. It promises well-being, pleasure, and efficiency, but generates waste and pollution. In France, 75,000 metric tons of cosmetic packaging are thrown away each year. That was the conclusion reached by Emeric Baracat, an engineer working for a giant in the sector.
A pure, sustainable product
The air was already abuzz with concepts like organic, recyclable, and do-it-yourself when Emeric met Arnaud Lancelot (H.05) and Louise Salvati (blogger and author of Le cahier zéro déchet pour les nuls [The Zero Waste Book for Dummies]). Together, they created CoZie (short for Cosmetics with Zero environmental impact), "a virtuous brand that is good for both the skin and the planet," Arnaud summarizes. And behind the words, there are practical actions: simple formulas, products made in France from 99% French ingredients, and packaged in glass bottles that can be reused for life. "All the customer has to do is bring back their empty bottle, that's it." The bottles are cleaned in an ESAT vocational rehabilitation center that employs people with disabilities. Once refilled, they go back on the shelves for sale. But CoZie's great innovation is a machine called the doZeuse. This self-service dosing machine lets the customer fill their bottle (also returnable and reusable) with as much of the product as they need. A world first. Peppermint, plum oil, thyme floral water, and more. With a range of 8 products and inexpensive prices (from €10 to €21), this small company is flourishing! It already has 342 points of sale in France (organic brands and bulk grocery stores). It's not the bottle that counts, but what's in it!
A steal at the price
A strange bird has made its nest in the Station F incubator. Okarito is a website dedicated to business travel, designed by Remi Duvoux and Brice Huet, from class H.17. It provides a platform that SMEs can use to reduce the cost of their business travel. The concept? Simplify the procedures for large reservation centers to obtain the same prices that a private individual can access. And after the plane tickets, Okarito starts pecking away at the price of hotel bookings!
Guarantors, watch out!
Your employment contract isn't permanent? You don't earn more than three times the rent? Well in that case, sorry but… Who among us has never been curtly denied the privilege of becoming a tenant when looking for a place to rent? Although a former business lawyer, Matthieu Luneau (H.14) has had that experience. And that is where he got his idea: to create an online guarantor that makes tenancy applications eligible when they would otherwise have had no chance, even though the applicant is financially solvent (which is the case for 6 million people in France). His start-up Unkle knows how to reassure landlords… and convince investors: during its recent fundraising campaign, it raised 1 million euros!