A plastic world
For Cassandre Delage (M. 17), it seems obvious: if we do not recycle enough in France, it is primarily because of a lack of motivation. "Once you start thinking of waste as a resource that can be put to good use, that changes everything," explained the young entrepreneur. Her machine, Plast'if, transforms plastic waste into filaments, which then serve as a raw material for a 3D printer that can model objects on demand (office equipment, frames for eyeglasses, and more).
Paper: turning the page…
Stone paper is a wood-free, zero-cellulose paper made from limestone powder (calcium carbonate) to which 20% plastic resin is added as a binder. The sheets, with their "soft touch" texture, look like traditional paper, but are stronger… and waterproof! The manufacturing process was developed by a Taiwanese company. It is more environmentally friendly than that of cellulose paper, reducing water consumption by 60,000 liters per metric ton and using fewer chemicals. Camila Amaya-Castro (E.10), an engineer by training, is seeking to expand the market for stone paper in France. "It behaves exactly like paper, with the advantages of synthetic papers or plastic films. But rather than a disposable product, it is best kept for longer-lasting uses," she explains. For the moment, RocStar is marketing its products to companies, has created a range of stationery, and is working with artists to explore the technical possibilities of the material.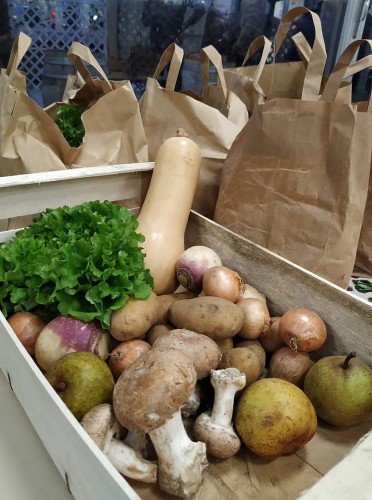 School for the eco-friendly :
Created in 2009 by a group of students from HEC Paris, Esp'r is marking its 10th anniversary. In addition to promoting the social and solidarity economy — its initial mission — by organizing conferences and networking events, the association is undertaking a growing number of initiatives to make the Jouy-en-Josas campus more environmentally friendly. The most recent ones? "A program to replace disposable plastic cups with eco-cups. And a service delivering baskets of locally-sourced organic produce," explains Johanne Trotin (H.22), a first-year student. The future of this initiative is secure.
Green lipstick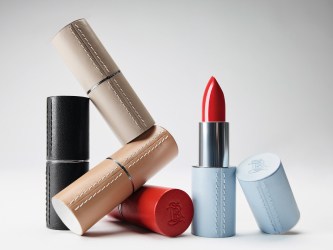 Fashion is the second most polluting industry in the world. This is mainly due to textile production. But cosmetics play a role too, since their production involves intensive use of petrochemicals and generates large quantities of waste. It is estimated that one billion lipsticks are thrown away each year worldwide. To prevent the oceans from filling up with plastic, a company called La Bouche Rouge has designed a reusable lipstick holder made of leather. When the cosmetic reaches its end, it is replaced with an eco-refill containing no polymers or animal fat, in a customizable color. "It's a way of reconciling environmental engagement and the desire for luxury. But above all, it's common sense!" says Violette Soriano (M.16), COO of La Bouche Rouge. "After all, up until the Second World War, women's beauty kits were always refillable." Already well established in France (with a stand at Le Bon Marché) and in the United States, the brand now hopes to conquer Asia.
Zooving ahead
Electrically assisted bicycles and ultra-compact stations: Zoov brings something new to a freewheeling sector. Bicycle stations crowding the pavement, electric scooters parked anywhere and everywhere, scooters abandoned in the gutter… The proliferation of two-wheeler rental services (some more viable than others) has turned cities into jungles. One start-up called Zoov, created in 2017, intends to bring some order to the chaos. The concept: a space-saving parking station in the form of a single arched post. The first bicycle is attached to the post and the subsequent ones hook on to one another.
"We simply took inspiration from the system used for shopping carts, which saves a lot of space," explained co-founder Amira Haberah (H.13). With this system, we can park up to twenty bicycles in one standard parking space." In addition to this minimal encroachment on public space, the solution offers another advantage: its low cost. "We wanted to come up with a business model that did not depend on large public subsidies." Another distinctive feature of the system is the bicycles. These electrically-assisted models can be charged either at the station or using a personal battery. That battery has a range of 20 km, and the user can take it home. This allows Zoov to propose its service as an alternative to the private car; particularly for commuting journeys, 70% of which do not exceed 8 km. The start-up recently raised six million euros, which will enable it to carry out an experimental phase at the Paris-Saclay site. If all goes well, the offer will then be rolled out to other French cities.